2016 Kelley Blue Book Best Buy Awards: The Nominees
by
KBB.com Editors
|
October 12, 2015 11:12 AM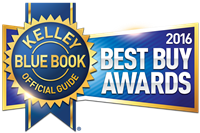 We didn't create our annual Best Buy Awards because the world needed yet another automotive award, we did it because new-car shoppers like you needed a more helpful award.
In mid-November we'll announce the second annual Kelley Blue Book Best Buy Award winners. Highlighting standouts in each of 12 popular vehicle categories, our Best Buy Awards provide valuable guidance whether you're shopping for a compact car, a full-size truck or just about anything in between. Not every Best Buy Award winner is the right choice for every segment shopper, but each is a smart, solid recommendation that provides a confident foundation on which to conduct a successful car search.
This year we're testing the 49 new-car nominees listed below, driving them back to back and comparing everything from ride quality and legroom to safety ratings and 5-year cost to own data. For our truck testing, we're also towing and hauling thousands of pounds.
Which of last year's winners will defend their titles and which newcomers will earn top spots? We're excited to find out, and just as eager to let you know.
2016 Best Buy Nominees: Truck

Here are the remaining nominees vying for this year's Kelley Blue Book Best Buy Awards honors:
Small Car
2016 Honda Civic
2016 Hyundai Elantra
2016 Scion iM
2016 Subaru Impreza
2016 Toyota Corolla
Midsize Car
2016 Chevrolet Malibu
2016 Honda Accord
2016 Hyundai Sonata
2016 Kia Optima
2016 Mazda MAZDA6
2016 Toyota Camry
Full-Size Car
2016 Chevrolet Impala
2016 Chrysler 300
2016 Hyundai Genesis
2016 Nissan Maxima
2016 Toyota Avalon
Small SUV
2016 Honda CR-V
2016 Honda HR-V
2016 Hyundai Tucson
2016 Mazda CX-3
Midsize SUV
2016 Ford Explorer
2016 Honda Pilot
2016 Mitsubishi Outlander
2016 Toyota Highlander
Full-Size SUV
2016 Chevrolet Tahoe
2016 Ford Expedition
2016 Toyota Sequoia
Minivan
2016 Honda Odyssey
2016 Kia Sedona
2016 Toyota Sienna
Performance Car
2016 Chevrolet Camaro
2016 Chevrolet Corvette
2016 Ford GT350
2016 Mazda MX-5 Miata
2016 Scion FR-S
Electric/Hybrid Car
2016 Chevrolet Volt
2016 Toyota Mirai
2016 Volkswagen e-Golf
Luxury Car
2016 Acura ILX
2016 Lexus GS
2016 Mercedes-Benz C-Class
Luxury SUV
2016 Acura MDX
2016 Lexus RX
2016 Lincoln MKX
2016 Volvo XC90
Featuring a mix of all-new and carryover entries for 2016, the Kelley Blue Book Best Buy Awards are both a first look at the new model year and a culmination of the previous year's vehicle testing. Some new-for-2016 models weren't yet available for testing, and many of those vehicles will be included in next year's evaluation.