2015 Volkswagen GTI First Review: The Once and Future King
by
Tony Swan
|
April 25, 2013 10:08 AM
The GTI has been Volkswagen's performance halo car ever since it made its debut at the 1976 Frankfurt auto show as a sportier version of the ubiquitous Golf, establishing a sub-class that came to be known as the hot hatchback. It defined and ruled that class through most of its first six generations.
Most of its six generations. But not all. Recent competitors from Mazda and Ford have challenged the GTI's supremacy in the class it created.
But that challenge is likely to fade when the seventh generation rolls into U.S. showrooms sometime in the summer of 2014 as a 2015 model. It's a complete makeover on a new platform, conceived to restore the GTI to the front of the pack. Well conceived. And brilliantly executed. The sports-car-in-a-box ethos taken to a distinctly higher level.
The MQB Factor
All dynamics begin with structure, and that's one of the new GTI's many bragging points. The foundation is VW's MQB (Modular Transverse Matrix) architecture, adaptable to a number of different vehicles, with the new Golf and GTI its first production applications.
In addition to slightly expanded dimensions -- longer, lower, wider -- the new platform yields a basic body shell with a 10-percent increase in torsional rigidity and a 51-pound decrease in weight. The weight-paring extends to other elements of the finished car, including the engine, and all told Volkswagen claims the new GTI will weigh in about 93 pounds lighter than its predecessor, depending on equipment.
There's also more thrust to propel the reduced mass, delivered by a revised version of VW's ubiquitous 2.0-liter four-cylinder engine (EA886), with variable cam timing, direct fuel injection, intercooling, and turbocharging. The horsepower gain is modest -- 210, versus 200 for the current GTI -- but the increase in torque is vast: from 207 pound-feet to 258, a sweet tidal wave of grunt that peaks at 1,500 rpm and stays peaked up to 4,400 rpm.
Allied with either of the GTI's six-speed transmissions -- the standard manual or the optional DSG automated manual -- plus the standard electronic limited-slip differential, this produces startling stoplight getaways. Volkswagen's official forecast is 0-to-100 kilometers per hour (62 mph) in 6.5 seconds with the standard setup, 6.4 with the optional performance package.
Top speed is limited to 150 mph.
VW's performance estimates tend to be conservative, and that's almost certainly true here. A magazine crew logged 0-60 in less than six seconds in a quickie instrumented road test of a Euro-spec GTI, whereas road tests of the current GTI typically record 0-60 times in the mid-six-seconds.
And what, exactly, is the performance package? It's a GTI first that includes a 10-horsepower uptick, thanks to a small increase in turbo boost; a more robust Brembo brake package; and, the key element, a new front differential with variable locking capability. Capable of transferring 100 percent of engine torque to the outside front wheel in aggressive cornering, the optional diff makes this car an instant autocross hero and a front-drive game-changer.
In addition to getting across intersections and overtaking with more zeal, the new car promises to do so with fewer gas station visits. Citing modestly improved aerodynamics for the sleeker body, slightly taller gearing (feasible because of the big torque increase), and enhanced engine efficiency, VW claims an 18 percent improvement in fuel economy. U.S. models will arrive with an EPA rating of 24 mpg city, 34 highway.
Fancy Footwork
Increased power with improved fuel economy is always welcome. But the trait that has always distinguished the GTI is nimble handling, and this is the strongest element in the seventh generation's extensive portfolio of newness.
Like the current car, the new GTI's suspension tuning is firm, and if anything there's even more roll stiffness, noticeably reducing body motions versus generation six. The variable ratio electric rack-and-pinion power steering is race car quick at 2.1 turns lock to lock, and unlike so many electric systems delivers a strong sense of connectivity with the front wheels, as well as surgical accuracy.
But it's what happens with those front wheels that really distinguishes this GTI from its predecessors. The standard limited slip diff makes the most of adhesion (U.S. cars will wear 225/40-18 tires), and gives the GTI exceptional bite entering tight corners. This gets even better with the performance pack's locking differential, and it's possible to defeat the stability control to maximize responses for negotiating a set of autocross cones.
However, the onset of stability control intervention is rarely intrusive, and the standard setup provides exceptional responses by front-drive standards. Even at maximum adhesion in really aggressive cornering, the inside wheel never spins and the loaded outside front wheel refuses to wash out. At some point understeer becomes inevitable, but the threshold is very high indeed.
At higher speeds, the GTI's agility inspires instant confidence. Its responses are eager, reminiscent of a cheetah matching the moves of a fleeing gazelle and closing the gap with each stride.
There are no surprises, and the connection between car and driver is remarkably unfiltered by contemporary standards.
Braking performance is exceptional - not a hint of fade during a long day of attacking mountain switchbacks. Nor was there a hint of torque steer, the tendency for the car to veer one way or another with abrupt throttle applications, a phenomenon so common in front-drive cars with big horsepower such as the Ford Focus ST and Mazdaspeed3.
Firm suspension tuning often equates with harsh ride quality, but this isn't really an issue with the current GTI, nor does it seem to be a problem with the new one. The spring rates and damping don't quite iron out really sharp bumps, but aside from that the suspension is reasonably supple, particularly in view of the car's athleticism.
This quality -- everyday comfort -- is a strong suit in the current GTI, and promises to be even stronger in the new one, in part because interior noise levels have been substantially reduced.
Details and Dollars
As noted, like the mainstream Golf, this is a slightly bigger GTI with more interior space, particularly in the rear seat area, and expanded cargo volume. Interior appointments will look familiar to owners of current models-still very much the coal bin, with high-quality materials, the dark décor relieved by a new tartan plaid pattern in the sporty bucket seats.
There are new electronic features and accessories offered in European models, but at this point it's not clear which ones will find their way to our continent. For example, VW has developed a new lane departure assist system that will intervene with the steering if the driver allows the car to wander over the line without activating the turn signal. There's no decision on that feature yet, but VW will apparently refrain from offering an auto stop/start system on U.S. models. The measure, which shuts the engine down while waiting for stoplights, thus improving fuel economy, will be standard equipment on European GTIs.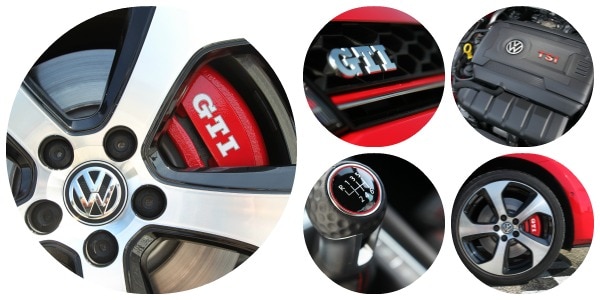 U.S. buyers can expect expanded telematics, an improved nav system option, and a range of upgrade options such as leather upholstery and a power moonroof.
What to expect in terms of pricing, however, will be an unknown for many months. VW of America sources will only say that the price ladder won't be much steeper than the current one. Base prices for the current car ranges from about $25,000 for the basic three-door manual to almost $32,000 for a five-door with the loaded Autobahn package.
And why will it take more than a year for this new pocket rocket to reach this market? That's because all future editions of the Golf and GTI destined for North American showrooms will be assembled at VW's new factory in Puebla, Mexico. Puebla production is scheduled to begin in February 2014.
Here's one car that appears to definitely be worth the wait.
The 2013 GTI is one of our 10 Coolest Cars Under $25,000
We're also fans of the Ford Focus ST
The Scion FR-S will likely be offered as a convertible soon