2015 Hyundai Genesis to boast auto braking, magic trunk and CO2 monitor
by
Matt Degen
|
October 28, 2013 11:36 AM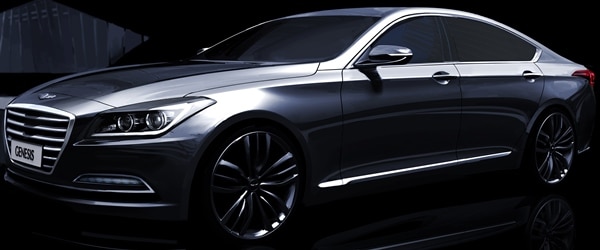 Details continue to emerge about the 2015 Genesis sedan, which will mark the second generation of Hyundai's premium vehicle.
In prior weeks we learned the next-gen Genesis will be available with Hyundai's first application of the HTRAC all-wheel drive in addition to its standard rear-drive, and just last week we got a preview of what this premium 5-passenger sedan will look like when it arrives next year. Now, we can confirm a few more interesting features that will be available on the 2015 Hyundai Genesis after checking them out for ourselves on a pre-production version in South Korea.
AUTOMATIC BRAKING
First on the list involves safety: an automatic braking system. These systems have become popular in recent years, initially appearing in premium vehicles such as the Volvo XC60 and Mercedes-Benz E-Class, and now they are quickly making their way into mainstream vehicles such as the Mazda CX-5 and Mitsubishi Outlander. Now it's Hyundai's turn to flaunt this potentially accident-avoiding technology that takes control when a driver fails to brake to avoid a collision. On the 2015 Genesis, the Automatic Emergency Braking system uses radar and a camera to detect a slower or stopped vehicle ahead. At speeds above 51 mph, such as highway driving, the system initiates partial braking if the driver fails to act. At speeds under 50 mph, such as urban traffic conditions, full braking can be initiated. We saw demonstrations of the Genesis' automatic braking, and it worked like a charm, screeching to a stop before plowing into a mock Hyundai ahead of it.
HANDS-FREE TRUNK OPENING
Here's another feature making its way onto today's cars, one that in a few years we may wonder how we ever lived without. Ford and BMW started this a couple of years ago on models such as the Ford Escape and BMW 3-Series. To operate these systems, one swings a foot under the trunk as if kicking a soccer ball in slow-motion. Hyundai's version is a bit different. Instead of making a person balance on one foot -- not ideal if you're, say, wearing high heels in the rain while holding grocery bags -- you simply stand near the perimeter of the trunk for 3 seconds with the key fob. Hyundai says the Genesis then does the rest, automatically sensing your presence and then opening the trunk while you stand firm. The functionality can also be manually disabled should you find the trunk automatically opening while you're merely standing around admiring the back of your shiny new Genesis.
INTERIOR CO2 MONITORING
Here's one we didn't see coming. While other systems such as those in Lexus models can monitor for outdoor smog and turn on recirculation mode in the cabin, Hyundai's sensor actually monitors indoor air quality, specifically CO2 levels. In the 2015 Genesis, the system aims to prevent occupant drowsiness, which can be a side effect of increased CO2 levels. Hyundai says such levels should stay below 2,500 parts per million for "optimum comfort." If the cabin broaches that level, the car automatically opens the vents to bring in fresh air from the outside.
All three of these features aim to enhance what's looking to be an impressive list of standard and optional features in the next Hyundai Genesis as it aims to step up its game against competitors like the BMW 5-Series, Mercedes-Benz E-Class and Lexus GS. We'll be closely following Hyundai's premium sedan as it gets ready for its formal unveiling and sales debut next year, so stay tuned for more details and our driving impressions of the 2015 Hyundai Genesis in the weeks and months ahead.
Popular at KBB.com