2014 Range Rover Sport: The 'Can It Really Do It All?' Test
by
Jason Allan
|
June 20, 2014 3:32 PM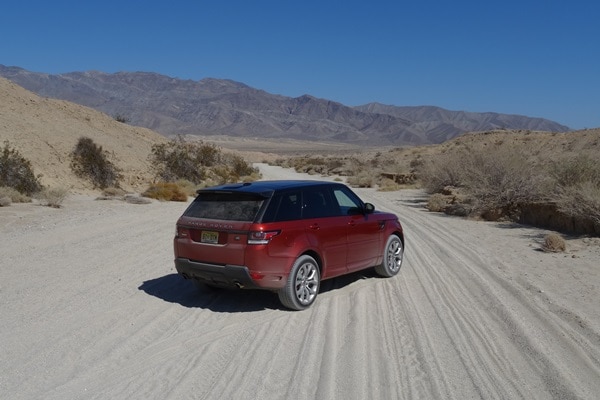 No car on the planet goes from rocky road to Rodeo Drive as gracefully as a Range Rover. Uncompromised architecture helps make it almost comically capable off-road, while its unique design, sheer mass and premium presence command attention even where they're as common as Corollas.
The Range Rover's younger brother, Range Rover Sport, is similarly impressive in both environments but adds a couple twists: it's more fun to drive on asphalt and its starting price is $20,000 less.
And with its mix of beaches, deserts and mountains dotted with trendy restaurants and resorts, Southern California is a similarly multi-faceted and ideal place to test all the capabilities and promises of the Range Rover Sport.
So in the name of science, our family of four packed up a 2014 Range Rover Sport and took off for a weekend road trip that would take us through winding mountain roads, down a sandy desert wash and finally to the resort towns of greater Palm Springs.
Here are the test results.
Mountain Portion: Passed
One way to get from the Pacific Ocean to Southern California's Colorado Desert is to go over Palomar Mountain, a drive that amounts to a geographic hat trick. For those who enjoy driving there are two great things about taking the mountain route: going up and coming down.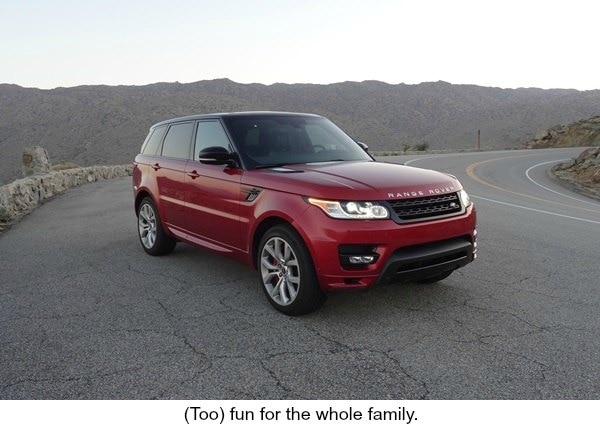 And the winding roads that took us up 3,000 feet and then down to the desert floor were surprisingly fun to drive in the Range Rover Sport. Sure it looks sportier than its Range Rover big brother, but you don't really expect a 5,000-pound SUV to actually encourage the kind of driving the rest of your family typically discourages. But with a 510-horsepower supercharged V8, a well-tuned suspension and better steering feel than some sedans we know, the Range Rover Sport did just that. It wasn't just fun for an SUV on the mountain portion of our drive, it was just plain fun.
Desert Portion: Passed
On our way out of Borrego Springs the next day we detoured four miles down a sandy wash toward Font's Point, reported as the best spot to take in the rugged formations of the Borrego Badlands. Loose sand can snare even the most aftermarket-enhanced, purpose-built 4-wheelers, but to no surprise the Range Rover Sport traversed it easily, even with tires designed for optimum on-road performance.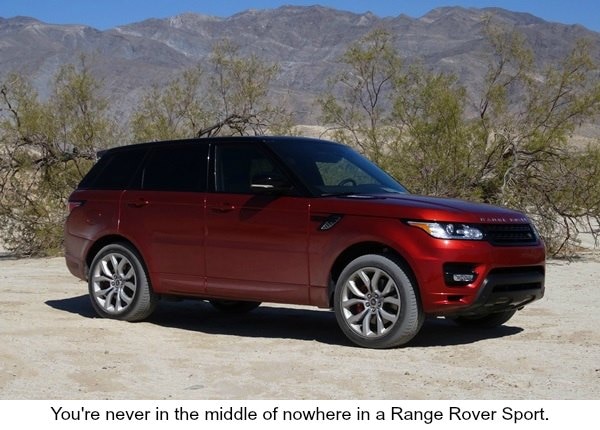 The wide wash was also a convenient place to experiment with the different settings of the Terrain Response 2 system, making it easy to feel the differences between the Grass/Gravel/Snow, Mud/Ruts and Sand settings, for instance.
Resort Portion: Passed
If it's comfortable for hours, roomy enough for four people plus luggage, and turns heads at the valet stand, it's a good car for a resort vacation. Check, check and check for the Range Rover Sport.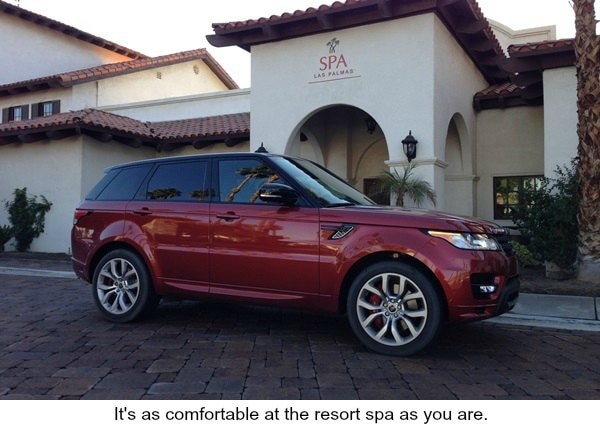 The Range Rover Sport's seats remained comfortable throughout our entire 300-mile journey, as did the highway ride. And the same surprisingly good steering feel that made the mountains so much fun also makes highway driving more relaxing.
But our extended drive also exposed some weak spots. There wasn't enough convenient storage space up front for two drinks, two phones and other road trip trappings. The automatic climate control required more manual adjustments than other such systems. And while the infotainment system offered all the functionality we needed, the interface is a step or three behind the competition.
Trip Notes
Here's a quick look at some of the sites and stays that were part of our family's three-day Range Rover Sport adventure. Most of them are low on the list of so many things to see and do in California, but Rancho Las Palmas (for families, especially) and the greater Palm Springs area in general might be spots worth adding to your wish list of vacation destinations.
Borrego Springs The Anza-Borrego Desert State Park is California's largest, and Borrego Springs is its largest community. An off-highway vehicle park and more than 500 miles of off-road trails are key draws to the area.
La Casa del Zorro Borrego Springs' premier hotel is actually one of the area's few hotels. Recently renovated, highlights of our short stay included a nicely furnished room and convenient direct access to the pool from the patio of our first-floor room. We'd definitely go back.
Borrego Badlands As is the case with most such landscapes, pictures of the Borrego Badlands (like the one below) don't do it justice. If you're in the area and have 4-wheel drive, check it out.

Salton Sea California's largest lake was a booming tourist attraction in the 50s and 60s. Now it's a mix of train wreck, ghost town and beaches white with dead fish bones. Bring the family!
Rancho Las Palmas Features the biggest on-property water park of any hotel in the greater Palm Springs area. If you have small- to medium-size children and you like the sun, that's really all you need to know.
Closing the Loop
Should you buy a Range Rover Sport? If you regularly drive winding roads to your resort vacations and do some off-roading on the way, then most definitely.
More likely you're just looking for a head-turning but versatile luxury vehicle.
And that's a test the 2014 Range Rover Sport passes without leaving the driveway.
Next Stops
For our full review of the 2014 Range Rover Sport we drove it under water, over rocks and up to 145 mph.
See if our Range Rover Sport Q&A answers the same questions you have. Includes a great video, too.
Ready to get serious? Build and price your own 2014 Range Rover Sport to unlock its Fair Purchase Price, 5-Year Cost to Own and more.
Photo Gallery: Range Rover Sport Road Trip