2014 Ram 1500 EcoDiesel Long-Term Update: One Lap of America
by
KBB.com Editors
|
January 19, 2015 9:42 AM
Almost to the halfway point of its stay with us, it's clear that our long-term 2014 Ram 1500 EcoDiesel is a staff favorite. It's already been on a camping trip to Big Sur and was used as the support vehicle for a few moves. What we had planned next for the full-size diesel truck would be its longest ride yet. For the holidays, we decided to drive instead of flying. The catch was that our destination was 3,100 miles away from Long Beach, California, in Coventry, Rhode Island
Although hopping on an airplane would appear to be a no brainer, but we were traveling with a dog. For those who have flown a pet you'll understand the effort needed to make it all work. Instead, our plan was to break the drive up into three days covering 1,000 miles per day. Since our Ram 1500 is equipped with Fiat-Chrysler's new 3.0-liter EcoDiesel engine, we'd also test for fuel economy during this trip. Unfortunately diesel didn't see as drastic a drop in price as regular gas, but we were still expecting some stout fuel figures to offset the cost.
Heading East
Day 1: Long Beach, California - Amarillo, Texas; 1,083 miles
Setting the pace for a road trip, especially the one we were undertaking, is essential if you expect to get where you want to go. We set off early on the first morning ahead of the Los Angeles-area traffic and were crossing into Arizona just as the sun was coming up. The majority of the ride east would be spent on the country's interstate system and cruise control would prove, once again, why it's a vital feature.
Day 2: Amarillo, Texas - Springboro, Ohio; 1,126 miles
The biggest day of driving of the entire trip, we hit the road early again knowing that there was 1,126 miles to cover snaking through five states. A dense fog covered everything as we set out to the point where you couldn't see to the other end of the hotel parking lot. Before heading out, we stopped for more diesel (22.320 gallons worth) and stocked up on some road trip essentials like water and snacks.
Day 3: Springboro, Ohio - Harwinton, Connecticut; 733 miles
After a day recouping from the long drive with some family in Ohio, we pointed the Ram towards Connecticut and settled down for the final extended leg of the trip. Before hitting the road though, we topped of the truck with 14.290 gallons worth of diesel and that took us all the way to Scranton, Pennsylvania before we needed to fill up again. After quenching the Ram's thirst in Pennsylvania (to the tune of 19.598 gallons), we crossed over into Connecticut reaching our destination shortly after.
Day 4: Harwinton, Connecticut - Coventry, Rhode Island; 98 miles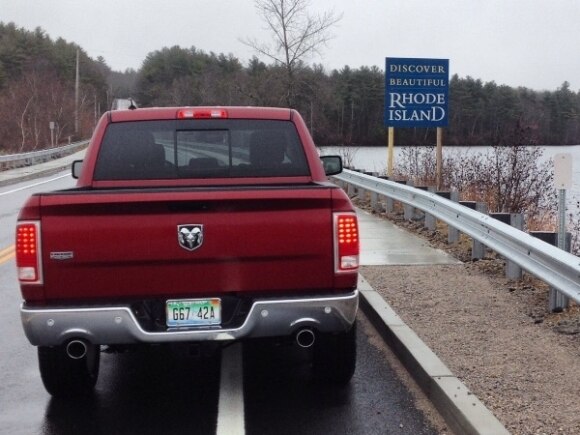 This was a route we were very familiar with as we had made this drive many times during our days in college. I had dropped off my co-pilot and our furry passenger, told them I'd be back in a few days, and took off for the Rhode Island border, about an hour and a half away. There was more than enough fuel onboard to get to Rhode Island (and back a few times over) so the commute would be a quick one when compared to the other day's drives. Since we logged more than our fair share of time on the country's interstate system I decided to take the back way. Things began to look even more familiar and soon I had crossed into Rhode Island, which called for a stop at the state line for a photo as proof that not only did the Ram 1500 EcoDiesel cross the country but it did so in a safe and fuel efficient manner.
In all, we covered over 3,100 miles (with a run to the Dayton airport and some other errands in between) starting in Long Beach, California and ending in Coventry, Rhode Island. We spent a grand total of $414.13 in diesel fuel. When compared to the price of a single plane ticket, you may think this was crazy. But don't forget the truck was filled with bags, a dog crate, and a dog. Factoring in the price of two plane tickets and the price to ship the dog from Los Angeles to Boston roundtrip and suddenly this extended road trip makes sense.
Also: Kelley Blue Book Best Buy Awards of 2015
Returning West
Day 1: Harwinton, Connecticut - Suwanee, Georgia; 967 miles
Except for the planned route through west Texas, this would be our longest day on the road as we made our way back home. Another early start allowed us to quickly sail around New York City without as much as a whiff of traffic. We filled up in Harwinton, Connecticut, got a quick bite to eat and didn't stop again until we reached North Carolina. Upon refueling, we did a quick stretch then piled back into the Ram and we were on our way to Suwanee, Georgia, about 45 minutes north of Atlanta.
Day 2: Suwanee, Georgia - Chancellor, Alabama; 261 miles
A quick jaunt down Interstate 75, we topped fuel off and restocked the water on board before making a B-line for Chancellor, Alabama. There, we would spend a few days with some family and even act as a taxi service. More family was flying down from Rhode Island and we were tasked with picking them up at Montgomery Regional Airport, about two hours north of where we were staying.
Day 3: Chancellor, Alabama - San Antonio, Texas; 829 miles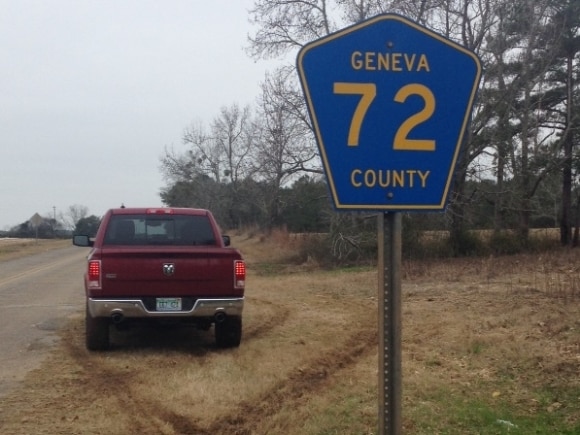 After a few days in the Alabama woods, we packed the Ram back up with everything we managed to accrue over our two week odyssey and headed for San Antonio, Texas via Interstate 10 west. We filled up in Enterprise, Alabama and didn't have to stop until two hours outside of San Antonio. Observed fuel economy continued to hover around 28 mpg.
Day 4: San Antonio, Texas - Phoenix, Arizona; 998 miles
The longest day of the trip home felt even longer thanks to some winter weather that laid waste to west Texas (and the countless tractor trailers split open and skewed about) the night before. If you've ever had the pleasure of driving through west Texas, you'll know how scenic yet sparse the geography is. Getting fuel would prove tougher than originally thought because of the cold weather. At our first attempt to refuel, the station's lines were frozen solid and, adding insult to injury, the restrooms were out of order because of it, too. Then, about 20 miles up the road, a gas station's sign stood high above the tree line inviting motorists to stop off. We did just that, but were met with a deserted building that looked like it last served the public back in 1989. Finally, another half hour down the road or so later, we found a working, top-tier gas station and refueled there before continuing on to Phoenix.
Day 5: Phoenix, Arizona - Long Beach, California; 359 miles
We stopped over in Phoenix for the night at a friend's house and refueled once more before leaving the following morning. The final leg of the trip was uneventful as we've done this drive a few times before and returned home to Long Beach just before sunset. After filling up in Phoenix, the Ram got us home with enough left over to handle the following week's entire commute (250 miles total) before needing to be refueled. The final mpg displayed on the Ram's computer: 28.4 mpg.
Upon returning home, we had managed to log a total of 7,527 miles over the course of two weeks, going through 21 different states, and spent a grand total of $882.17 on diesel and an additional $150 on hotels along the way. Compare that to two roundtrip airline tickets from Los Angeles to Boston and a ride in the cargo hold for the dog both ways and you're looking at a bill twice that size. Skipping the plane ride turned out to be a good idea especially if you have some vacation days to burn.
See Past Reports on our Long-Term 2014 Ram 1500 EcoDiesel...
Long-Term Update: Adding Diesel Exhaust Fluid
Long-Term Update: Enjoying the Ride
Long-Term Update: Uconnect, Bluetooth, and more
More Pickup Trucks...
Check out our Pickup Truck Buyer's Guide to see what's new and what's next.