2014 Porsche 918 Spyder ordering process opens
by
KBB.com Editors
|
March 22, 2011 7:33 AM
Although production won't start until mid-September 2013, dealers have now begun taking customer orders for the 2014 Porsche 918 Spyder. First deliveries of the stunning plug-in hybrid gasoline/electric supercar are expected to start by the end of 2013. Porsche has yet to provide information on the 918 Spyder's expected U.S. fuel economy figures, which are projected to be about 78 mpg on the Euro cycle. However, it did confirm that pricing would start at $845,000 in this country -- excluding destination fees -- and that worldwide volume of the vehicle will be limited to no more than 918 units.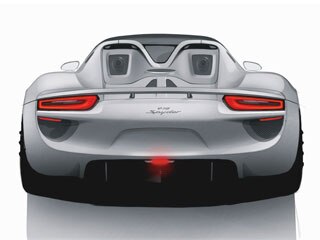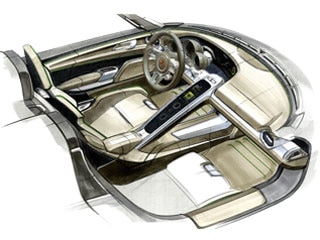 The official renderings indicate that the series-build 918 will maintain a good deal of the basic styling seen on the 2010 Porsche 918 Spyder Concept as well as its carbon-fiber reinforced plastic (CFRP) monocoque structure. The most prominent change involves the fitment of a manual roof system comprised of two lift-off panels that can be stowed in a compartment at the front of the vehicle.
As for motivation, the all-wheel-drive 918 Spyder will match a mid-ship mounted gasoline V8 of at least 4.0 liters and 500 horsepower with two electric motors -- one on each axle -- that together will provide about another 218 ponies. Porsche says that combo should allow the 918 Spyder to streak from 0-60 mph in 3.1 seconds and hit a top speed of 199 mph. It also anticipates this new eco-rocket will lap the legendary Nürburgring Nordschleife circuit in less than seven minutes and 30 seconds -- two ticks below the mark set by its Carrera GT. Energized by plugging in as well as through the use of regenerative braking, the 918 Spyder's compact lithium-ion battery pack is scaled to let it travel up to 16 miles on pure electric power and reach a speed of 94 mph, albeit for a fairly limited time period. Recharging is said to require about seven hours using a standard U.S. 110V outlet, although Porsche is currently evaluating a quick-charge option.
To help kick off the 918 Spyder ordering effort, Porsche is offering interested parties a chance to also acquire a special-edition of the 911 Turbo S Coupe or Cabriolet. Available later this year and also limited to no more than 918 units, these cars will feature bespoke exterior/interior design elements that echo those found in the 918, including similar exterior colors, carbon-fiber trim inside and out, enhanced leather and equipment plus 918-style acid-green accents on everything from their brake calipers to the instrument cluster needles. Each of these 911 Turbo "companion cars" also will carry a limited-edition badge on the glove compartment door with the same production number as the customer's 918 Spyder.