2014 Mitsubishi Outlander PHEV teased - will come to the U.S.
by
KBB.com Editors
|
June 18, 2012 1:52 PM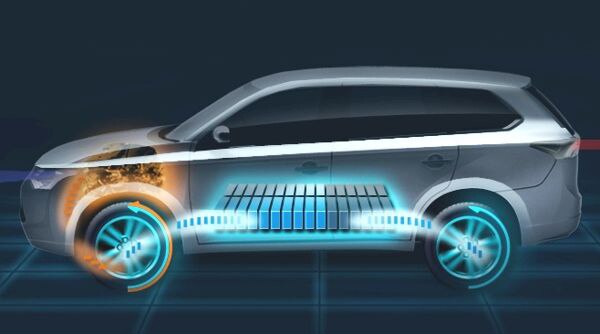 Although complete details won't be released until its formal debut this September at the Paris Auto Show, the first bits of information regarding the all-new 2014 Mitsubishi Outlander have now surfaced along with an illustration of the most interesting variation: the Outlander Plug-in Hybrid EV. Sharing all of its basic design architecture with the conventionally powered Outlander models, this more efficient incarnation will be the automaker's first-ever PHEV as well as the first series-production model in the industry to offer electric-powered full-time permanent four-wheel drive.
Like the Mitsubishi Concept PX-MiEV II presented at the 2011 Tokyo Motor Show, the 2014 Mitsubishi Outlander PHEV will be fitted with a four-cylinder gasoline engine/generator that drives the front wheels as well as a pair of electric motors to power each axle. This gas/electric system will be capable of operating in three distinct modes. "Pure," as the name implies, will consist solely of the two electric motors drawing power from the on-board battery pack. In "Series," the two motors work in concert with the gasoline engine functioning in its generator mode while "Parallel" has the Outlander PHEV's motors operating in support of its gasoline engine. According to Mitsubishi, the production Outlander PHEV will offer similar performance to that cited for its Concept PX-MiEV II, namely an operational per tank/charge range in excess of 500 miles and stellar CO2 levels of less than 50g/mile.
While the conventional side of all-new Mitsubishi Outlander line will launch this fall in Japan and Europe, it won't arrive here until sometime next year as a 2014 model. As for the Mitsubishi Outlander PHEV, it, too, will initially hit showrooms in Japan and Europe at some point in 2013 with U.S. sales commencing either in late 2013 or early 2014. Mitsubishi has not released pricing information on any of the new Outlander models.