2014 Lotus Elite -- Paris Auto Show
by
KBB.com Editors
|
September 20, 2010 2:03 PM
Winner of this year's earliest "early look" award, the 2014 Lotus Elite is making its first appearance in Paris, as part of an impressive product barrage from the British-based automaker. Resurrecting a classic Lotus heritage name, this striking 2+2 promises to be a legend in its own right when it hits the market in spring 2014, offering striking new styling language, a choice of conventional or hybrid powertrains and coupe or the marque's first-ever retractable hardtop configurations among its long list of key features.
>2010 Paris Auto Show Home
>2011 Bentley Continental GT -- Paris Auto Show
>2011 BMW X3 - Paris Auto Show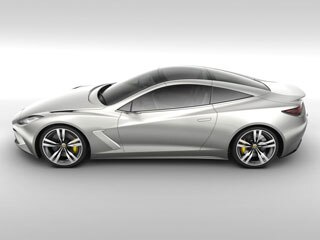 Formally described as a "production intent prototype," the aluminum-intensive 2014 Lotus Elite will be based on a bespoke incarnation of the architecture that underpins the current Evora model and be rear-wheel drive. Slightly smaller than an Aston Martin DB9 -- one of its key market rivals -- the new Elite is wrapped in alloy exterior panels that introduce a new "shark-like" front end/grille treatment and more definitively creased-and-contoured bodywork, all of which reportedly indicate where Lotus intends to go with the look of its future offerings. By including both coupe and drop-top variants in the mix, Lotus intends to leverage that appeal to the widest possible buyer group.
V8 power with a hybrid twist
Although certain details remain intentionally murky, we do know that the 2014 Lotus Elite will pack a 5.0-liter Toyota-sourced V8 engine underhood, with a mid-front placement to improve overall handling balance. Destined to be either supercharged or turbocharged and fitted with Lotus-developed computer controls, the engine will make up to 612 horsepower and 531 lb-ft of peak torque in its ultimate form, allowing the Elite to hit 60 mph in about 3.5 seconds and keep on charging up to 196 mph. While specifics of the car's "full hybrid transmission" are minimal, Lotus did confirm it will use a pair of integrated electric motors as well as a racing-derived KERS (Kinetic Energy Recovery System) setup.
In describing the 2014 Lotus Elite, Dany Bahar, CEO of Group Lotus called it "a car of perfect contradictions, it's compact yet spacious, high performing yet low emitting, lightweight yet still reassuringly solid. It's a car that we are exceptionally proud of at Lotus and we truly believe that there is nothing else like it out there both in terms of styling and performance."
Bahar is equally confident about the automaker's decision to make a move up in size and well into a six-figure price range which will put it head to head with high-end GTs from Aston Martin, Ferrari and Maserati. "Make no mistake, there's a definite market requirement for the Elite -- it's the ultimate sports car feel with comfort and space. There will always be those who believe that Lotus should stick to small sports cars but we didn't take the decision to design something like the Elite lightly, it's based on months of careful research and planning. It's worth noting this sector has been very successful for us in the past and now the Elite raises the benchmark higher still."