2014 Ford Fiesta ST: Subcompact with Attitude
by
Tony Swan
|
August 26, 2013 7:52 AM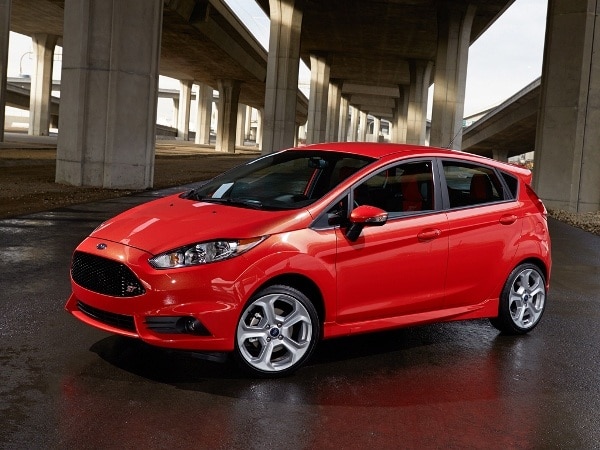 Although it's been an also-ran in the subcompact car derby since its 2010 return to the U.S. market, Ford's little Fiesta ST brings a performance element to this otherwise mpg- and thrift-oriented class that has been hitherto absent.
Following the blueprint established by the compact Focus ST, the Fiesta ST is basically a factory hot rod-substantially increased power, with suspension and braking upgrades to match.
Like its bigger Focus cousin, the five-door Fiesta ST offers a few options to enhance appearance and its performance persona, but even in standard trim is dynamically a complete package, ready to rock. Unlike the Focus ST, however, the Fiesta ST has no direct competition. There's nothing in its size-price category that can remotely challenge its combination of go-power and eager dynamics.
Eco-Thrust
The 2014 ST is propelled by the same 1.6-liter four-cylinder employed in the basic Fiesta, but with EcoBoost -- Ford's marketing name for turbocharging -- output goes from a modest 120 horsepower and 112 lb-ft of torque to a rip-snortin' 197 horsepower (at 6000 rpm) and 202 lb-ft (at 4200).
Power vectors to the front wheels via a six-speed manual transmission (no automatic option). The ST outweighs the basic Fiesta -- 67 pounds heavier than the portliest version of the standard car, according to Ford -- but the addition of 77 horsepower more than compensates for the extra mass, and 197 horsepower in a 2742-pound car adds up to pretty brisk acceleration. We'd look for 0-to-60 mph times in the low 7-second bracket.
Also: Coolest Cars Under $25,000
Lots of horsepower in a small front-drive car usually adds up to torque steer, and the Fiesta ST is no exception to this general rule. Floor the throttle in one of the lower gears, and the car will try to veer off its intended line. This is also true of the Focus ST, and while it can be annoying it's one of those operating quirks that owners quickly learn to live with.
Sports Car Soul
As noted, more power is only part of the prescription. With bigger brake rotors, bigger brake calipers, stiffer spring rates, revised shock damping, a stiffer beam axle at the rear, reduced static ride height, bigger wheels (17-inch aluminum alloy, versus 15- or 16-inch for the lesser Fiestas), and summer performance tires (205/40 Bridgestone Potenza), the ST is ready to unkink a series of mountain switchbacks or attack an autocross course.
The rack-and-pinion steering is quicker than that of the standard Fiesta, and unlike so many of the new electric power assist systems this one gives the driver a sense of tactile feedback. This surgically precise setup would be right at home in a sports car.
The sum of all these upgrades is a car with eager responses, surprising go-power, and powerful, fade-free braking. Inevitably, with low-profile performance tires and a suspension tuned for right-now handling, there's some tradeoff in terms of ride quality. But while it's distinctly stiffer than the standard Fiesta, the ST's ride can't be described as harsh; the damping takes the hard edge off impacts from potholes and warty pavement.
Eye Candy
Of course, it's never enough for a go-faster package to simply go faster. It also has to look like it goes faster.
To that end the Fiesta ST sports a distinct grille, a chin spoiler, rocker panel extensions, a rear diffuser, and a roof spoiler above the rear hatch. Reduced ride height -- by 15 mm -- gives the car a more action-ready appearance, as do the 17-inch wheels and low-profile tires. And for those who really want to flaunt it, the color palette includes Molten Orange metallic paint, a Fiesta first. Introverts need not apply.
Also: 10 Best SUVs Under $25,000
Interior distinctions include front bucket seats with deeper side bolsters, to keep driver and front seat passenger anchored during spirited driving. The option list includes a Recaro seat package, with even more supportive side bolsters, leather trim, and seat heating. The package also includes heated side mirrors.
The Price of Power
Our test car included the Recaro package, as well as navigation and the My Ford Touch system, elevating the MSRP from $22,195 (base) to $24,985. That's considerably more than a standard Fiesta -- base prices run from $14,295 to $19,095 -- but less than you'd likely pay for one of the other compact hot rods: Focus ST, Honda Civic Si, Mazdaspeed 3, Volkswagen GTI.
You'll also pay a little more for fuel. EPA ratings for the standard Fiestas are 29 mpg city, 39 or 40 highway, depending on powertrain-on regular fuel. The Fiesta ST is rated for 26 city, 35 highway. It will run on regular fuel, but for peak performance you'll need to burn premium.
Still, if you like the pocket rocket concept -- big performance in a small package for a reasonable price -- this execution seems hard to beat.
More Small Fun
2015 Volkswagen GTI: The Once and Future King
2013 Ford Focus ST: Europe Arrives at your Doorstep
2014 Mazda3 First Review: Bolder, Better and Even Cooler