2014 BMW i8 spied testing in the snow
by
KBB.com Editors
|
March 10, 2011 9:03 AM
Caught winter testing near the Arctic Circle in Sweden, the BMW i8 remains on schedule to make its production debut sometime in 2013. Originally presented at the 2009 Frankfurt Auto Show, this super- slick (0.22 coefficient of drag) carbon-fiber 2+2 all-wheel-drive plug-in hybrid is expected to carry a price tag between $150,000-$200,000 when it does hit the showroom. The new name of this nascent supercar reflects the automaker's recent establishment of its "BMW i" sub-brand. BMW i will serve as the marketing umbrella operation for its future premium mobility green vehicles, including the all-electric i3 -- formerly the Megacity Vehicle -- also due for a 2013 launch.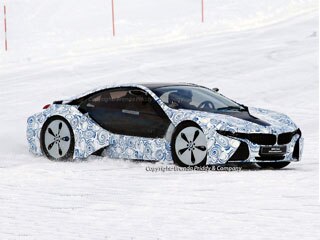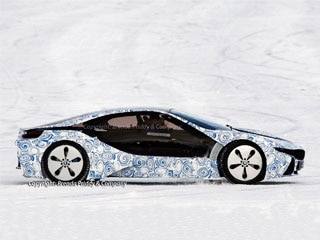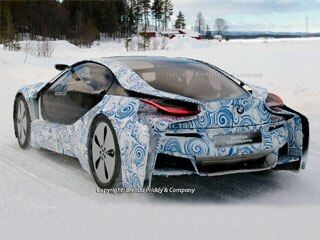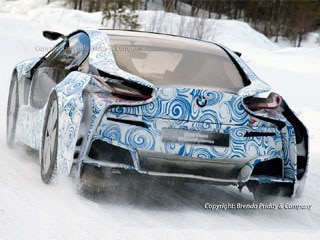 Approved for limited series production late last year, the BMW i8 pairs an internal combustion engine that drives its rear wheels with an electric motor/generator unit energized by a lithium-ion-polymer battery pack that powers the front wheels. With a combined output of 328 horsepower, that matchup allows the prototype i8 to run 0-60 mph in 4.8 seconds and reach a top speed of 155 mph -- as well as travel up to 31 miles in pure EV mode.
Recent and seemingly well-founded speculation claims that the three-cylinder turbodiesel engine used in BMW's original Vision EfficientDynamics Concept/i8 may be joined by -- or simply replaced with -- a gasoline engine, at least in some markets. Fueling those rumors was the recent introduction of BMW's new, super-efficient 2.0-liter TwinPower Turbo four-cylinder, initially fitted to the BMW X1 xDrive28i and intended to spearhead a four-cylinder renaissance in several U.S. models. With 245 horsepower and 258 lb-ft of torque, 16 percent better fuel economy and significantly lower CO2 emissions than the engine it replaces, this new-gen gasoline four-banger seems ideally suited to serve as prime motivator for the Ameri-spec BMW i8.