2013 Scion FR-S revealed!
by
KBB.com Editors
|
December 1, 2011 9:50 AM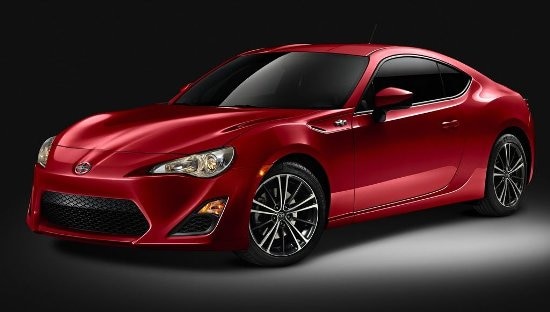 With its corporate clone, the Toyota 86, being presented in Tokyo, the automaker decided the time was right to unveil the U.S. version of this striking sports coupe at a private event in Hollywood. It will go on sale here early next year as the 2013 Scion FR-S, although save for its division-specific badges and some very minor trim differences, the two cars will be virtually identical and also closely allied with the equally new Subaru BRZ.
Speaking at the event and flanked by a number of classic Toyota vehicles that had served as the spiritual influences for the new Scion FR-S, Scion Vice President, Jack Hollis, describing it as a true halo car for the organization. He happily pointed out that a recently launched but totally unpublicized hand-raiser website to judge interest in the new FR-S drew over 10,000 sign ups in its first 10 days of operation.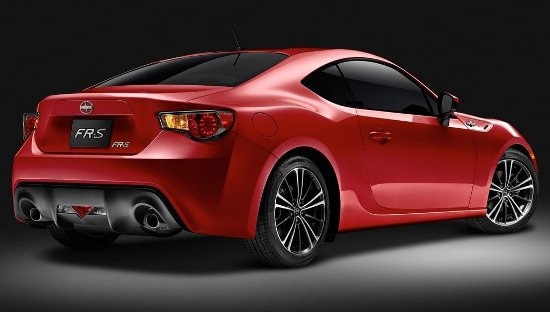 As we knew from its first appearance at the 2011 New York Auto Show in slightly-more-radical Scion FR-S Concept form, this 2+2 was developed in concert with Subaru to be an ultimate driver's car. The new, naturally aspirated 2.0-liter horizontally opposed Subaru boxer four sits extremely low and is set back to a front/mid position that greatly enhances the car's inherent balance and agility. Fitted with Toyota's trick D-4S induction system that includes a port and a direct injector for each cylinder, it makes 200 SAE-certified horsepower on premium fuel in U.S. trim and develops 151 lb-ft of torque.
That muscle will head to the rear wheels via either a standard six-speed manual transmission or optional six-speed automatic that includes F1-style paddles on the sport steering wheel and automatically rev matches on downshifts. No word yet on the FR-S' performance numbers, but 0-60 mph sprints in less than seven seconds and a top speed in excess of 140 mph seem likely. To take full advantage of its platform configuration and excellent 53/47-percent weight distribution, the Scion FR-S also features a sport-tuned suspension with front struts and rear wishbones, limited-slip differential, vented antilock disc brakes at each corner and 215/45 tires on 17-inch alloy wheels. Various mass-reducing efforts - including a fitting an aluminum hood, not offering a sunroof and opting for a coupe rather than a hatch body style - will hold the as-yet-undisclosed curb weight on the FR-S to between 2,600-2,800 pounds.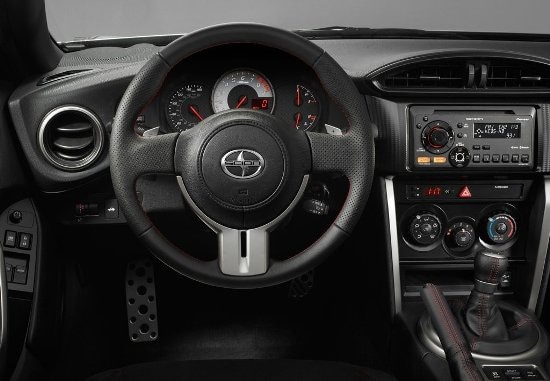 Although specific interior details are still being finalized, we do know that the FR-S will come with a driver-focused gauge set and control layout, deeply contoured front sport buckets -- also positioned low in the cabin to help drop the center of gravity. It will have a flat-folding single-piece rear seatback that opens up an area Scion promises is "large enough to hold four mounted tires, a floor jack and tools" to accommodate owners who anticipate driving their cars to and from various track-day outings. One other nifty bit of kit on the exterior of the new Scion FR-S are the signature "86" fender badges. Also appearing on its Toyota 86 twin, they serve as an overt homage to the iconic AE86 Corolla GT-S model, a front-engine/rear-drive performance coupe that set inspired this modern-day successor.
While Scion has yet to release pricing data, EPA numbers or a final on-sale date -- expect those to come at the Detroit Auto Show in January -- it has confirmed that the FR-S will be available in seven exterior colors. Like other vehicles in the lineup, the 2013 Scion FR-S also will be a mono-spec offering that can be easily personalized with a selection of dealer-installed accessory items.