2013 Mazda CX-5 First Drive
by
KBB.com Editors
|
September 2, 2011 1:53 PM
It's late August, it's a windy and rainy 50 degrees out, and the cars we've been driving are covered in camouflage to keep their identity secret.
But running across spy photographers -- or human beings of any profession -- was much less of a concern than was running over sheep. They liked to lie down on the warm asphalt with no regard for our need for driving impressions, but they certainly weren't about to take any spy shots of the cars we were in.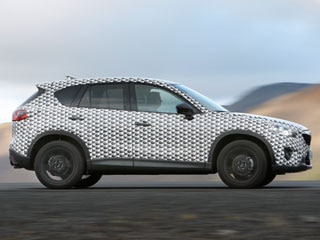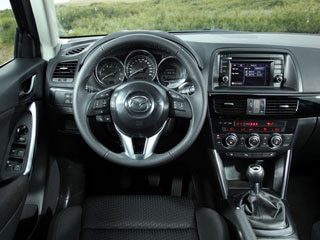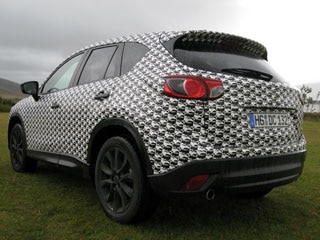 Where in the world were we? In Iceland, traveling with folks from Mazda and a handful of other automotive journalists, driving prototypes of the 2013 Mazda CX-5 due to be formally unveiled at the 2011 Frankfurt Auto Salon later this month. To this remote and wild location, nestled on dramatic green-tinged hills overlooking a fjord, Mazda brought just four hand-built Euro-spec cars. Accompanying the cars was a swarm of Mazda engineers -- both German and Japanese -- on hand to offer their expertise on everything from the car's chassis tuning to the soft-touch materials covering the dash.
The group was abuzz with activity. The CX-5 will be the smallest entrant in Mazda's crossover lineup, set to compete with the likes of the Honda CR-V, Toyota RAV4, Chevy Equinox, Kia Sportage and Volkswagen Tiguan. The CX-5 is not only an all-new vehicle, it's the first vehicle to blend together the company's new Kodo design language and fuel-efficient, all-encompassing "SkyActiv" philosophy. SkyActiv isn't a particular technology, but a holistic approach to efficiency that includes body, chassis, engine and transmission advancements. In short, there was a lot to talk about.
But this wasn't a straightforward vehicle evaluation drive. Although the CX-5 is indeed coming to our shores, we weren't privy to any concrete details regarding equipment, pricing or specs. Mazda has brought us here to find out what we think of the car before final production-tuning for the U.S. market begins -- and whether a diesel-powered CX-5 will be accepted by American consumers. To make these evaluations possible, the four cars in Iceland offered a mixture of gasoline and diesel engines, automatic and manual transmissions, and two- and four-wheel drive.
So, what did we think?
Good things. Even driven in prototype form, the Mazda CX-5 holds promise to be the sportiest and most fun-to-drive entrant in the competitive compact crossover segment. The first car we tested was equipped with four-wheel drive, the new SkyActiv automatic transmission and the 2.0-liter SkyActiv-G gasoline engine. We were impressed by its smooth and prompt power delivery, linear and immediate response on the road, and the transmission's prompt shifting and resistance to gear hunting when traveling over hills. Next was a loop in the two-wheel-drive, gasoline-powered, manual-equipped CX-5, the highlight of which was quick, light shifting that added to the car's fun on-road personality.
And then we spent time in the two remaining prototypes: one manual, one auto, each powered by the new 2.2-liter turbocharged SkyActiv-D diesel engine and outfitted with four-wheel drive. Thanks to a two-stage turbocharger, lag was virtually nonexistent and there was always ample torque available. Also, unlike some of the other diesel engines currently offered in America, Mazda's doesn't require the added use of exhaust-scrubbing urea, meaning less cost and hassle down the line. Potential negatives? Some consumers might find the CX-5's ride with the SkyActiv-D to be a little stiff for their tastes, a result of suspension tuning to accommodate the heavier diesel engine.
But Mazda, if you're listening, please -- please -- bring this engine in the CX-5 to America.
Powertrains aside, there was plenty more to like about the CX-5. Its electric power steering felt nicely weighted, and the suspension appropriately reactive without being too punishing over rougher roads. And even though the interior wasn't up to production spec, we found its soft-touch surfaces, new gauges and well-bolstered seats promising. Headroom and legroom were also good, and two grown men fit comfortably into the back bench seat.
Mazda was mum on the CX-5's projected fuel economy, but they did say they were aiming for best in class. We wouldn't be surprised to see highway numbers in the mid-30's and city numbers in the mid 20's. If the diesel makes the crossing to America, expect even higher numbers.
The bottom line? Although there will be differences between the cars we drove and the 2013 CX-5 we'll get in America, we think this car can proudly carry the Mazda "zoom-zoom" tagline. If Mazda can price it right, consumers that are looking for a fuel-efficient but fun-to-drive crossover will have something to look forward to getting into.
Especially those open to the idea of a diesel.