2013 Mazda CX-5 - An impressive impression
by
KBB.com Editors
|
November 21, 2011 1:28 PM
Manufacturers have become rather cavalier about tossing the term "all new" around these days, but at least one new vehicle truly does live up to the claim. The 2013 Mazda CX-5 represents the start of a potentially golden era for the automaker. From its new styling language to its all-encompassing suite of SkyActiv design technologies; this compact crossover raises the overall corporate benchmark far beyond the aging Mazda Tribute it replaces. We recently drove several different versions to see exactly what buyers can expect when this five-passenger compact SUV goes on sale during the first quarter of 2012.
Even from curbside, the new Mazda CX-5 impresses. Its new "Kodo - Soul of Motion" recast has brought a bolder, sleeker and more crisply rendered shape to the overall package and delivered up a far more sophisticated and well-proportioned signature grille treatment that mercifully signals the beginning of a long-overdue end to the rather unfortunate "Happy Face."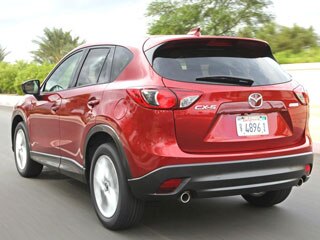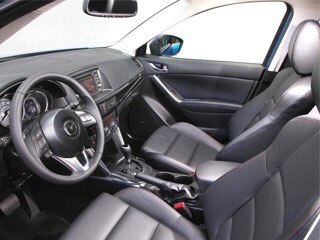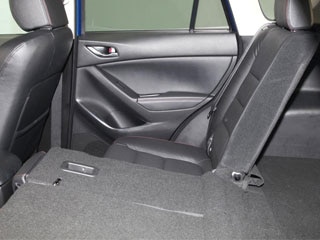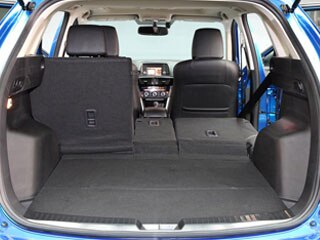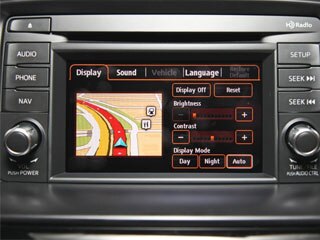 The interior of the 2013 Mazda MX-5 shows a similar kind of character elevation. Quiet, roomy, well-designed from both a driver's and passenger's standpoint, the cabin's more upscale overall design brings a bevy of soft-touch surfaces and a long list of standard power assists plus premium features like a tilt/telescoping steering column and keyless pushbutton starting. The CX-5's more comfortable and supportive front seats are matched with an adult-scaled 40/20/40 rear bench that features industry-first, remote quick-release levers for each individual back element. Open the CX-5's large, single-piece liftback, pull a lever and the 34.1 cu-ft capacity rear bay nearly doubles in size, creating a long, near-flat floor in the process.
Based on our previous experience with early Euro-spec CX-5 prototypes, we fully expected the collective implementation of Mazda's weight-reducing/efficiency enhancing SkyActiv design approach to the engine, transmissions, body structure and suspension would yield an impressive driving experience. We were not disappointed. Smooth, refined and eager to rev, the new 155-horsepower SkyActiv-G 2.0-liter gasoline engine proved a good match for both the CX-5's standard six-speed SkyActiv-MT manual and the optional six-speed SkyActiv-Drive automatic, with 0-60 mph times projected to be a quite competitive 8.8 to 9.3 seconds, depending on configuration. And with EPA highway numbers ranging from 30 to 33 mpg, the CX-5 also should hang with the best of its in-class rivals when it comes to mileage-maxing. At some point in 2013, Mazda will introduce its 2.0-liter SkyActiv-D turbodiesel here as well. With 170 horsepower and 310 lb-ft of torque, it promises even better total performance and should be a huge favorite with buyers who'd like an all-wheel-drive version of the CX-5 or plan to exploit its 2,000-lb towing capacity.
To help ensure its "Zoom-zoom" philosophy carried over into the age of SkyActiv, Mazda engineers designed a lighter but super strong and rigid unit body for the new CX-5 that serves as the foundation for a revised suspension package that features new handling-enhancing geometry. Directional control comes from an also-new and very well-sorted electric power-assist steering setup that boasts a quick 15.5:1 ratio (the MX-5 has a 15.0:1 gear).
Our day-long encounter took in both freeways and twisty back roads, venues the CX-5 handled with equal aplomb. Shod with its standard 17-inch alloy wheels and 225/65 all-season tires (a 19-inch upgrade is optional), this new Mazda SUV felt agile, confident and surprisingly sure-footed, tracking true on the straights and displaying surprisingly little roll in corners. While the added weight of the all-wheel drive system does put a bit more stress on the engine, we found it had little real impact on the CX-5's dynamic characteristics.
Available in Sport, Touring and Grand Touring trims, the 2013 Mazda CX-5 will offer a number of package upgrades that step up the feature set to add things like a TomTom/Mazda navigation system, power moonroof, Bose premium audio and HID adaptive headlamps. Pricing is still being finalized, and while a $24,000-$26,000 opening window seems likely, Mazda indicates that it will be "fully competitive" with prime rivals like the new Honda CR-V, Ford Escape and Chevrolet Equinox.