2013 Honda Fit EV - 2011 LA Auto Show
by
KBB.com Editors
|
November 17, 2011 8:17 AM
One year after being presented here in prototype form, the production-spec 2013 Honda Fit EV made its debut in Los Angeles. Aimed at fulfilling the daily driving requirements of typical urban commuters, this electric variation maintains all of the five-passenger utility of the conventional gasoline-powered Fit five-door hatch but does so with its own cleaner, greener style.
Motivation for the 2013 Honda Fit EV comes from a 92-kw/123-hp electric motor derived from the one used in the Honda FCX-Clarity fuel-cell car. It drives the front wheels via a single-speed transmission. Energy is supplied to the motor by an advanced 20kWh lithium-ion battery pack mounted below the rear seat that gives the new Fit EV a nominal per-charge range of 123 miles in the city and have a 76 MPGe combined EPA rating. Honda earlier indicated the car's top speed would be about 90 mph.
>See more new cars unveiled at the 2011 Los Angeles Auto Show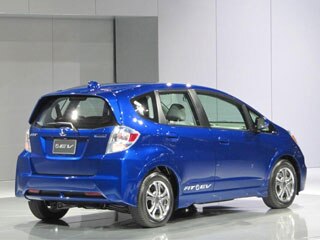 The Fit EV also incorporates a tri-mode (Econ/Normal/Sport) E-Drive control system adapted from Honda's CR-Z Hybrid. According to Honda, choosing Econ mode can boost the car's effective range by 17 percent over the Normal setting and 25 percent over Sport mode, although the latter reportedly puts the Fit EV's acceleration on par with a conventional vehicle with a 2.0-liter engine. Finally, the Fit EV features several "interactive coaching systems" to help drivers in their mileage-maxing quest, including one display that advises when to shut off the air conditioning or other accessories to conserve charge. When replenishment is required, Honda says the battery in the 2013 Fit EV can be recharged in about three hours using a dedicated 240V setup, or an unstated but considerably longer period from a standard 120V outlet.
In addition to its bespoke cosmetic touches -- including exclusive Reflection Blue Pearl paint, chrome fascia trim, five-spoke alloy wheels and reasonably subtle badges and decals - the 2013 Fit EV will have unique instrumentation, a full range of power assists, energy-saving climate control system and the Honda Satellite Linked Navigation System that provides information on the location of public charging stations. Like its electric-powered peers, the 2013 Honda Fit EV also features a standard connectivity system that permits the driver to stay tied in via a smartphone, personal computer or a Honda-exclusive interactive remote that allows interactive communication without an internet connection or mobile phone signal. The basic system makes it possible to check the battery status, commence charging and preheat/cool the cabin while the mobile application and website also lets the driver set notifications and alerts to help optimize recharging costs as well as providing 24-hour roadside assistance.
American Honda plans to begin leasing the 2013 Fit EV to customers in select California and Oregon markets this summer, and will expand to six East Coast markets in early 2013. The Fit EV's Manufacturer's Suggested Retail Price has been set at $36,625 and the monthly lease is estimated at $399. The automaker expects to produce approximately 1,100 Fit EVs over the next three years.