2013 Ford Fusion Energi First Review: Professional Plug-in
by
Bob Nagy
|
May 6, 2013 8:17 PM
The greenest member of the automaker's midsize sedan family, the 2013 Ford Fusion Energi has now begun rolling into the automaker's 900+ EV-certified showrooms. It offers the most fuel-efficient take to date of the automaker's smartly styled midsize sedan, but like all plug-in players, that frugality does come at both a price and a cost. A recent encounter with a top-line Titanium-spec version provided some insight regarding the plusses and minuses involved in making one your daily driver.
A view from the curb
If you like the look of the basic 2013 Ford Fusion, you'll feel right at home in the new Energi variant. Save for unique alloy wheels and an external charge port, there's little visible exterior differentiation. Like the Hybrid, it too boasts active grille shutters and full underbody fairings that enhance its wind-cheating prowess. Inside, only subtle tweaks set the Energi apart from a standard Fusion. The most prominent differences are its Hybrid-style dedicated dash display that provides information on various battery usage/regenerative aspects of the system, plus mode buttons on the console that allow a driver to select how and when the gas/electric power sources will be used.
The power within
The Fusion Energi is fitted with the same drivetrain found in Ford's C-MAX Energi crossover: a naturally aspirated 141-horsepower/2.0-liter 4-cylinder Atkinson cycle gasoline engine teamed with the automaker's PowerSplit eCVT automatic transmission that incorporates a 118-horsepower electric motor/generator system. Like the C-MAX, this combo develops 188 horsepower in sustained mode or 195 ponies in deplete mode when you start out with a fully charged battery pack and can propel the car using either or both power sources. As for torque, the engine makes 129 lb-ft while the traction motor/generator develops 117 lb-ft.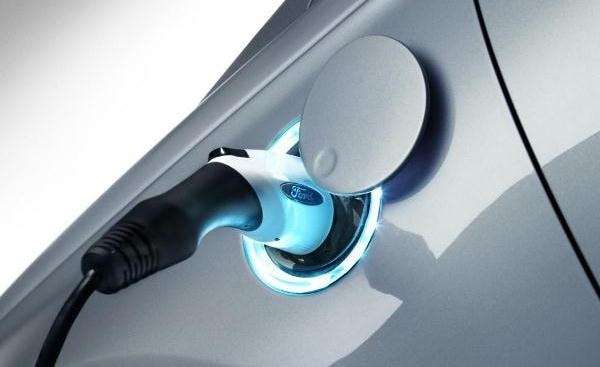 While that basic hardware also is shared with the Fusion Hybrid, the Energi has a 7.6kWh lithium-ion battery with unique cell design in place of the Hybrid's 1.4kWh pack, plus an external plug-in port for use with a dedicated 240V charger. Standard kit also includes a 120V charging cable and a 3.3kW on-board charger. Its bigger battery permits the front-drive Energi to travel up to 21 miles and hit speeds up to 85 mph in pure EV mode -- although not simultaneously -- compared to the Hybrid's 2.5-mile/62-mph electric-only stats. Those range/speed figures also outpace the Toyota Prius Plug-in (11/62) and new 2014 Accord Plug-in Sedan (12/80) and give the Energi a class-leading 620-mile total range with a full tank and a full charge.
Although the Energi's highly efficient regenerative braking system can recapture over 90 percent of energy normally lost, serious battery replenishment is done via a Level 2 charger in a process that takes about 2.5 hours. Plug the car into a wall outlet and the interval increases to seven hours. Compared to the Fusion Hybrid's across-the-board 47-mpg EPA ratings, the heavier Fusion Energi plug-in is rated at 43 mpg combined, reflecting a 44 city/41highway mpg split. But in all-electric mode -- for those first 20 miles or so after a full charge -- the Fusion Energi is rated to return 100 mpge (miles per gallon equivalent) combined.
More junk in the trunk
The Fusion Energi's key functional drawback only becomes apparent when you pop the decklid. While the high-voltage battery pack in the Fusion Hybrid cuts trunk capacity from 16.0 cu ft to 12.0 cu ft, the Energi's far larger electric assist power source slices another third from that already diminished total figure, leaving a scant 8.2 cu ft of usable space. It also seriously impacts the size of the pass-through opening when you drop the folding rear seatbacks.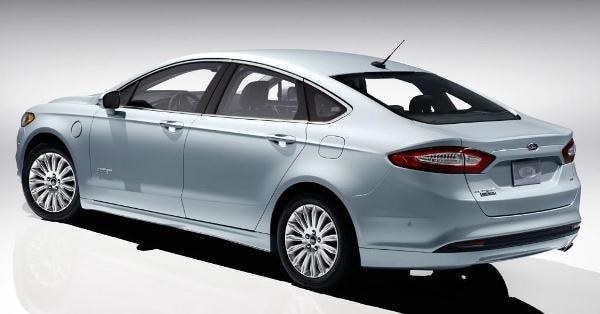 The wheel deal
Our modest run in the Fusion Energi consisted entirely of a city driving regimen that spanned just over 20 miles. Despite that limitation, it soon became clear this newest family member maintains much of the dynamic character that makes the regular Fusion such an engaging running mate. Despite toting an extra 200+ pounds of battery, the Energi proved more than capable of slicing its way through traffic with its brisk off-the-line acceleration transitioning into merely average poke as the velocity increased. While the engine does make its presence known under max-acceleration situations, the cabin is commendably quiet overall, helped by the presence of an active noise cancellation system that's focused on reducing road noise. Operating in EV mode for the majority of our test loop, we returned to base with the car's Smart Gauge display showing 0.2 gallon of gas used and indicating a 126.1 MPGe figure.
The bottom line
Today's plug-in hybrids are not cheap dates, and the 2013 Ford Fusion Energi is no exception to that rule. The price of entry for an SE Limited starts at $39,595, which is $6,800 more than a Prius Plug-in and a stout $11,600 beyond a comparable Fusion Hybrid. The top-line Titanium version opens at $40,895 and the well-optioned example we drove commanded $44,975. Even when you factor in a $3,750 federal income tax credit and any other applicable state and local incentives, unlimited free access to HOV freeway lanes plus Ford's estimate that a full recharge will cost less than $1, those are some pretty heady figures. People in a position to fully exploit the Energi's 21-mile EV capability and tolerate its sub-subcompact trunk capacity may find the tradeoffs worth considering, but for most Fusion fans, the Hybrid or the baseline gas-powered model will continue to make the most per-dollar sense.
Fusion is just one of 12 midsize sedan choices in 2013
Mitsubishi's 2014 Outlander Plug-in Hybrid SUV goes on sale here later this year
Toyota's total global hybrid vehicle sales have now topped 5 million units
Popular at KBB.com