2013 Ford Escape -- four-cylinder only with two EcoBoost options
by
KBB.com Editors
|
October 11, 2011 1:43 PM
While its formal debut won't come until November at the Los Angeles Auto Show, Ford has now confirmed that the all-new 2103 Ford Escape will lose its current V6 and Hybrid variants and be powered solely by a trio of super-efficient four-cylinder engines when it goes on sale in the spring. The two optional fours will feature the firm's EcoBoost technology that matches turbocharging, direct fuel injection and Ford's Twin independent variable camshaft timing (Ti-VCT).
Based on the Ford Vertrak Concept (pictured here) that was introduced at the 2011 Detroit Auto Show, the 2013 Escape will be the automaker's first SUV to offer two different variations on the EcoBoost theme. Both are intended to deliver class-leading economy and performance. Derrick Kuzak, group vice president, Global Product Development, notes: "Customers are prioritizing fuel economy above every other trait when they make most vehicle purchases."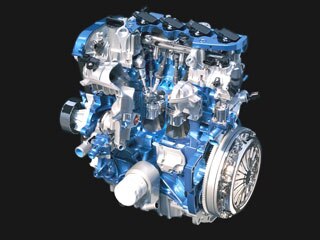 Already a major player in Ford's European lineup, the 1.6-liter EcoBoost four will make its first U.S. appearance in the new Escape. Developing 150-180 horsepower in Euro trim, it's expected to earn an EPA highway rating in excess of 31 mpg, bettering the mark of the 2012 Escape Hybrid. At this point, Ford is only confirming that the 2.0-liter EcoBoost -- which makes 240-horsepower in its Edge and Explorer applications -- will have superior fuel efficiency and better performance than its competitor's larger six-cylinder engines. (The soon-to-depart 3.0-liter V6 engine has the same pony count). Base engine in the 2013 Escape will continue to be the current 2.5-liter naturally aspirated Ti-VCT four, which presently turns out 171 horses.
While the Escape loses a hybrid alternative for 2013, Ford will introduce a new, even more efficient generation of its gas-electric drive system in the new 2013 Ford C-MAX crossover. This setup, which matches a 2.0-liter Atkinson Cycle four-cylinder engine with an electric motor fed by a new lithium-ion battery pack, will reportedly deliver over a 25-percent improvement in economy compared to the current Escape Hybrid. A variation to be used in the 2013 C-MAX Energi -- Ford's first plug-in electric vehicle -- has a target combined range in excess of 500 miles.