2013 Ford C-MAX Hybrid - 2011 Detroit Auto Show
by
KBB.com Editors
|
January 9, 2011 6:20 PM
Another green variation on the versatile C-MAX crossover theme to debut in Detroit, the new Ford C-MAX Hybrid will go on sale here in 2012. Although a fair number of its details also are still being finalized, we do know that it, too, will significantly advance the state of Ford's hybrid technology and driver information systems and roll out of the same newly refurbished Michigan Assembly Plant in Wayne as the 2012 Ford Focus Electric and the C-MAX Energi Plug-in.
Like its C-MAX Energi cousin, the C-MAX Hybrid is based on the Euro-spec "standard" five-passenger C-MAX and gets the same subtle front fascia aero enhancements and 15-spoke alloy wheels wrapped in low-rolling resistance tires. Save for the absence of a plug-in port, the most noticeable exterior difference is replacing "Energi" with "Hybrid" badging.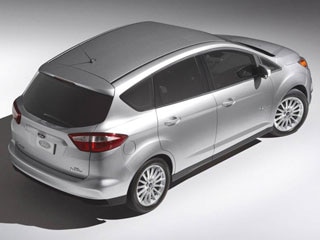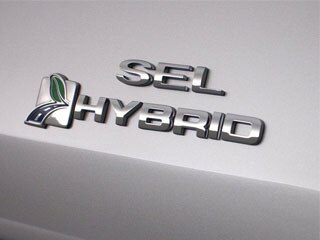 Although Ford has confirmed that the C-MAX Hybrid also will team a 2.0-liter four-cylinder Atkinson-cycle gasoline engine with an electric motor, no output figures for either unit have been revealed. Like the C-MAX Engeri, the C-MAX Hybrid will be fitted with a new lighter and more compact lithium-ion (Li-ion) battery pack instead of the bigger, heavier and less-efficient nickel-metal hydride (NiMH) ones used in the current Escape Hybrid and Fusion Hybrid models.
>2011 Chrysler 200 Super S by Mopar - 2011 Detroit Auto Show
>2013 Ford C-MAX Energi - 2011 Detroit Auto Show
>2012 Ford Focus Electric unveiled at CES
Equipped with this even-more-advanced Gen III technology and also teamed with Ford's dedicated eCVT automatic transaxle, the new Ford C-MAX Hybrid is expected to deliver better highway fuel economy than the current Fusion Hybrid's 41 mpg figure. Ford execs also say the latest iteration of the company's powersplit architecture will allow the C-MAX Hybrid it to travel faster in pure EV mode than the Fusion's 47-mph best. As in the present setup, the engine and motor can operate independently or in tandem to optimize overall operating performance as conditions dictate, with the latter scaled to function as the sole motivating force only in relatively low-speed/low-load conditions.
Along with modest cabin trim changes shared with its Engeri cousin, the C-MAX Hybrid also benefits from its own enhanced MyFord Touch/MyView features designed to help the driver keeps tabs on a host of stats and functions, from instant and average fuel economy to battery charge level and a comprehensive trip-end display that recaps distance driven, fuel use, miles recaptured by regenerative braking and more.