2013 Ford C-MAX Energi - 2011 Detroit Auto Show
by
KBB.com Editors
|
January 9, 2011 6:12 PM
Detroit Auto Show Top 10 #9 , Next: #8>>
Revealed in Detroit and slated to go on sale in the U.S. sometime in 2012, the Ford C-MAX Energi will be the automaker's first-ever production plug-in hybrid model. Although it has yet to confirm all of its final specs, Ford has said the C-MAX Energi will incorporate the latest iteration of its powersplit hybrid technology, next-generation driver-info features and possess operating efficiency that will endow this slick compact crossover with a best-of-the-breed, 500-mile combined gas/electric range.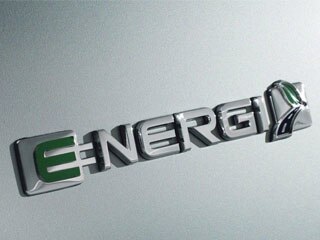 Based on the European "standard" five-passenger C-MAX that features a shorter 104.2-inch wheelbase and conventional rather than sliding rear side doors, the C-MAX Energi receives a number of subtle cosmetic exterior tweaks. The most prominent are seen up front, where its restyled fascia gets revamped grille and foglamp treatments. Rounding out the mix are distinctive 15-spoke alloy wheels wrapped in low-rolling resistance tires and "Energi" badging on the front doors and rear hatch.
Power for the new Ford C-MAX Energi will come from a high-efficiency 2.0-four-cylinder Atkinson-cycle gasoline engine paired with an electric motor energized by a new, high-voltage lithium-ion battery pack that's significantly smaller and lighter than the nickel-metal hydride (Ni-MH) unit found in the current Fusion Hybrid. In addition to targeting better charge-sustaining fuel economy than a Chevrolet Volt, Ford anticipates the package will meet AT-PZEV (Advanced Technology Partial Zero Emissions Vehicle) requirements. Like the Volt, the C-MAX Energi is designed to initially operate in a pure electric "charge-depletion" mode. However, at a certain point -- depending on battery status and/or real-time speed and load demands -- the system will switch on the engine and transition into its "charge-sustaining" hybrid mode. Motive force gets shipped to the front wheel via a dedicated version of the eCVT (electronically continuously variable automatic transmission) introduced on the Fusion Hybrid.
As it does in the current Fusion Hybrid, Ford's powersplit hybrid architecture allows the Energi's engine to operate independently from the motor and either charge the battery, provide driving force or deliver a combination of both. While there's no word yet on its EV-only range, Ford says the C-MAX Energi's "right-sized" battery pack can be fully recharged overnight using a standard 110-120V home outlet.
Like the new 2012 Focus Electric, the 2013 C-MAX Energi will offer its owner a full array of advanced control and connectivity features -- both on-board and remote -- courtesy of dedicated versions of the MyFord Touch and MyFord Mobile systems. Its custom-programmable MyFord Touch displays help a driver manage and track everything from overall efficiency/economy and battery charge status to the electric demand requirements made by its various ancillary systems. A "Brake Coach" feature even advises on how to make best use of the Energi's regenerative ABS disc stoppers. Borrowing another page from the Fusion Hybrid, the Energi also has a Smart Gauge with Eco-Assist display that shows long-term fuel efficiency, either in a conventional graphic or as a vine that gains or loses leaves.
Teaming the MyFord Mobile app with a smartphone or web-device gives drivers access to an equally impressive set of remotely controlled actions, from monitoring the charging process and locking/unlocking the doors to receiving various notifications and downloading specific data sets for analysis. Also in the mix will be the Microsoft-powered Value Charging feature that can optimize scheduling of the recharging process to help minimize cost.
>All Auto Shows , >Past Detroit Auto Shows , >Detroit Auto Show 2011