2013 Audi RS 5 - 2012 Detroit Auto Show
by
KBB.com Editors
|
January 9, 2012 10:06 AM
Making its eagerly awaited and long overdue U.S. premiere, the 2013 Audi RS 5 proved well worth the wait. Audi originally confirmed that the RS5 was headed to America way back in 2010; and to its credit, this stunning high-performance coupe will finally arrive this spring with virtually all of its best features fully intact.
More from Detroit 2012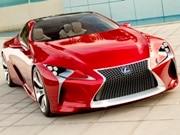 See the future as it looks from the 2012 Detroit Auto Show
More new cars
Like its European counterpart, the U.S.-spec Audi RS 5 is powered by a 4.2-liter V8 that makes 450 horses and 317 lb-ft of torque and can take the car to a top speed of 174 mph. It's backed by a seven-speed/paddle-shiftable S-tronic automatic transmission with launch control feature. Completing the drivetrain mix is the most advanced form of Audi's Quattro all-wheel-drive system complete with torque-vectoring capabilities, a self-locking crown-gear center differential that can vary the RS 5's standard 40/60-percent front/rear torque split from a 70/30 to a 15/85 bias as traction conditions merit and sport-spec rear differential.
A full adaptive sport suspension with Audi Drive Select adds an even greater degree of precision control to the RS 5 package and drops ride height by 0.8 inch compared to a standard A5 model. Complementing those stouter underpinnings are a bespoke stability control system with special sport and full-off modes, massive ABS disc brakes and huge 265/35 tires on 19-inch alloy wheels - or optional 275/30 rubber on 20-inch rims.
The Audi RS 5's exhilarating performance is matched by its unique exterior an interior styling elements. A more aggressively rendered front fascia features bigger air intakes and a deeper splitter as well as adaptive xenon-plus headlamps and LED running lights. Bolder side sills and bigger fender flares help pop its profile while the purpose-tweaked tail features a spoiler that automatically deploys at 75 mph and a functional lower diffuser framed by a pair of large oval exhaust outlets. Even the underbody comes in for special treatment, with custom fairings that help generate downforce as speeds increase.
In addition to custom trim bits and various carbon-fiber accents, the cabin of the 2013 Audi RS 5 features deeply bolstered power sport seats trimmed in Nappa leather or alcantara, a flat-bottom steering wheel, aluminum-clad sport pedals, unique gauges and a driver-information system that integrates a lap timer and an oil-temperature gauge.
2012
Detroit Auto Show
See something new from the big show
Coming cars
10 Cool Cars Under $18k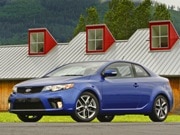 Go cheap, stay cool with our 10 Coolest Cars Under $18,000
Coolest cars
10 Used Cars Under $8k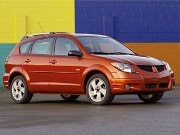 Our 10 Best Used Cars Under $8,000 may be the 10 smartest buys out there
Best used cars