2013 Audi A8 3.0T - 2012 Detroit Auto Show
by
KBB.com Editors
|
January 9, 2012 11:52 AM
Ready to join its V8-powered Audi A8 4.2 sibling in mid-2012, the new 2013 Audi A8 3.0T made its debut in Detroit offering virtually all of the same style and character - including the availability of both standard and long-wheelbase variants - at a more affordable, albeit still undisclosed, pricepoint.
More from Detroit 2012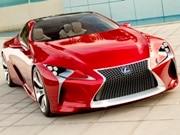 See the future as it looks from the 2012 Detroit Auto Show
More new cars
Motivation for the 2013 A8 3.0T will come from the automaker's highly regarded 3.0-liter supercharged V6 engine, here tuned to make 333 horsepower and 325 lb-ft of torque. The new A8 3.0T will be the first Audi vehicle sold here to feature fuel-saving Start/Stop technology. Like the flagship A8 4.2, the A8 3.0T will come standard with an eight-speed automatic transmission and Audi's legendary Quattro all-wheel-drive system.
Though its timing is still under discussion, by year's end, we'll have another, even more fuel-efficient A8 variant in U.S. showrooms with the arrival of the 2013 Audi A8 3.0 TDI clean diesel. Save for noting that it, too, will employ a Start/Stop system to help max its mileage, Audi did not reveal any other details about the car. However, the 3.0-liter turbodiesel engine and its Euro-spec counterpart makes 254 horsepower and 406 lb-ft of torque.