2013 Audi A5/S5 - revised and revealed
by
KBB.com Editors
|
July 18, 2011 7:50 AM
Although the images and info presented here are all of Euro-spec versions, Audi AG has offered up an early outline of the key changes its plans to make to members of its A5 and S5 lineup, which will be introduced on the continent later this year after a public debut at the Frankfurt Auto Show. While Audi's U.S. reps are quick to point out that many specific details regarding powertrain configurations, packaging content and pricing are still under discussion, they have confirmed that virtually all of the cosmetic and many of the mechanical variations being introduced now also will make it to our shores in mid-2012, when the recast Audi A5 and S5 Coupe and Cabriolet models hit showrooms here as 2013 models.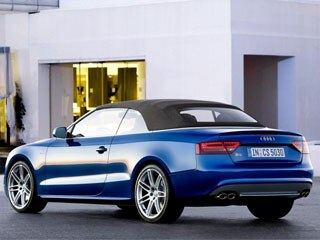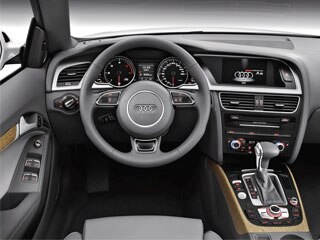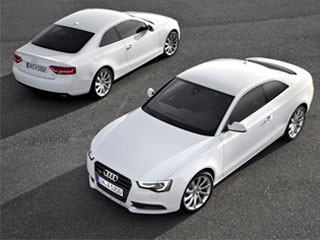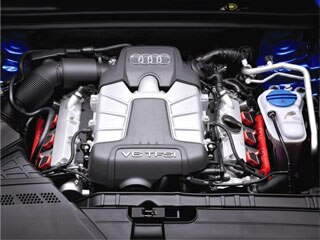 Subtle is the operative term for this Audi A5/S5 mid-cycle sweetening, particularly when it comes to exterior mods. The most obvious comes in the form of new slimmer headlights that feature a wave-line form introduced in the Audi A1/A6/A8 models. They'll be teamed with LED running lamps and can be upgraded to adaptive xenon units with supplemental turning/cornering lamps. The restyled Audi A5/S5 also gets a slightly crisper front fascia that boasts a reshaped grille housing with modified black bar insert, larger air intakes and flat fog lamps, all coupled with a more dramatically chiseled hood. It's a similar story in the rear, where an equally modest fascia redo is set off by redesigned taillights that offer an optional LED accent element.
Inside, the cabin trimout on the new Audi A5/S5 will gain new colors and richer-looking materials plus revised controls that share their more elegant character and increased emphasis on user-friendliness with the redesigned A6, which also is due to appear at Frankfurt. New and improved infotainment/navigations/audio systems and Internet connectivity also feature in this re-mix, as does an improved driver information system that monitors things like steering wheel input and can subsequently recommend that it may be time to take a break. The A5 Sportback -- which does not and likely will not feature in the U.S. lineup -- also adds a more practical five-passenger configuration.
While European buyers will have a choice of three high-efficiency force-fed gasoline engines and four even more fuel-efficient turbodiesels, motivation for the 2013 Audi A5/S5 models here will be slightly more restricted. For openers, no oil burners are slated to be part of our motor mix. Audi has confirmed that the A5's base engine will continue to be the existing 211-horsepower/2.0-liter TFSI four-cylinder and it seems likely that a 3.0-liter supercharged V6 tuned to make 272 horses in Euro trim will also be available as an option. We do know the S5 Coupe will lose its 354-horse/4.2-liter V8 and share the same 325-horse/3.0-liter supercharged six now used in the S5 Cabriolet. In addition to making the S5 Coupe about 20 percent more fuel efficient, the six's broader torque band will still allow it to sprint from 0-60 mph in about 4.8 seconds.
Based on the European rundown, transmission choices are likely to be a six-speed manual or continuously variable Multitronic automatic on front-drive models and a six-speed manual or Audi's seven-speed S-tronic autoshifter on Quattro variants. Audi has tweaked both its legendary all-wheel drive system and the suspension tuning to deliver better handling and control and added a new electromechanical power steering system that helps lower fuel consumption and CO2 on both the A5 and S5 models. As one might expect, the Audi A5/S5 revamp also includes a bevy of high-tech helpers and adds Active Lane Assist to the option mix.
Although numerous details regarding U.S. versions of the 2013 Audi A5/S5 Coupe and Cabriolet are still up in the air, we have been advised that the current Prestige/Prestige Plus/Premium trim hierarchy is set to carry over intact.