2013 Audi A4/S4 - First look
by
KBB.com Editors
|
October 28, 2011 2:02 PM
While these photos are all of the European-spec version that will launch on the continent early next year, we can tell you that the vehicles shown here offer a pretty good indication of the 2013 Audi A4 lineup that will be making its way to America sometime next summer. Although this is a mid-cycle refresh and not a full generational change, the tweaks do add more visual pop to its appearance as well bring some impressive mechanical and powertrain enhancements that should further strengthen the competitive position of Audi's best-selling U.S. model in both its front-drive and all-wheel-drive Quattro form.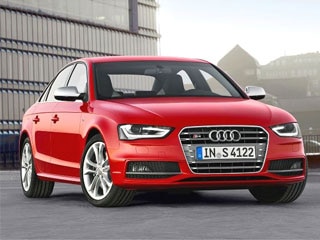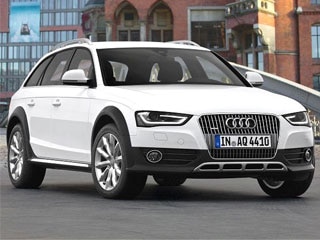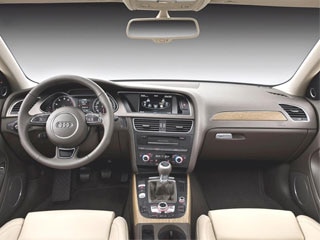 Visually, the new Audi A4 and its performance-focused S4 sibling show the clearest changes in their front and rear fascia treatments. A slightly more aggressive look is highlighted by its restyled/reshaped grille and new LED-fortified lamp treatments, fore and aft. These changes, plus a more pronounced front spoiler lip, new rear diffuser and twin chrome exhaust outlets bring this compact four-door into closer alignment with Audi's larger A6 and A8 models. In addition to the current sedan and station wagon body styles, we'll also be getting a new more adventure-friendly wagon variant that resurrects the automaker's "Allroad Quattro" name.
Like its exterior, the cabin on the 2013 Audi A4 receives a similarly subtle but fairly effective mini-makeover that gives it an even more sophisticated flavor. New color choices, new accent trims, new steering wheels and Nappa leather in place the previous Valcona hides top the upgrade list along with a revised and simplified version of Audi's MultiMedia Interface (MMI) Navigator. Also in the mix is a revamped Driver Information System that now monitors various functional inputs and can advise when it may be time to take a break. The 2013 Audi A4 line also features a host of premium audio and infotainment upgrades, including an available in-car WLAN hotspot and a Bluetooth online car phone.
Although the European Audi A4 will offer no fewer than 10 engine choices, including six turbodiesels and four gasoline engines, Audi sources here indicated that U.S. models initially will stick with the current underhood lineup - a 271-horsepower/2.0-liter turbocharged four in the A4 and a 333-horse/3.0-liter supercharged V6 in the S4. However, there's a good chance that the 2.0-liter TDI turbodiesel rated at 163 ponies in Euro trim will be added to that mix at some point. Transmissions choices also are expected to remain unchanged, with the roster to include a six-speed manual, Multitronic CVT automatic, eight-speed Tiptronic automatic and a seven-speed S-tronic dual-clutch automated manual, which remains exclusive to the S4 sedan.
While most of the A4's chassis bits carry over, Audi did a minor retune of the suspension to add refinement and adopted a new energy-saving electro-mechanical power steering setup. That change, plus the fitment of a start-stop system and brake energy recovery system help contribute to more than a 10-percent gain in average fuel economy for the Euro lineup and should yield similar benefits here, as well. All models also are fitted with Audi Drive Select, a system that allows the driver to choose from four different operating modes (comfort/auto/dynamic/efficiency) that change the mapping of the throttle, automatic transmission, power steering and air conditioning. It's still too early for any U.S. pricing on the 2013 Audi A4; but based on its European numbers, expect to see only a small increase from the current 2012 figures.