2012 Volkswagen Passat - 2011 Detroit Auto Show (w/video)
by
KBB.com Editors
|
January 9, 2011 5:24 PM
Finally shedding the "NMS" tag -- for New Mid-size Sedan -- it wore since VW announced plans to build it here at a new facility in Chattanooga, Tennessee, the 2012 Volkswagen Passat got its formal reveal in Detroit. In marked contrast to the vehicle last sold here as a 2010 model, this all-new Passat incarnation was designed specifically to accommodate the tastes and demands of American consumers, and is not merely a retrimmed version of the smaller Passat currently on sale in Europe. Aimed directly at the sweet spot of the U.S. mid-size segment currently occupied by cars like the Honda Accord, Toyota Camry, Chevrolet Malibu, Ford Fusion and Hyundai Sonata, the 2012 Volkswagen Passat offers more style, greater interior space, better fuel economy and comes in at a far more attractive pricepoint than its predecessor.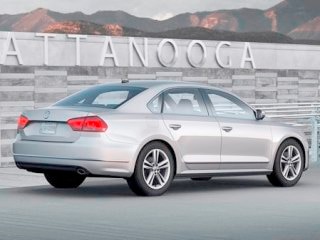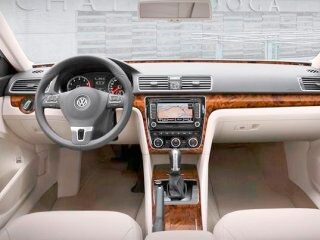 >See more new cars unveiled at the 2011 Detroit Auto Show
Cleanly styled, the exterior of the 2012 Passat embraces a good deal of the latest VW family character cues seen earlier in the new 2011 Jetta. Its crisp lines complement large horizontal surfaces, a flowing coupe-like roofline and prominent wheel arches that are filled by 16-/17-/18-inch wheels on the available Passat S/SE/SEL trims.
Premium personality on all levels
Inside, the Passat's roomy, well-appointed cabin features a dash design heavily influenced by the elegant look of VW's flagship Touareg SUV. While each Passat variant receives its own unique trimout -- including leather in place of cloth upholstery and Autumn Nut Burl accents in the top-line SEL -- even the base Passat S will arrive with a megaload of standards highlighted by a full range of power assists, automatic climate control, cruise control, AM/FM/CD sound system with external audio input and Bluetooth connectivity. Safety standards across the line include anti-lock disc brakes with Brake Assist, ESP electronic stabilization program, Hill Climb Assist on cars with a manual transmission, six airbags and the automaker's advanced Intelligent Crash Response Systems that automatically shuts down the fuel and electrical systems, disconnects the battery and unlocks the doors in case of an impact.
Premium options/features on the Passat SE and SEL include the choice of Volkswagen's RNS 510 or RNS 315 navigation systems, touch-screen satellite radio, keyless access with push button start, power seats, a leather-trimmed multifunction steering wheel and ambiance lighting as well as the new VW-Fender Premium Audio System that will also be available in the 2012 Jetta and New Beetle. One additional shared feature on all 2012 Passat models is best-in-class rear-seat legroom, a function of its 110.4-inch wheelbase, a 3.7-inch stretch over the previous-generation Passat.
Gasoline and clean-diesel power
The 2012 Volkswagen Passat will offer three different engine and transmission options. The base S will come with a 2.5-liter/170-horsepower inline-five that can be paired with a six-speed manual or six-speed automatic transmission. Buyers of the upline SE and SEL models also can opt for either VW's 3.6-liter, 280-horsepower VR6 or the highly regarded 2.0-liter/140-horsepower TDI turbodiesel. Both can be teamed with either a six-speed manual transmission or the automaker's six-speed DSG dual-clutch automated manual gearbox. The Passat TDI will be the only clean diesel available in its segment, and VW anticipates it will earn a 43 mpg EPA highway rating and be able to travel a class-leading 800 miles on a single tank of fuel.
Volkswagen makes no bones about stating the 2012 Passat and its compact Jetta cousin will be main drivers in helping the firm meet its ambitious U.S. sales goals. Each is expected to contribute over 100,000 units to the total annually. To help ensure the Passat meets that target, VW says 2012 Passat S pricing will start "around $20,000" -- roughly $8,000 less than the 2010 commanded. Given the intensity of the competition in its segment, you can expect the SE and SEL to reflect a similar kind of value orientation.