2012 Volkswagen Beetle (w/video) - 2011 NY Auto Show
by
KBB.com Editors
|
April 18, 2011 2:04 PM
The completely redesigned 2012 Volkswagen Beetle made its transcontinental world debut today, with simultaneous reveals in Shanghai, Berlin and in New York -- where it will serve as the focal point of the automaker's show stand starting later this week. Returning to the VW lineup for the first time since 2009, this third-generation recast of one of the world's best-known and most iconic models has been re-envisioned to establish new "21st Century" benchmarks for style, performance and safety.
Even at a glance, the 2012 Volkswagen Beetle retains a number of unmistakable signature cues derived from both the original and the New Beetle. However, this redesign rolls into the future intentionally trading off a measure of classic cute for a healthy dose of contemporary edge in the car's redrawn, albeit still decidedly organic, contours.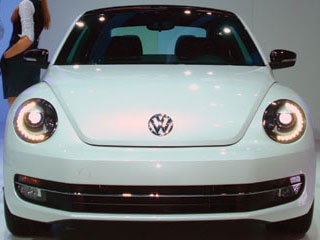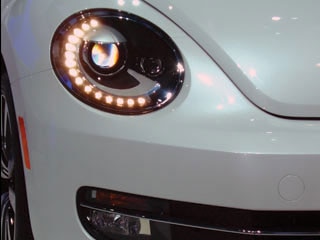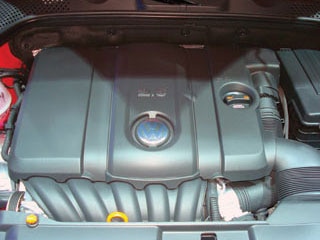 The new look sheds the New Beetle's "three-semicircle" design in favor of a look more reminiscent of the first-generation exercise -- and one that appears to be a well-calculated mini morph towards Porsche 911 territory. Its longer front clip plus greater cabin setback accompanied by a more upright windshield and a "stretched" window graphic are complemented by reshaped fenders and a sweeping roofline anchored by a more elegant c-pillar. Set off by new and bolder front/rear lighting designs -- including optional bi-xenon headlamps -- and standard 17-inch to available 19-inch wheel/tire fitments, the 2012 Beetle makes a far more purposeful visual statement even sitting still.
The 2012 Volkswagen Beetle has grown physically as well as conceptually. Gaining 150 pounds, it's also 3.3 inches wider than its predecessor and 6.0-inches longer, with a 1.1-inch stretch in wheelbase and 3.2-inch wider front/rear track dimensions. While overall height has been lowered by 0.5 inch, the tallest point in the roofline is now over the rear not the front seat area, a subtle change that enhances the 2012 Beetle's profile as well as the absolute headroom in its aft quarters.
Beneath that bolder bodywork, the front-drive 2012 Volkswagen Beetle shares much of its basic platform architecture with the Golf VI. However, in addition to various suspension recalibrations, it also boasts two bespoke, model-specific rear-axle designs, one torsion beam and one fully-independent multilink.
The Golf also was called on to contribute powertrain components.
At launch, the 2012 Volkswagen Beetle will offer the choice of a 2.5-liter inline-five that makes 177 horsepower and 177 lb-ft of torque and the 2.0-liter four-cylinder TSI Turbo engine that cranks out 200 horses and 207 lb-ft of torque. The former can be paired with either a five-speed manual transmission or six-speed automatic and is projected to deliver up to 10 percent better overall fuel economy than its predecessor while the Turbo will offer a six-speed manual or a six-speed DSG dual-clutch automatic -- the first-ever DSG fitment on a Beetle -- and come with VW's XDS cross differential limited-slip system that can transfer torque to the wheel with the most traction.
Sometime during 2012, VW will add a 2.0-liter TDI Clean Diesel variant to the mix. To be paired with the same transmissions as the 2.0 TSI, this turbodiesel will be the most fuel-efficient Beetle ever, and is projected to earn 29 mpg/40 mpg city/highway EPA numbers.
Inside, the 2012 Volkswagen Beetle offers an equally updated appearance in an even more driver-oriented cockpit that brings a unique flat-bottom multifunction steering wheel and dedicated instrument cluster along with dramatic color-keyed dash treatments. Passenger space up front has grown a bit and while rear legroom remains acceptable if not generous, both hip and headroom have increased in the aft quarters. The biggest space gain is in the redesigned trunk, whose capacity has grown from 7.4 to 10.9 cubic feet of space and a far user-friendly decklid cutout. The 2012 Beetle also gains standard 60/40 split/folding rear seatbacks to add even more utility.
Although the traditional bud vase has departed, a double-deck glove box that was used in the original Beetle is now part of the long list of standards that also includes Bluetooth and iPod connectivity while an auxiliary gauge joins things like a panoramic roof, keyless access, a first-ever navigation system and the VW/Fender Premium Audio System on the roster of options. Available in Design and Sport Trims, all 2012 Volkswagen Beetle variants will come with a full array of safety features including VW's advanced Intelligent Crash Response System, Electronic Stability Control (ESC) is standard, antilock brakes and front and side curtain front/rear airbags.
The 2012 Volkswagen Beetle will go on sale in the fall and pricing/packaging specifics are still being finalized. What lies ahead? We do know that a Convertible will join the lineup sometime in calendar 2012 and that a super-hot "R" variant could be in the cards somewhere further down the line. VW also plans to offer wide variety of dedicated personalization accessories for the car -- and says it will create annual "theme models" in lieu of traditional facelifts.