2012 Toyota Camry First Drive
by
KBB.com Editors
|
August 26, 2011 12:51 PM
Re-dressing for success
America's top-selling passenger car for the past nine years, the Toyota Camry benefits from a major overhaul for 2012. While retaining its midsize status, the seventh generation of this front-drive sedan gets a fresher look, new features and an even more people-focused personality, all aimed at infusing its well-honed practical persona with a measure of emotional appeal that Toyota hopes will curry favor with even younger buyers. Available in L/LE/SE/XLE trims, it offers conventional four- and six-cylinder (SE/XLE) gasoline engines as well as an impressively redone Hybrid variant, now in an XLE as well as the previous LE trim. Those changes should pay notable showroom dividends; and the 2012 Camry will need every edge it can muster to cope with increasingly intense challenges from its perennial arch-rival, the Honda Accord, as well as formidable foes like the Ford Fusion, Hyundai Sonata and also-new-for 2012 Chevy Malibu. We recently put some early-build cars through their paces to see how effectively Toyota has managed to pull-off this critical transformation.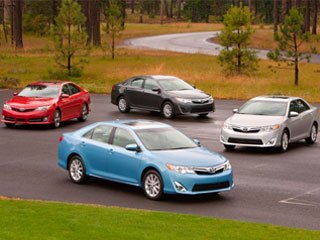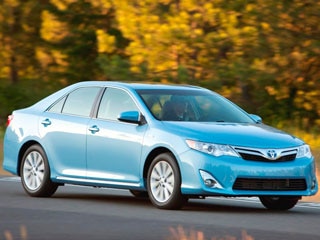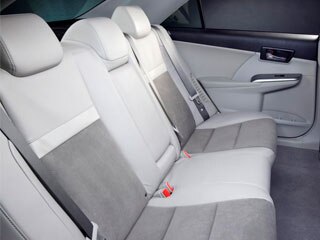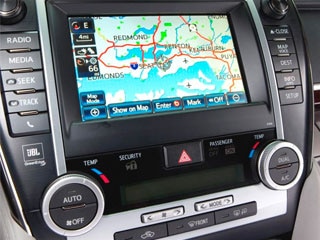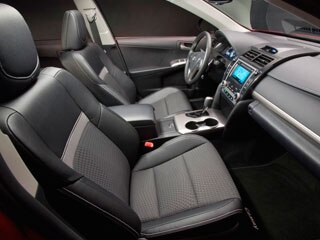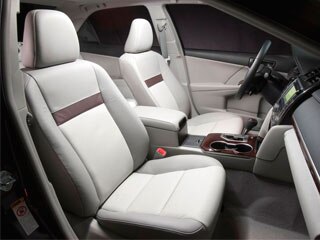 Maybe it's for you:
Arguably better in every measurable way, the recast 2012 Toyota Camry has what it takes to retain many in its already bountiful historic buyer base and makes an even-stronger case for consideration by anyone seeking a top-rate midsize sedan with either conventional or hybrid power.
Maybe it's not:
A comprehensive list of enhancements and more attractive pricing notwithstanding, those with more avant-garde styling preferences will still find this redone Camry falls short in the head-turning department, especially when compared to the current class benchmark, Hyundai's high-profile Sonata.
Adding a dash of allure
Although its exterior dimensions remain virtually unchanged, the 2012 Camry's fully redrawn bodywork adds an edgier, albeit still understated, flair to the mix. Bolder front and rear fascia and lamp treatments, matched with more expressive contours and character lines give it a wider, lower look that materially bolsters curb appeal while yielding a more wedge-like profile. Helping the cause are a host of more subtle touches, including mini-strakes on the side mirrors and taillamp lenses that serve as air-channels to improve stability at speed, plus various underbody fairings that further reduce drag. Unique front/rear/side-sill styling cues add even more cosmetic swagger to the Camry SE while the Hybrid carries only blue-trimmed "Hybrid" and "HSD" (Hybrid Synergy Drive) badges to designate its status as the efficiency leader of the Camry pack.
Turning up the cabin charm
Toyota redesigned the 2012 Camry's passenger compartment to add both space and contemporary sophistication. A leather-covered "layered" dash presents a warmer welcome, while trim-specific primary instrumentation and a center cluster inspired by portable music players give it a more contemporary feel. Headliner revamps add extra top-side clearance in all positions, and aft passengers also benefit from significant gains in hip and legroom. New bucket seats that bring more comfort and support up front team with a revised lower cushion on the 60/40 split folding rear bench that adds stretch space for the middle rider. However, limited padding and a seatback that doubles as a pull-down armrest limit this center perch to part-time duty, at best. Trunk space also is up, modestly in gasoline-powered models, but by 2.1 cubic feet in the new Hybrid.
Stacking the equipment deck
As before, the 2012 Toyota Camry lineup opens with a long list of standards and progressively cranks up the good-stuff index. The basic kit in the entry-level Camry L includes a full array of power assists, air conditioning, a tilt/telescoping steering column, cruise control, six-speaker AM/FM/CD/MP3/WMA audio with AUX/USB/iPod inputs, 12V powerpoint and Bluetooth as well as Toyota's STAR Safety System and a class-leading 10 airbags. The LE adds things like keyless remote entry, multifunction steering wheel, upgraded Display Audio sound system with a 6.1-inch touch screen and a second 12V outlet, while the SE complements its dedicated sport suspension/wheel/tire package with unique trim, Softex covered sport seats and paddle shifters. The top-line Camry XLE steps it up with dual power seats, dual-zone climate control, power moonroof, premium fabric or leather-trimmed (V6-only) seats, with both the SE/XLE V6s adding Navigation and Entune multimedia telematics, HD radio and SiriusXM Satellite Radio. The Camry LE/XLE Hybrid duo offers similarly configured trim-level-specific appointments.
Adding more, more, more
The Camry's extras roster follows previous Toyota form and is limited to premium color choices only on the L trim and a power driver's seat and moonroof on the LE. Upgraded Display Audio packages with Navigation and Entune -- including a 10-speaker premium JBL system with energy-saving GreenEdge technology -- dedicated I4/V6 Convenience Packages and Leather-trimmed Ultrasuede Sport Seats with deluxe trim also are available on SE/XLE models, while both SE variants offer a power moonroof. Camry Hybrids can be had with a Leather Package, Moonroof Package and two tiers of JBL-enhanced Upgrade Packages, one with and one without Navigation.
Elevating the enthusiasm levels
Focused powertain revamps yield significant gains in both performance and fuel economy for all 2012 Camry variants. The carryover 2.5-liter in-line four-cylinder engine gains nine horsepower -- to 178-horses (173 in PZEV trim) -- and while the 3.5-liter V6 still corrals 268 ponies, both gasoline engines benefit from efficiency-enhancing internal mini-tweaks and are backed by standard six-speed automatic transmissions that feature more econo-friendly final drive ratios. Further assisted by new, lower-rolling-resistance tires, these revisions help raise EPA city/highway numbers by three mpg on four-cylinder Camrys (now 25/35 mpg) and by one mpg on V6s (now 21/30 mpg).
Changes on the 2012 Camry Hybrid are even more impressive. It swaps the original 2.4-liter four for a modified version of the 2.5-liter fitted with Atkinson-cycle timing and reduced-friction internals, which is now paired with lighter, more compact and better-managed electrical components -- including a revised nickel-metal hydride battery pack and a CVT automatic transmission that adds dedicated "ECO" and "EV" modes. While total system output rises from 187 to 200 horses and zero-to-60 mph time dips to 7.6 seconds, the preliminary EPA figures -- 43/39 mpg on the LE and 41/38 mpg on the XLE -- reflect over a 30-percent gain in city and combined stats.
Favorite features
Upgraded Hybrid Synergy Drive
Taking a much-needed next step in the greener arena, the new Camry Hybrid's comprehensively redone HSD system is lighter, tighter and far more impressively integrated -- improvements that yield more spirited performance and a stunning 30-percent relative bump in key fuel economy numbers.
Toyota Entune
Still a work in process, Toyota's new Entune multimedia/telematics system already shows solid introductory capabilities and offers both a user-friendly interface and the promise of an ever-expanding group of downloadable apps that should make it a worthy state-of-the-art rival to in-car alternatives of its competitors.
Taking it to the streets
Complementing its new look and upgraded powertrains, the 2012 Camry benefits from improved structure and suspension elements that put it a clear step beyond the 2011. Greater use of high-strength steel in the unit body improves rigidity while trimming weight, significantly in the gasoline cars and by a huge 239/263 pounds in the LE/XLE Hybrids. Revised suspension components and recalibrated geometry give all versions a more confident feel with improved ride compliance and better body control that's particularly noticeable when the going gets twisty. We're less enthusiastic about the new electric power steering system, which like many, has positive on-center feel but provides more effort than true driver feedback through corners. A host of new noise-abatement technologies also make the 2012 Camry decidedly quieter over most roads. However, aural excitement levels do rise over rougher surfaces, most notably on the SE V6 with its performance-oriented 18-inch wheel/tire package.
Without a doubt, the biggest beneficiary of the 2012 Camry remake is the Hybrid. With a major mass reduction, handling dynamics easily on par with its conventional kin and a redone HSD system that finally has the engine/motor/CVT triumvirate speaking far more directly to each other; the most fuel-efficient Camry variant proved the major surprise -- and delight -- of our first encounter.
KBB.com value analysis
Acutely aware of the price-sensitive nature of the midsize sedan segment, Toyota has placed even more emphasis on maintaining a solid value focus for the latest iteration of its top-selling passenger car line while encouraging more buyers to consider moving beyond entry-level trims. To that end, the 2012 Toyota Camry L opens just under $22,800, a rise of $710 compared to a comparably equipped 2011; however, the dollar distance between the high-volume LE -- which now starts $200 lower at around $22,300 -- and the SE and XLE variants has been significantly reduced. The former now bases just under $23,800 and the latter slightly below $25,500 in four-cylinder form, roughly $1,000 and $2,000 below their 2011 counterparts. There is no change for the SE/XLE V6s, which continue to open around $27,400/$30,600. Toyota's pricing rethink is equally impressive on the Camry Hybrid front, where the LE gets a $1,150 sticker slice to start just under $26,700 and the premium XLE version opens below $28,200, reflecting an $800 drop from the 2011 LE Hybrid with an upgrade package.
Although final residuals are still being determined for all versions, historically, the Camry has proven a solid choice to match its above-average reliability with similarly robust long-term resale stats. Ever more intense competitive pressures notwithstanding, that tradition seems likely to continue on with this new Class of 2012.