2012 Shelby GT350 Convertible First Drive Review
by
KBB.com Editors
|
August 3, 2011 7:23 AM
They introduced Carroll Shelby's GT350 Convertible at this year's Chicago Auto Show. In February. With a wind chill colder than Obama's political acumen, and without the benefit of a big display or the Old Man hisownself, the Shelby booth still pulled 'em in. You'd think the novelty of a Shelby-modified Mustang - almost fifty years since the first one - might have worn off, but judging by the reaction of the media to Shelby's most recent intro, the magic of the man continues to exceed even the numbers on his personal odometer.
Shelby American wasn't, as you might guess, proffering demo drives during the Chicago show. For that we arranged for a press car in Dallas. In July. And if Shelby mods have historically imbued their subject matter with 'hotter' performance, you should try one when it's 100+ degrees in North Texas. To be sure, Mr. Shelby keeps a place an hour (or two) east of here, where he can tap into his East Texas/chicken ranch/bib coverall roots, but the coveralls went -- we'll guess -- with the first Ford contract.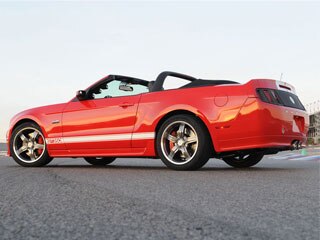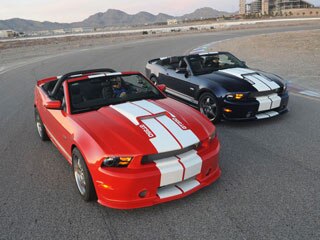 This Shelby Mustang, of course, is but a distant cousin to those early Ford contracts, where Ford first agreed to supply a retired race car driver with engines, and that driver subsequently agreed to provide a little juice to Ford's singularly successful ponycar. The end result of that second initiative was a succession of Mustangs in the mid-to-late-sixties that resonated on both the showroom and racetrack. At launch, and even in 2+2/V8 spec, Ford's halo compact was more 'sporty' than sports car. And if you're selling some 400,000 a year, your audience needs to be wider than the enthusiast market, generally occupied by guys with thick wallets and thinning hair. But Ford also recognized that to build image you needed horsepower, and given Shelby's early success in spiking an old British chassis with more sauce than Terlingua's chili, Shelby and his L.A.-based team got the nod. The rest - as they say - is motorsports history.
Transporting that storied history into this century has been a succession of Shelby-modified Mustangs, the latest of which is the 2012 GT350 convertible. While Shelby American produced some 560 fasback coupes in 1965, no convertibles were built until 1966. And in that year they built only four, all of which stayed in the family or went to 'friends of Carroll'. This droptop builds on that historical precedent, as does the marketing model: keep 'em scarce, and keep 'em expensive. Of course, when build volume is low and the number of adds and/or mods is high, it stands to reason that there will be some distortion of the Mustang window sticker. Add the cost of certification to a low volume business model, and the cost of same becomes almost exponential.

Our test Shelby, finished in 'Race Red', will deliver more attention than an Anthony Weiner apology. And lest you (and the neighbors) forget that you've ponied up some $70K for a modified Mustang, the mods begin with an aggressive front fascia, build with a Shelby-specific hood featuring a functional scoop (all the better to feed the Shelby/Ford Racing supercharged V8!) and terminate with a rear deck lid trim panel. If, once inside, you happen to forget where you're seated, Carroll's signature is stitched on every headrest and most floormats, while his signature/autograph -- or facsimile thereof -- is applied to the cupholder cover. We're not sure if it is proactive marketing or the onset of dementia, but the presence of 'Shelby' is pervasive.

If the graphics may seem over-the-top, all is forgiven with one twist of the Shelby's ignition. Give Shelby a lemon (not that Ford would...) and he'll make lemonade. With the able assist of the folks at Borla Exhaust systems, this is one rumble-in-the-jungle at idle, and builds to a primal scream as the V8 -- and its accompanying 600+ horsepower -- approaches the engine's 6,500 rpm redline. You're at sixty before you have time to assimilate the fact, and the rush from 80 to 100 -- in fifth gear -- is utterly sublime. The only disappointment is when shifting to sixth -- which suffers an overly tall 'economy' overdrive. It's as if, after a night of lovemaking, you've been handed an electronic cigarette.
You'll know, of course, that the donor Mustang continues with a live rear axle, evidence of which is made eminently clear over rough surfaces. Beyond that, the Shelby GT350 is comparatively composed at most speeds. We wouldn't call the steering 'communicative', but neither does it distance you from the front wheels. And braking, via Shelby/Baer discs, is drag chute short.
At the end of the day, the exclusivity of the GT350 -- and its motoring bonafides -- make short work of the price/entertainment ratio. Around $70K is a lot to pay for what began as a $35K Mustang GT, but then $110K is a lot to pay for what began as a $50K Corvette. You pay your money -- you take your choice. But once the investment is made, you'll be wearing the same grin Shelby wears when he gets his monthly statement -- and it's a big 'un.