2012 Scion xD Release Series 4.0 and xB Release Series 9.0 revealed
by
KBB.com Editors
|
September 30, 2011 4:51 AM
Scion has just announced a pair of new limited-edition Release Series models that will be arriving in showrooms starting early next month.
Rendered exclusively in Blizzard Pearl tastefully set off by larger, 16-inch alloy wheels finished in smoked-platinum, the 2012 Scion xD Release Series 4.0 features a similar color motif in its unique cabin appointments. Those passenger compartment enhancements are headed by a uniquely patterned soft-touch material on the seats, custom trim elements on the steering wheel/console/door panels, upgraded carpeting and floor mats with a "Release Series" logo. Starting at $16,980 for versions with the 5-speed manual transmission and $17,780 for models with the 4-speed automatic, each of the 800 2012 Scion RS 4.0 variants also will carry an individually numbered interior badge.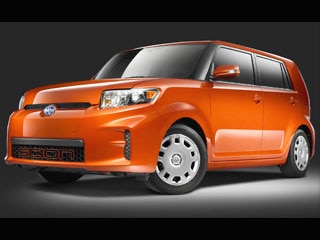 The 2012 Scion xB Release Series 9.0 takes a noticeably higher-profile approach to its curb appeal, starting with eye-searing Hot Lava paint and a special honeycomb grille insert that contains a large "SCION" logo element. On a slightly more subtle level, exterior badges on the RS 9.0 illuminate whenever the doors are locked/unlocked using the remote key fob. The Hot Lava look also pervades the interior trim elements of the xB Release Series 9.0 where the seats, covered in an exclusive perforated synthetic suede material, feature an embossed Scion logo. As a finishing touch, each of the 1,500 xB RS 9.0 models carry an individually numbered and illuminated console badge. Pricing for a 2012 Scion xB Release Series 9.0 with 5-speed manual transmission is $18,910 while those fitted with a four-speed autoshifter sticker at $19,790.
In making the Release Series announcements, Scion also confirmed that all models in its 2012 lineup will come standard with Bluetooth hands-free technology and HD Radio technology.