2012 Range Rover Evoque First Drive Review
by
KBB.com Editors
|
August 22, 2011 8:40 AM
Imagine the love child of a Range Rover Sport and a Mini Cooper. Got an image in your head? Congrats, you might have what it takes to design cars. We imagine a similarly whimsical process went into the conception of the new 2012 Range Rover Evoque. With an efficient four-cylinder engine, improved aerodynamics and a smaller, lightweight body, the Evoque reinterprets the classic Range Rover formula with a newfound environmental conscience and an audacious sense of style.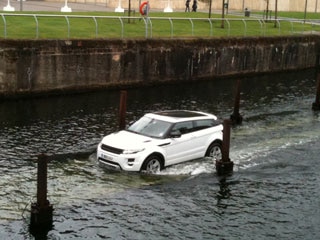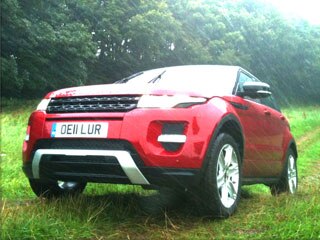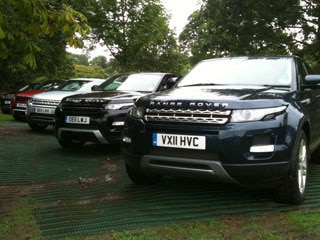 We recently traveled to England to experience the 2012 Range Rover Evoque, and besides an ill advised sampling of blood sausage we came home hugely impressed. Let's start with the Evoque's exterior design, which successfully made the transition from Land Rover LRX concept car to real-world vehicle essentially unchanged -- a rarity in the car biz. Viewed in person the design works great, harnessing plenty of Range Rover heritage but presenting a decidedly modern image in both five-door and coupe flavors. Our favorite details include the Evoque's tidy compact dimensions, available contrasting roof paint schemes (think Mini Cooper or Ford Flex ), and the horizontal line created by the clamshell hood which circles the front of the car and is artfully bisected by the front wheel arches.
Inside we were similarly impressed with a simple and tasteful dash design, comfortable yet supportive seats, and buttons and switches that operate with a refined click, subconsciously conveying a sense of quality with every push. Nice stuff but our favorite feature is undoubtedly the standard panoramic sunroof. This large unbroken expanse of glass is positively huge, letting in an abundance of sunlight and giving those inside a brilliant view of the wonders above.
Our drive route stretched from the Welsh Isle of Anglesey to Liverpool and included a mix of paved and unpaved roads. On road we found that body motions were nicely controlled (especially compared to the last LR4 we drove), the steering felt good, and the transmission and turbocharged engine worked well together, reacting quickly to produce eager acceleration when needed. It's also worth noting that the Evoque can deliver up to 28 miles per gallon on the highway. Off-road we were similarly impressed. Over muddy and rutted back roads, wet fields and steep slippery hills the Range Rover Evoque impressed, ably getting power to the ground, absorbing impacts from rough surfaces and generally doing whatever we asked of it. As it's not offered with a low-speed transfer case or locking differentials we wouldn't recommend the Evoque for crossing the Rubicon trail but we'll bet it is plenty capable for most drivers' off-road needs.
If there is a sticky wicket it would be the Evoque's price tag (apologies for the unnecessary cricket reference). Small luxury SUVs and crossovers like the Audi Q5, BMW X3 and Mercedes-Benz GLK all start in the mid to high $30,000's, easily undercutting the Evoque five-door's base price of $43,995. Spring for the fully-pimped Prestige Premium trim and the price floats to a lofty $52,395.
In a strict analytical sense the 2012 Range Rover Evoque's elevated price might look like a problem but in the luxury SUV space desire and image trump sensibility. Need proof? How about 20,000 Evoques pre-ordered before the first vehicle landed at a dealership. So yeah, Land Rover might have a hit on its hands but that leads to a problem. All those LR2's, LR4's and Range Rovers don't look as fresh as they did before the Evoque appeared. Let's hope an Evoque-inspired refresh of the lineup is scheduled for sooner rather than later.