2012 Porsche Panamera Turbo S -- First look
by
KBB.com Editors
|
March 30, 2011 2:39 PM
Taking center stage at both the Shanghai and New York Auto Shows, the new 2012 Porsche Panamera Turbo S now becomes the most potent version of the automaker's four-door luxury sedan to date. Building on the already awesome all-wheel-drive Panamera Turbo, the new S-spec version brings added measures of flash and firepower to further elevate its status among world-class grand touring machines.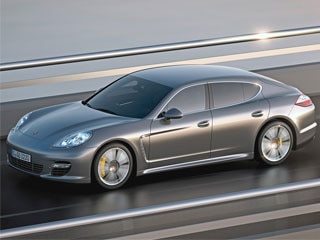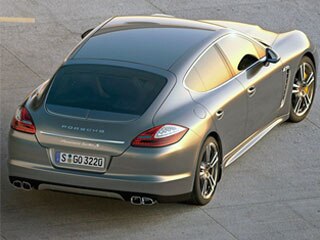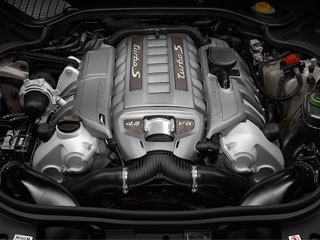 Heart of the 2012 Porsche Panamera Turbo S is even more potent version of the standard force-fed 4.2-liter all-aluminum V8. It this new variant, the twin turbochargers feature even lighter, titanium-aluminum turbines that respond more quickly to throttle input. Working in concert with a reprogrammed computer controller, they help bump engine output from 500 to 550 horsepower and raise peak torque from 516 to 553 lb-ft. The overboost function that's part of the car's standard Sport Chrono Package allows that twist figure to be temporarily bumped to 590 lb-ft in Sport/Sport Plus modes. As a finishing sonic touch, the 2012 Porsche Panamera Turbo S also gets a sport-tuned exhaust system.
As in the base Panamera Turbo, this S-spec engine also is backed by the superb seven-speed PDK dual-clutch automatic transmission. But here, performance is even more blistering. Using the car's launch control function, the 2012 Panamera Turbo S can streak from 0-60 mph in 3.6 seconds, 0.4 tick quicker than the standard Panamera Turbo while its terminal velocity rises from 188 to 190 mph. Despite that extra muscle, Porsche expects fuel economy of the new Panamera Turbo S will remain "comparable" to the baseline T-charged model that delivers an EPA estimated rating of 15 mpg city/23 mpg highway and 18 mpg combined.
On the vehicle dynamics front, the 2012 Porsche Panamera Turbo S augments its active all-wheel drive system with the roll-mitigating Porsche Dynamic Chassis Control (PDCC) and features grip-optimizing Porsche Torque Vectoring Plus (PTV Plus) along with speed-sensitive Servotronic power steering and bigger 20-inch Turbo II alloy wheels wrapped in summer high-performance tires. The aforementioned Sport Chrono Package permits an additional level of engine and suspension tune tweaking at the touch of its "Sport Plus" button.
In addition to a plus-one wheel/tire package and the availability of exclusive Agate Gray Metallic paint, the 2012 Porsche Panamera Turbo S wears unique Porsche Exclusive side sills and features a four-way adaptive rear spoiler. Inside, this primo Panamera can be ordered with with S-specific black/cream and Agate Gray/cream leather appointments. Pricing for the 2012 Porsche Panamera Turbo S will start at $174,175.