2012 Porsche Panamera S Hybrid - Geneva Auto Show
by
KBB.com Editors
|
February 16, 2011 1:42 PM
Set for its public reveal in Geneva, the 2012 Porsche Panamera S Hybrid will add one more power player to the automaker's burgeoning green division. Porsche's second production hybrid model shares gasoline/electric powertrain elements with the current Cayenne S Hybrid and boasts an even higher level of standard equipment than its Panamera S sibling. While official EPA numbers have yet to be released, the 2012 Panamera S Hybrid also will be the most fuel-efficient Porsche model ever.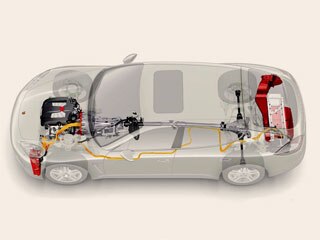 Motivation for the 2012 Porsche Panamera S Hybrid comes from the combination of a 3.0-liter supercharged V6 that develops 333 horsepower and a 47-horsepower electric motor/generator energized by a nickel-metal hydride (Ni-MH) battery pack located in the trunk area. Collectively, the pair develops 380 horses, which gets sent to the rear wheels via an eight-speed Tiptronic automatic. Like its Cayenne S Hybrid cousin, the parallel configuration in the new Panamera S Hybrid allows it to operate using either in pure electric, pure gas or combined power. The car is capable of traveling just over one mile in pure EV mode and can reach a speed of 53 mph while a decoupling clutch positioned between the engine and the motor eliminates parasitic drag under regenerative braking and also permits the Panamera S Hybrid to "sail" with the engine shut down at speeds up to 105 mph. Final ingredient in the formula is the Hybrid Manager that provides computer-controlled oversight that ensure all transitions/gear changes are appropriately seamless.
Those operational capabilities help earn this ultra-efficient Porsche sport/luxury sedan a stellar 33.1 mpg overall rating on the New European Driving Cycle (NEDC) and 34.6 mpg when fitted with optional low-rolling resistance tires. When getting there quickly takes priority over mileage-maxing concerns, the Panamera S Hybrid can sprint to 60 mph in 5.7 seconds and reach a top speed of 167 mph.
In addition to the bounty of features found on the standard Panamera S, the Panamera S Hybrid steps up its game with a dedicated hybrid-specific dash display plus Adaptive Air Suspension with the Porsche Active Suspension Management (PASM) adaptive shock absorber system, Servotronic variable-assist power steering and a rear wiper. Set to arrive in dealers here sometime this summer, the 2012 Porsche Panamera S Hybrid will start at $95,975.