2012 Porsche 911 Carrera Cabriolet revealed
by
KBB.com Editors
|
November 22, 2011 12:38 PM
Adding a measure of open-air appeal to the latest iteration of its most iconic model, the 2012 Porsche 911 Carrera Cabriolet has officially flipped its lid. Like the recently introduced seventh-generation 911 Coupe, this new drop-top runningmate is being introduced in rear-drive 911 Carrera and 911 Carrera S iterations. Save for their roof elements, both share all of the basic styling and design elements of their respective Coupe counterparts.
Despite its fabric-like appearance, the top on the new 911 Carrera Cabriolet consists of three semi-rigid panels and a glass window element affixed to a strong but very light magnesium-intensive frame. Designed to maintain the same roofline as the Coupe, the package folds at the touch of a button and nestles behind the passenger compartment neatly forming its own integral tonneau cover. Transitions in either direction require less than 20 seconds and can be done with the car traveling at speeds of up to 30 mph.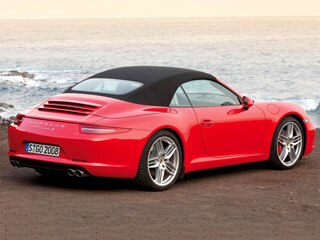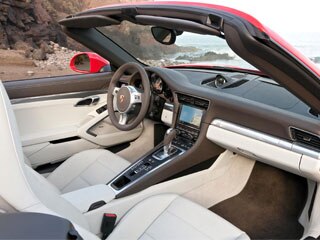 Motivation for the 2012 Porsche Carrera Cabriolet comes from a 350-horsepower/3.4-liter flat-six engine while the Carrera S Cabriolet packs a 400-horse/3.8-liter alternative in its engine bay. Either can be paired with a standard seven-speed manual transmission or optional PDK dual-clutch automated manual transmission. Porsche says the Carrera Cabriolet will run 0-60 mph in 4.4 seconds and top out at 177 mph. The more potent Carrera S needs only 4.1 ticks to hit 60 mph and will run to 187 mph.
Both of these new Porsche models are slated to arrive at U.S. dealers in the spring. Pricing for the 2012 Porsche 911 Carrera Cabriolet will start $94,650 while the 911 Carrera S Cabriolet opens at $108,950.