2012 Porsche 911 Carrera - Frankfurt Auto Show
by
KBB.com Editors
|
August 28, 2011 12:01 PM
Extending its iconic legacy to yet another generation, the all-new 2012 Porsche 911 Carrera bows in at Frankfurt benefitting from a comprehensive makeover that promises even better performance and handling coupled with an enhanced driving environment and significantly improved fuel economy.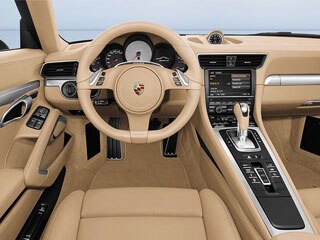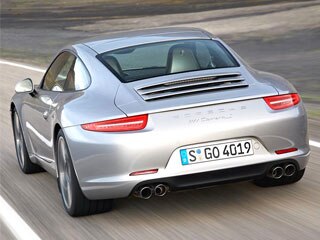 While retaining its signature styling cues, this latest version of the Porsche 91 -- which carries a "991" platform designation -- undergoes a series of subtle shape shifts that start with a smoother, more aerodynamically optimized front end that boasts refinements to the fascia, grille and headlamp treatments. That theme carries to the rear, where new LED-infused taillamps, a tidier deck and a revamped auto-deploying spoiler improve both appearance and stability at speed, while neutralizing lift and holding the car's drag coefficient to the current 0.29 spec.
About two inches longer than its "997" predecessor, this new 911 is also slightly wider and lower with shorter front and rear overhangs. Although it gains nearly two inches in front track, the most significant change is seen in the wheelbase. Expanded by 3.9 inches, it enhances both straight-line stability and people space in the comprehensively remade cabin.
Inside, classic 911 cues now match elements that recall Porsche's Carrera GT supercar. A revised instrument cluster features five circular gauges, one being a high-resolution multifunction screen. There's also an elevated center console with a high-mounted shift lever (or gear selector) that shortens the distance a driver must reach to make gear changes.
Beneath its new, primarily aluminum exterior panels, that help reduce the car's curb weight by about 100 pounds compared to the current steel sheetmetal, the 2012 Porsche 911 Carrera features a redesigned unit body. It, too, makes greater use of aluminum and adds high-strength steel in the crush structures to create a foundation that's even more robust and rigid for the redone chassis bits. Revisions to the front struts, a new electro-mechanical power steering unit and a redesigned multilink rear axle are complemented by the Porsche Dynamic Chassis Control (PDCC). the firm's active roll stabilization system which will be available for the first time on the 911 Carrera S.
Last, but far from least, the 2012 Porsche 911 Carrera family promises to be both quicker and more fuel-efficient than the current lineup. The base engine is a new 3.4-liter flat-six that makes 350 horsepower. Up by five ponies on the current 3.6-liter, it delivers about 15-percent better fuel economy on the Euro cycle when fitted with the optional seven-speed PDK sequential automatic transmission. The revised 3.8-liter in the Carrera S develops 400 horses -- 15 more than the current iteration -- yet trims its fuel use by some 14 percent when fitted with the PDK. For purists, Porsche also is introducing an industry-first seven-speed manual transmission, which, in effect, is a single-clutch variant of the PDK.
Porsche says those new 911 powertrains will help raise the car's exhilaration index for 2012. The new 911 Carrera with PDK can now hit 60 mph in just 4.4 seconds (or 4.2 ticks on cars with the optional Sport Chrono Package while engaging Launch Control), while a PDK-spec 911 Carrera S will do that sprint in 4.1/3.9 seconds. Top speeds of the Carrera/Carrera S are officially pegged at 179/188 mph.
As in the past, expect Porsche to expand the new 911 family over the next 12 to 24 months with the addition of Carrera 4 and Cabriolet models as well as the next-gen 911 Turbo/Turbo S range toppers. There's even talk of a 911 Hybrid.