by
KBB.com Editors
|
September 28, 2012 1:24 PM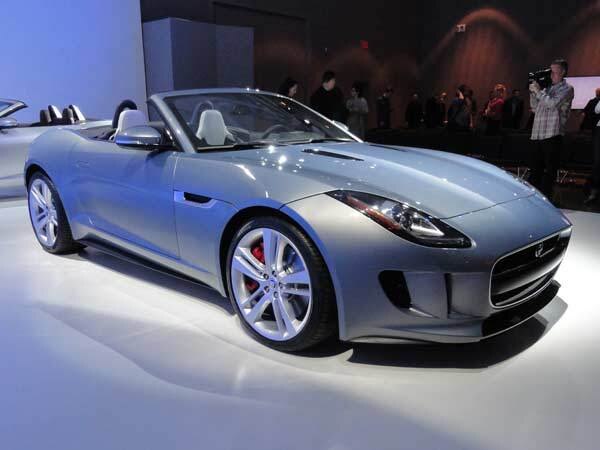 Jaguar unveiled a new roadster to take on the Porsche Boxster, Volkswagen introduced a new version of the best-selling car in Europe, and Land Rover showed off a svelte new Range Rover that's shed almost 1,000 pounds. All in a day's work at the 2012 Paris Auto Show. And while McLaren and Peugeot were kind enough to supply the jaw-droppers, that's not to say the new all-electric version of the Mercedes-Benz SLS was anything short of stunning. Now, see the show.

TOP 10
Presented alphabetically below, you can click through the gallery above to see all 10 and find out which one took the top spot
Audi Crosslane Coupe Concept
A shape-shifting high-tech plug-in hybrid that's cool green to the core
BMW Concept Active Tourer
An early look at an upcoming extension to the BMW 1 Series lineup
2014 Jaguar F-Type
Jaguar's truest sports car since...ever?
2013 Land Rover Range Rover
The off-roadiest luxury SUV undergoes an extreme makeover and emerges 700 pounds lighter
Lexus LF-CC Concept
Take a sneak peak at the styling direction of the next-gen Lexus IS
Mazda Mazda6 Wagon
The latest wagon America will have to admire from afar
McLaren P1 Design Study
An early look at the successor to McLaren's famed F1 supercar, to arrive late 2013
Peugeot Onyx Concept
The look is Lamborghini meets Lexus, and there's a matching scooter
Porsche Panamera Sport Turismo Concept
Porsche hints at its future design language with a next-gen plug-in hybrid
Volkswagen GTI Concept
Here's an early look at our 2014 Volkswagen GTI

THE OTHERS
Several of these cars will be hitting U.S. roads in the coming year
Audi A3/S3
Visualize the next A3 coming to America by imagining this new A3 hatchback in sedan form
Audi RS5 Cabriolet
Drop-top version of the car we recently drove at the raceway in Sonoma [VIDEO]
Audi SQ5 TDI Exclusive Concept
Audi has created the hottest diesel-powered compact SUV ever
Bentley Continental GT3 Concept
Bentley heads back to the track with an even-speedier Speed GT
2013 Chevrolet Trax
A global-minded crossover that won't be coming to America
2014 Ford Fiesta
Not exactly the Fiesta we'll be getting for 2014, but a telling preview
2013 Ford Mondeo
Think Fusion with European tailoring and 1.0-liter EcoBoost power
2013 Honda CR-Z
See the changes in store for Honda's fun little hybrid
2013 Kia Carens
The Rondo MPV that might have been
2013 Lamborghini Gallardo LP 560-4/Gallardo LP 570-4 Edizione Tecnica
Understated upgrades add edge to an aging road warrior
Mercedes-Benz Concept B-Class Electric Drive
An electrified version of one of the most popular Mercedes models in Europe
2014 Mercedes-Benz SLS AMG Coupe Electric Drive
Quite simply, the world's most powerful electric-powered supercar
2013 Mini Paceman
The latest Mini mashup combines the size of the Countryman with two fewer doors
Mitsubishi Outlander PHEV
All-new Outlander with an all-new plug-in hybrid powertrain
Nissan TeRRA SUV Concept
A hydrogen-fueled SUV concept designed for urban life
Peugeot RCZ Concept
Designed for "young-minded city dwellers," but not those in the U.S.
Porsche 911 Carrera 4/4S Coupe and Cabriolet
The all-wheel drive versions of the latest and greatest 911
Porsche Cayenne S Diesel
We drove a Cayenne Diesel recently, but not one with 626 lb-ft of torque
Rolls-Royce Art Deco Cars
Ultimate luxury with an inspired twist
Smart Forstars Concept
Funky two-seater hints at the future of Smart
SsangYong e-XIV Concept
The X stands for exciting, of course
Suzuki S-Cross Concept
A possible precursor to the next generation of Suzuki's once-over-achieving SX4
2014 Volkswagen Golf
The best-selling car in Europe has been redesigned yet again
Volkswagen Golf BlueMotion Concept
This production-bound turbodiesel gets 73.5 mpg
2013 Volvo V40 Cross Country
Just like the regular V40, the ruggedized version won't be coming to the U.S.