2012 Nissan Versa Sedan Review: Sizeable Subcompact
by
KBB.com Editors
|
July 20, 2011 10:15 AM
The Nissan Versa is the Toyota Camry of the subcompact segment: Boring but a best seller. Of course, boring cars are only boring to those looking to make a fashion statement or generate an adrenaline rush with their transportation - a minority group. To its many happy buyers, the Versa is one of the roomiest, most comfortable new cars available in the neighborhood of $15,000. And even though Nissan's designers have blessed the all-new 2012 Versa Sedan with considerably handsomer sheet metal, the basic recipe remains the same.
What's New for 2012
More sophisticated sheet metal and improved fuel economy are the 2012 Nissan Versa Sedan's most important improvements. The Nissan Versa Hatchback continues mostly unchanged for 2012.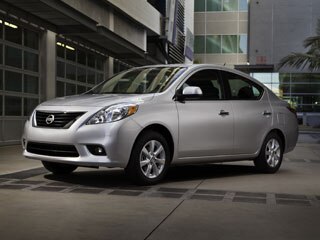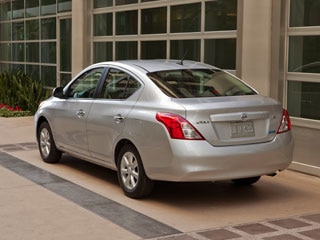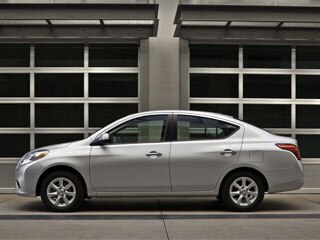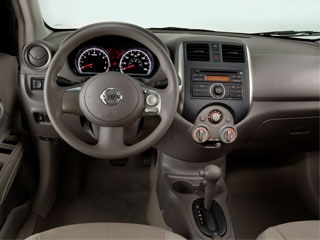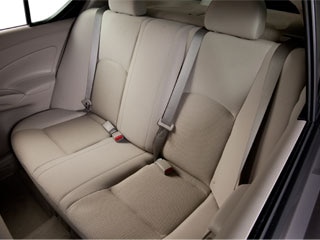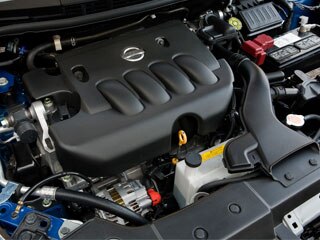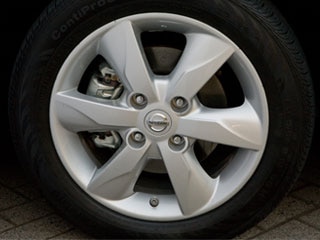 Its Fans Say...
The 2012 Nissan Versa Sedan is about as roomy and comfortable as it gets in the subcompact, sub-$15,000 sedan category.
Its Critics Say...
If you like your economy cars with a pinch of driving excitement, you'll have to visit another dealership.
No Rush
Subcompact cars are neither smooth nor quiet. But some are smoother and quieter than others, and the 2012 Nissan Versa is tuned to be just that. If the category has a cruiser, the new Versa is it. But it's also easy around town and in parking lots, with light steering, a tight turning radius and good visibility. The continuously variable transmission remains a polarizing proposition in the automotive world, but Nissan has made great strides in recent years and, especially when used in conjunction with a car like the Versa, we're fans. If you're looking for a lively dance partner, check out something like the pricier Ford Fiesta. If you're more intrigued by the idea of a condensed version of a comfortable mid-size sedan, you'll like the Versa.
Better Looking Outside
It's still among the category's most conservative designs, but the next-gen Nissan Versa Sedan looks much better than the awkwardly proportioned outgoing model. Making its debut on the 2012 Nissan Versa is a new signature grille for Nissan sedans. The base-model Versa S can be identified by its black trim, and if you want alloy wheels instead of covered steel wheels, you have to go all the way to the top-line SL trim.
Clean and Simple Inside
Nissan is quick to point out that the 2012 Nissan Versa has best-in-class rear legroom -- more, even, than the BMW 5 Series, Mercedes-Benz E-Class and Lexus LS 460. The Versa also boasts the subcompact category's roomiest trunk. The front seats are acceptable - about as good as it gets in the category - and the interior is otherwise clean and simple. We prefer the look of the Sandstone interior, which feels richer than the Charcoal option.
Basic Equipment
The 2012 Nissan Versa S starts at $11,750 (Manufacturer's Suggested Retail Price plus destination) with a five-speed manual transmission, air conditioning, two-speaker AM/FM/CD/Aux stereo system and not much more. Missing in action are power windows, power door locks and a folding rear seat back. For about $3,500 more, the mid-grade Versa SV remedies the manual windows and locks situation, and adds cruise control, nicer seat cloth and a variety of visual upgrades inside and out.
Fully Loaded
A 2012 Nissan Versa SL with Tech Package has an MSRP of $17,020. For that you get Bluetooth phone and USB/iPod audio connectivity, and the Tech Package adds navigation with a five-inch screen plus traffic info and satellite radio.
Favorite Features
Rear Legroom
It isn't fast, it isn't flashy, but it sure is roomy. If you plan on taking long road trips with more than one passenger, the Nissan Versa is the most humane choice in the category.
CVT
Continuously variable transmissions take some getting used to, but you grow to appreciate the smoothness. Nissan committed to the CVT several years ago and is now doing them better than any other automaker.
Under the Hood
The 2012 Nissan Versa pairs a brand new 1.6-liter engine with a brand-new, second-generation version of Nissan's small-car CVT. Fuel economy is up significantly compared to the outgoing Versa and now competitive with category leaders, but the 2012 Hyundai Accent manages similar fuel economy while delivering 26 percent more horsepower. The 2012 Nissan Versa is the first Nissan to wear a "PUREDRIVE" badge, which the automaker says will denote cars with unspecified fuel-saving technologies. So, when people ask you what "PUREDRIVE" means, "nothing, really" is an appropriate answer.
1.6-liter four-cylinder
109 horsepower @ 6000 rpm
107 lb.-ft. of torque @ 4400 rpm
EPA city/highway/combined fuel economy: 27/36/30 mpg (manual), 30/38/33 mpg (auto)
KBB Value Analysis
With a sticker-price range of $11,570 to $17,020, the 2012 Nissan Versa Sedan has both the lowest starting and ending prices in the category. A competitor like the Ford Fiesta, for instance, ranges from $13,995 to more than $20,000. But a features-based comparison reveals mostly similar pricing across the category on an apples-to-apples basis. Check our Fair Purchase Price for current real-world pricing. For someone seeking maximum room and comfort at a minimum price, the 2012 Nissan Versa definitely qualifies as a great value.