2012 Nissan GT-R: Driving it fast(er)
by
KBB.com Editors
|
March 8, 2011 7:38 AM
By KBB Editor Micah Muzio
Until recently I'd only ever driven the Nissan GT-R on public streets, which is akin to holding a breakdancing competition in a phonebooth. More on that in a minute but first a quick rehash of the GT-R.
When it launched in 2008 the Nissan GT-R featured a race-ready suspension, huge brakes and a twin-turbocharged 485-horsepower 3.6-liter V6 that sent its power first to a six-speed dual-clutch automatic transmission, then to an advanced all-wheel-drive system and finally to four grippy but short-lived tires (assuming you drove the GT-R like god intended it to be driven). In summation, the GT-R was an unbelievably capable super car that just happened to be sold alongside humbler Nissan cars like Versa and Altima.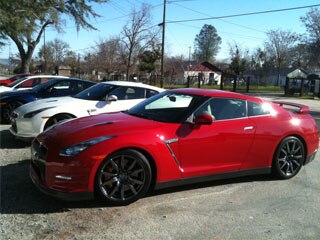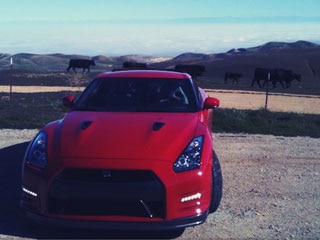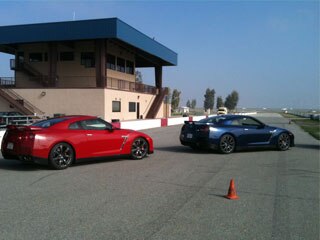 So how do you improve such a stout performer? Put another way, how do you make a sharp blade even sharper? Keep sharpening. For 2012, Nissan has honed the GT-R in a number of ways, starting with the engine. A full 485 horsepower seems like plenty to us but for 2012 the V6's output has increased to 530 horsepower. Torque has also improved with an extra 14 pound-feet on tap, making a grand total of 448. Top speed has risen from 193 to 197 miles per hour thanks partly to the increase in power and partly to improved aerodynamics (now a super slippery .26 Cd). Somehow all this extra performance is accompanied by improved fuel economy, jumping from 15 mpg in the city and 21 on the highway to 16 and 23 respectively. Ah, technology.
The numbers look good but what do they mean to the driver? On a recent winter morning we had the chance to find out as we piloted a pair of GT-Rs over the mountains that stand between the quiet town of Atascadero and the southern San Joaquin valley in California. The first portion of the drive was spent behind the wheel of the 2011 model, which delivered thrilling acceleration, immense levels of grip and excellent steering. Plenty of car for our tastes...at least until we slipped into the refreshed 2012 GT-R. With 45 more horses in the stable acceleration was notably swifter. The 2012 model's suspension tuning has also been revised resulting in an even greater sense of agility. The street portion of our drive concluded in Buttonwillow, California -a quiet, desolate agriculture town with precisely one point of interest: Buttonwillow raceway. Having spent much of the day restraining ourselves on public/CHP- patrolled roads, the opportunity to let the GT-R loose on a proper race track was a relief.
Before hitting the track we were treated to a demonstration of the GT-R's new "R Mode Start Feature." Pay attention to the exact wording there because whatever you're thinking it is not a Launch Control system. Launch Control was a feature found on early GT-R's, which a small number or overzealous drivers used to utterly destroy their vehicle's transmissions. Evidently, countless hard launches on super sticky drag strip surfaces can take a toll on machinery, even machinery as advanced as the GT-R's dual-clutch transmission. Who knew?
Back to the "R Mode Start Feature:" it's basically Launch Control with a different name, gentler clutch engagement and a limit on how many times it can be launched in a row, which should greatly minimize the chance of grenading the transmission. Operation consists of four simple steps. Step 1: Press a switch engaging the transmission's R Mode. Step 2: Press the brake firmly with your left foot. Step 3: Press the throttle pedal to the floor with your right foot. Step 4: Let off the brake and marvel at how deftly the GT-R manages throttle, engine revs, clutch engagement, the stability control system and all-wheel drive power split to produce maximum acceleration. And by maximum we mean zero-to-sixty acceleration in three seconds. Using Nissan's professional driver and measuring equipment the 2012 GT-R managed repeated 0-60 runs of 2.9 seconds. That's about as fast as any modern super car can muster. It's also fast enough to outrun a cheetah (good to know just in case).
With the "R Mode Start" madness out of the way we were free to flog the 2012 GT-R around Buttonwillow Raceway's East Loop, a section of track whose key features include a very long high-speed sweeping corner, a fun but tricky right-hander with its apex placed at the top of a hill and three separate braking zones requiring hard deceleration from speeds well into triple digits. It is quite simply the perfect environment to test the GT-R. What immediately struck us was how easy the GT-R was to drive fast. We've driven performance cars that require incredible finesse and hands far more skilled than ours to even approach their performance potential. In contrast, all that is required to drive the Nissan GT-R quickly is a decent understanding of the proper driving line and the guts to hang on.
It sounds nutty but the GT-R is so capable and predictable that you'd have to drive under a haze of powerful ignorance not to put down respectable lap times. The downside to that extreme competency is that drivers who revel in the all-encompassing mental engagement offered by other more demanding performance cars may find the GT-R too sterile. Driving, especially in the realm of super cars, is an emotional activity and in those terms the GT-R isn't the most satisfying car we've experienced. Of course as I blasted out of Buttonwillow's S-curves, flat out in fourth gear, briefly kissing 130 before kindly requesting that the eight-piston front calipers clench their corresponding 15.4 inch brake rotors to shed enough speed for a 90 degree left, the last thing on my mind was a lack of emotional satisfaction. From a pure speed perspective the 2012 Nissan GT-R is an awfully compelling package, especially for those who think adrenalin and velocity are decent stand-ins for pure driving emotion.
Having spent hours flogging it on track we're struggling to think of a more approachable super car than the Nissan GT-R. The refreshed 2012 Nissan GT-R is the best yet and, starting at $91,000 including destination, it's also a genuine bargain versus the similar-performing Porsche 911 Turbo and Audi R8 5.2. Bottom line, if there's an easier or cheaper way to enjoy the speed of a supercar we haven't experienced it. Maybe when the 2013 GT-R comes out.