2012 Nissan GT-R - 2010 Los Angeles Auto Show
by
KBB.com Editors
|
October 21, 2010 9:12 AM
Following a low-key and largely visual reveal at the Paris Auto Show, Nissan brought the updated U.S-spec version of its all-wheel-drive GT-R supercar to the LA Auto Show. Beyond filling in the tech blanks on the megaload of functional enhancements this scintillating supercoupe will benefit from when it goes on sale here early next year, Nissan revealed that the existing Premium trim will be joined by a new and even more overtly sinister "Black Edition."

Purposeful styling tweaks
Although its basic bad-boy bodywork carries over, key revisions to the front/rear detailing help trim the coefficient of drag on the 2012 Nissan GT-R from 0.27 to 0.26 while increasing overall downforce by 10 percent. The bolder front end features a bigger grille opening that helps reduce air resistance inside the engine compartment and improves brake cooling while subtle twin "rectifier-fins" set off by new LED running lamps help enhance high-speed stability. Out back, the recast rear bumper and diffuser help lower the center of gravity and better dispose of exhaust heat while new LED taillamps and even larger-diameter exhaust finishers add an even more assertive flourish to the package.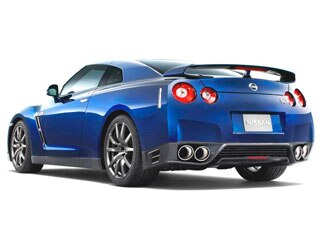 Nissan also stepped up its game in the GT-R's passenger compartment. While you still won't mistake it for an Infiniti, the revised dash pad and console do impart a slightly more upscale look, additional carbon fiber trim is in evidence and the car's enthusiast-grade bucket seats have been redesigned to provide even greater comfort and support.

More muscle and more efficiency
Although hardly a slouch in the brute-force department, the 3.8-liter twin-turbocharged V6 in this revamped Nissan GT-R receives a series of revisions to make it even more potent. A bump in boost, freer breathing and improved valve timing help raise pony count from 485 to 530 and raise peak torque from 434 to 488 lb-ft which is now on hand from 3,200-6,000 rpm. Downstream, a new ultra-low precious metal catalyst works with the engine's revised electronic controls to modestly improve fuel economy while dropping CO2 levels enough to meet SU-LEV (Super Ultra Low Emission Vehicle) standards.
While its paddle-shifted six-speed twin-clutch automated manual transmission and electronically controlled ATTESA E-TS all-wheel-drive system carry over, the vehicle dynamics control system has been modified to offer better off-the-line response and a new SAVE mode added that optimizes torque usage and modifies the shift mapping during highway driving to further improve operating efficiency.
An even more dynamic personality
To take full advantage of the other improvements, Nissan engineers also endowed the 2012 GT-R with a host of chassis upgrades that endow it with an even higher level of corner-carving prowess. The upgrades start with a stronger body shell, aided most directly by the fitment of new carbon-fiber reinforcements up front, including a new strut-tower brace. Geometry of both the front and rear suspension has been changed to improve grip and stability at speed and new lower-friction shock absorbers improve both ride and control. The GT-R also boasts a new decouple mode that can momentarily turn it into a rear-driver to help reduce understeer during low-speed cornering. Complementing that effort is the fitment of new and even lighter-weight RAYS forged aluminum wheels finished in new Hyper Blue Black Chrome and wrapped in an even stickier formulation of Dunlop SP Sport Maxx GT 600 DSST CTT tires. As a finishing touch, the GT-R's powerful brakes have been upgraded thanks to a thinner, extended-life rotor that Improves pedal feel and fade resistance.
Buyers looking for an even more exclusive variation on the 2012 Nissan GT-R theme can opt for the new GT-R Black Edition. It's fitted with unique six-spoke black-finish RAYS lightweight wheels in place of the 10-spoke rims used on the Premium model and features its own red-and-black interior trimout that adds a custom dark headliner and its own red-trimmed variation of the standard Recaro sport buckets. No word yet on pricing for either GT-R iteration.