2012 Mini Cooper Roadster revealed
by
KBB.com Editors
|
November 2, 2011 6:25 AM
The latest member of the ever-expanding Mini clan to officially show its face in full production trim, the 2012 Mini Cooper Roadster is the first of the breed to offer an al fresco experience for just two. Like the recently introduced Mini Cooper Coupe, the new Roadster will come in three trim levels: the 121-horsepower Cooper version, 181-horsepower Roadster S and the top-line 208-horsepower John Cooper Works variant. And like their Mini kin, the latter two use Twin-Power Turbo force-feeding to pump the pony count on their respective 1.6-liter 4-cylinder engines and drive the front wheels using either a 6-speed manual transmission or optional 6-speed automatic.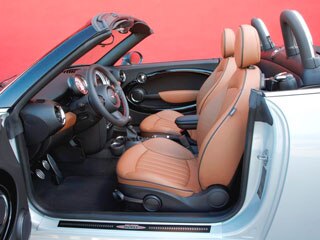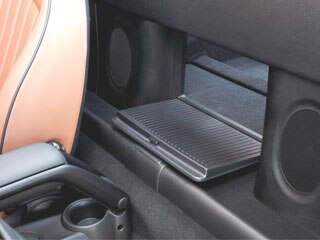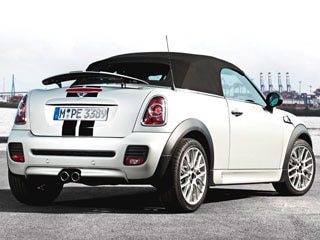 Beyond shared powertrains, the Cooper Roadster and Cooper Coupe feature loads of other common touches, from their primary bodywork and more steeply-raked windshields, specially reinforced substructures and suspension bits -- the latter mildly recalibrated for the soft-top model -- to an auto-deploying rear spoiler, interior design executions and a bounty of standard/optional features complemented by countless accessory and personalization items.
Highlighting the roster of unique Roadster elements are its lightweight, manually-operated black-only lid opens with the twist of a single lever on the windshield frame and then flips back into a well behind the seats. Other Roadster-specific touches include twin fixed rollover hoops and an Openometer borrowed from the Mini Cooper Convertible that keeps tabs on your wind-in-the-hair mileage count. While it does spot the Coupe a bit of cargo space, the Roadster will swallow up a still-respectable 8.5 cu ft of your favorite take-along stuff and features the same 14x8-inch passthough opening that adds a bit more convenience and flexibility.
The new 2012 Mini Cooper Roadster will make its first public appearance at the Detroit Auto Show (NAIAS) in January before going on sale here in early 2012. Pricing and EPA numbers have yet to be released.