2012 Mercedes-Benz SLS AMG Roadster - First official pics
by
KBB.com Editors
|
May 31, 2011 1:55 PM
Although the car is still slated to make its formal public debut this September in Frankfurt, the first images of a production-spec 2012 Mercedes-Benz SLS AMG Roadster have now been released by the factory. As expected from the earlier series of house-blessed spy shots, this soft-top runningmate to the stunning SLS AMG Coupe has made the transition to open-air status in a most impressive manner.
Conceived and engineered from the very start to be built in both hard and soft-shell configurations, the Roadster version of the aluminum-intensive SLS AMG weighs just 88 pounds more than the gullwing Coupe. To maintain the same vehicle dynamics profile, the Roadster's structure features supplemental reinforcement to its side sills as well as additional transverse crossbeam elements and support elements at the front and rear of its passenger compartment. The car also is fitted with a curved strut between the soft top and the tank that reinforces the rear axle. However Mercedes says all of the changes add less than five pounds of extra weight to the basic body shell.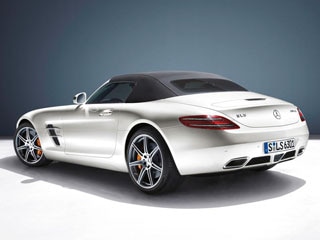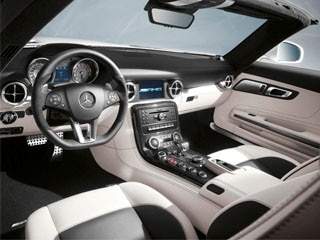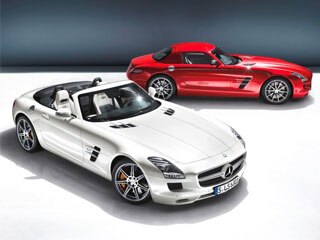 With an electronically-limited maximum velocity of 197 mph, the SLS AMG Roadster required a similarly well-executed top design, a need M-B engineers attended to with an equal measure of attention to functional detail when it came to coping with wind, weather and noise intrusion. A weight-saving, compact execution, the fully automatic one-touch triple-layer fabric lid on the SLS AMG Roadster is wrapped around a magnesium/steel/aluminum framework and takes just 11 seconds to cycle in either direction at speeds up to 31 mph. Using a space-optimized Z-fold configuration, it tucks neatly into a bay behind the seats creating an integral tonneau cover. The drop-top variations, the new Roadster sacrifices only 0.1 cu ft of cargo space compared to the Coupe's 6.2-cu ft of trunk capacity.
Like the Coupe, the SLS AMG Roadster is fitted with a naturally-aspirated AMG 6.2-liter V8 that makes 563 horsepower and 479 lb-ft of torque. Matched to an AMG seven-speed dual-clutch Speedshift transmission, it can send the Roadster streaking to 62 mph in 3.8 seconds. While the two also share the same standard sport-tuned conventional chassis setup, the SLS AMG Roadster will introduce a new option: Adaptive AMG Sport Suspension with electronically controlled damping. An upgrade that also will be offered on the Coupe, it allows the driver to select from Comfort/Sport/Sport Plus modes at the touch of a button located on the center console in the car's AMG DRIVE UNIT. Another new feature being unveiled in the SLS Roadster is "AMG Performance Media," a motorsport-inspired innovation that provides a variety of real-time vehicle telemetric displays and engine status data as well as lap times on a racetrack.
The richly appointed passenger compartment of the 2012 Mercedes-Benz SLS AMG Roadster boasts impressive array of standards that include black Designo leather upholstery, AMG sport seats, COMAND with Navigation, Keyless Go and eight airbags. While things like a Bang & Olufsen BeoSound AMG Surround Sound premium audio package, carbon-fiber accent bits and the aforementioned AMG Performance Media will cost extra, the Roadster is fitted with M-B's neck-warming AIRSCARF system as well as leather-wrapped fixed rollover hoops and an integrated wind deflector as part of its as-delivered kit.

The 2012 Mercedes-Benz SLS AMG Roadster is slated to go on sale here in the fall. While final pricing has yet to be announced, expect to see it start somewhere around $250,000.