2012 Mercedes-Benz SLK-Class - First look
by
KBB.com Editors
|
January 14, 2011 1:37 PM
Headed for U.S. showrooms this summer, the redesigned 2012 Mercedes-Benz SLK-Class carries on its tradition of innovation and efficiency with a striking redesign that brings a bolder look, more fuel-efficient engines and the requisite dose of advanced comfort, convenience and safety touches. Although complete details on the third-generation SLK-Class have yet to be released, the first look and mini spec set M-B has provided on its "Baby SL" leave no doubt that this compact two-seat retractable-hardtop roadster brings a more focused attitude that raises its profile while elevating its overall sophistication and desirability.
New look, new MAGIC SKY CONTROL vario-roof
Exterior styling on the new SLK-Class reflects an intentional homage to both past and future M-B offerings. The more chiseled front fascia incorporates visual elements that recall cues from the 1950's-era 190 SL as well as several from the stunning SLS AMG and new CLS-Class. The hood and fenders are made from lightweight aluminum and despite a greater degree of aggressiveness in their contouring still contribute to coefficient of drag being trimmed from 0.32 to 0.30.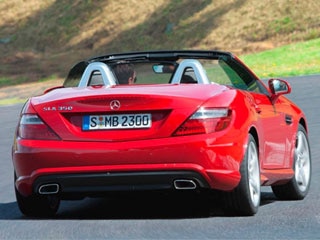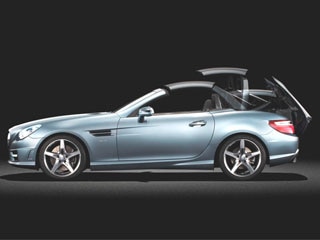 Literally highlighting the look is a new-for-SLK set of full LED headlamps that offer optional corner-following "active" functions as well as strip-style LED running lights. Prominent chrome side vents and sweeping character lines that extend into the door panels serve as accent points for the SLK's profile, and its rear quarters display a similar kind of well-defined refinement thanks to restyled taillights, larger twin exhaust outlets and a more prominent decklid spoiler lip.
As before, the 2012 SLK-Class is crowned by a power-retractable vario-roof hardtop that raises/lowers and stows neatly at the touch of a button. However, this latest iteration comes in three forms: conventional body color, fitted with a dark-tinted glass panorama alternative or inlaid with world's first panorama vario roof with MAGIC SKY CONTROL. MAGIC SKY CONTROL electronically realigns light-blocking crystals in the glass insert, allowing it to go from dark to clear and back at the touch of a button; the better to keep cabin temps at a happy medium. And for those strictly al fresco outings, the 2012 SLK-Class also offers a new AIRGUIDE wind-stop system that uses pivoting transparent plastic element on the back of its now-fixed rollover hoops that can be easily repositioned to decrease wind turbulence.
The passenger compartment of the 2012 Mercedes-Benz SLK-Class displays a similar kind of enlightened upgrading. Here, too, SLS influences are evidenced in elements like the dash design with its four chrome air outlets and a flat-bottom multifunction sport steering wheel. The SLK's new instrument cluster splits large analog main gauges with an on-board computer display while a large center screen atop a conventional switchgear array displays communication/infotainment readouts and navigation maps. Brushed aluminum will be used as the standard accent trim, but high-gloss dark brown walnut is available as an option.
New power, new features
The 2012 Mercedes SLK-Class will offer a choice of four and six-cylinder engines, both shared with the new 2012 C-Class. Although not due until slightly later in the model year, the entry level SLK250 model will be fitted with the new-for-America 1.8-liter turbocharged direct-injected inline-four that makes 201 horsepower. Backed by a standard six-speed manual transmission, M-B says it will take the SLK250 from 0-60 mph in 6.5 seconds and on to a top speed of 155 mph while netting an estimated 27 mpg combined EPA number.
Residing under the hood of the SLK350 is M-B's new 3.5-liter/302-horse V6 that features BlueDIRECT injection and a multi-spark ignition. Mercedes says it will let the upline SLK hit 60 mph in just 5.4 ticks and return an estimated combined 23 mpg. While making no mention of transmission fitment, the current car and the new C350 both pair V6s with the seven-speed automatic, which will also be an option on the SLK250. Sadly, there's no word yet on the Gen III SLK AMG model. However, one is definitely in the cards and will almost certainly be fitted with the new AMG 5.5-liter twin-turbo V8 when it finally does turn up.
To enhance its handling prowess, the new SLK-Class is underpinned by an even sportier suspension setup than before, one that features firmer springs and shocks paired with M-B's Direct-Steer steering that adds precision while decreasing effort during low-speed maneuvers. In addition to the mega-roster of safety systems found in the current car, the 2012 SLK-Class also will add the ATTENTION ASSIST drowsiness detection system as standard and offer DISTRONIC PLUS adaptive cruise control with PRE-SAFE Brake as an option.
More details and final pricing details on the 2012 Mercedes-Benz SK250 and SLK350 models will be released closer to on-sale date.