2012 Mercedes-Benz CLS Class -- Paris Auto Show
by
KBB.com Editors
|
August 23, 2010 1:40 PM
Prime focus of the automaker's display at the upcoming Paris Auto Show, the 2012 Mercedes-Benz CLS-Class embodies a transition that takes this "four-door coupe" to a new and even more visually evocative level. Although Mercedes-Benz is withholding a number of the tech specs on the new CLS-Class, it has released a series of photos showing a notably bolder iteration that Professor Gorden Wagener, head of design at Mercedes-Benz categorically states reflects a good deal of what lies ahead. "The 2012 CLS-Class points the way forward for the future perceptible design idiom of Mercedes-Benz. At the same time it takes inspiration from the great tradition of stylish, refined sportiness which has always been a feature of Mercedes coupes."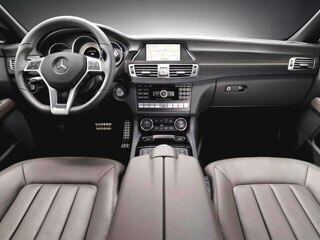 Concept character plus a dash of SLS
Borrowing a healthy measure of surface flash from the striking F800 Style Concept that was displayed earlier this year at Geneva and the Concept Shooting Break that appeared shortly thereafter at the Auto China 2010 exhibition, the 2012 Mercedes-Benz CLS-Class retains the long-nose/short tail proportions of the current car but now augments a flowing roofline with more pronounced shoulder/lower character lines and even prouder wheel arches. This chic successor also adds a new "dropping line," which runs on a bias from the front wheel to the rear quarter panel as seen on the Shooting Break, reprising an accent element seen on earlier Mercedes sports cars.
At its leading edge, the 2012 Mercedes-Benz CLS-Class gets an SLS-style fascia treatment with a large upright grille accentuated by a single chrome bar and a prominent M-B badge. It's flanked by the first automotive application of standard full LED lighting. Each main unit is divided into three arrow-shaped tiers that are complemented by a strip of LED running lights in the lower outboard air intakes. Superbright and superlight, these high-tech illuminators impart a unique after-dark appearance to the CLS-Class as well as provide superb visibility under all driving conditions. The LED treatment also extends to the car's wraparound taillamps.
An inside look at the future
The passenger cabin on the 2012 Mercedes-Benz CLS-Class also takes the car's interior design to a new level of elegant refinement. Standard kit includes hand-stitched semi-analine premium leather paired with high-gloss brown burl walnut or high-gloss black ash---hand-matched for a consistent grain pattern. This classic mix is set off with satin and bright-finish metal accents plus air vents done in a matte-galvanized look. Buyers also can opt to replace the wood with either Piano Black or carbon-fiber trim for a more contemporary flavor.
Four individually contoured seats -- power-adjustable buckets up front and fixed demi-buckets in the rear -- provide comfort and support for all aboard the 2012 CLS-Class. A new three-spoke multifunction sport steering wheel adds a sportier feel and the transmission lever has been repositioned from the all-new center console to the column itself in a move that parallels the latest CL-Class and S-Class configurations. Although the initial release stopped short of detailing the mega roster of comfort/convenience touches that will be standard in the 2012 Mercedes-Benz CLS-Class, expect to find everything from COMAND integrated telematics with a large, high-res LCD display, voice-activated navigation and a premium audio system to quad-zone climate control, a power moonroof and adaptive damping suspension included in the mix.
Motivation TBD
No word just yet on what powertrains the 2012 Mercedes-Benz CLS-Class will carry when it goes on sale here in the spring. However, it seems likely that at least two equally-new V8 gasoline engines will be on offer in the U.S., both backed by a seven-speed automatic transmission. The base 2012 Mercedes-Benz CLS 550 will almost certainly be fitted with the latest 4.6-liter/429-horsepower direct-injected twin-turbo engine introduced in the 2011 CL-Class. Shortly thereafter, expect the new AMG-spec 5.5-liter twin-turbo that cranks out a heady 536 horses to turn up in a hotter CLS AMG 63 variant. While a CLS 350 fitted with M-B's new 3.5-liter/301-hp direct-injected V6 and a CLS 550 4MATIC are possible, they, as well as a mileage-maxing 3.0-liter V6 turbodiesel, remain more likely to see duty in Europe rather than in this market. Arguably the most intriguing rumor is that the Shoot Break Concept also will spawn a production CLS Sportwagon variant within the next couple of years.