2012 Mazda MAZDA3 with SKYACTIV technology - First look
by
KBB.com Editors
|
February 17, 2011 9:11 AM
A portent of things to come, the 2012 Mazda MAZDA3 was unveiled at the 2011 Canadian International Auto Show in Toronto. While its exterior changes are fairly minimal, it will be the first Mazda vehicle sold in North America to be fitted with the automaker's efficiency-enhancing SKYACTIV powertrain elements, namely the new SKYACTIV-G 2.0-liter direct-injected gasoline engine and equally new six-speed SKYACTIV AT automatic. Both are critical components in the SKYACTIV technology suite that's destined to play a key role in helping Mazda meet its stated goal of improving the overall efficiency of its vehicle fleet by 30 percent between 2008 and 2015 model years.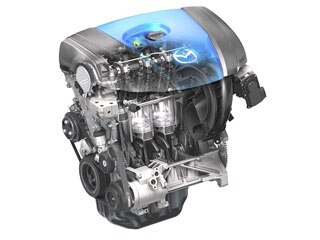 Although it presented the new SKYACTIV hardware, Mazda did not reveal any further details as to whether the engine and transmission will join or replace the existing conventional counterparts in the 2012 MAZDA3. That information -- as well as specific output and projected EPA numbers -- will have to wait until the car makes its first U.S. appearance at the New York Auto Show in April. However, previous statements indicate that the 2.0-liter SKYACTIV-G is likely to make about 160 horsepower and that teamed with the new SKYACTIV AT which delivers a five-to-seven percent gain in operating efficiency, the 2012 Mazda3 will likely net around 30 mpg in the city and 40 mph on the highway when it does go on sale here later in the year.
On the cosmetic front, the 2012 MAZDA3's controversial happy face front end has been modestly revised to bring its "glee factor" down a notch by tweaking the shape of the grille, foglamp bezels and headlamps. The changes are even more subtle out back, where restyled taillamp lenses adorn a minimally redone soft fascia. New 16-inch and 17-inch alloy wheels complete the visual changes.