2012 Mazda MAZDA3 SKYACTIV - 2011 NY Auto Show
by
KBB.com Editors
|
April 25, 2011 7:17 AM
Previewed in Toronto last February, the modestly restyled 2012 Mazda MAZDA3 with new SKYACTIV technology made its formal debut in New York, accompanied by definitive specifications for U.S. versions of the car. Cosmetic changes focus on a welcome reduction in its happy-face index courtesy of a mild reshaping of the grille, headlights, foglamp bezels and some subtle aero tweaking of the front fascia coupled with drag-diminishing underbody cleanup work. These are accompanied by equally understated refinements to the rear fascia and taillights plus new 16-inch and 17-inch alloy wheel designs. However, the mid-life update story for Mazda's perennially best-selling model is a good deal more meaningful underhood, where the current powertrain lineup will be bolstered by the first North American application of the automaker's econo-enhancing SKYACTIV engine and transmission hardware -- upgrades that will enable one version of the Mazda3 sedan to earn a projected 40-mpg EPA highway rating.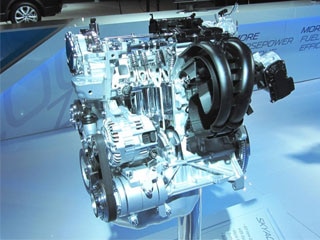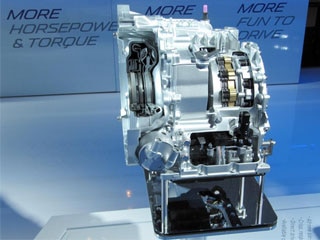 Available in the 2012 MAZDA3 sedan and five-door models, the new 2.0-liter SKYACTIV-G gasoline engine combines direct injection, dual-sequential valve timing (S-VT) and a lofty 12.0:1 compression ratio with numerous other advanced tech touches to develop 155 horsepower and 148 lb-ft of torque (154/144 in California trim) -- gains of five and 10 percent respectively over Mazda's current MZR 2.0-liter -- while shedding 4.4. pounds. Backing the engine will be a pair of new super-efficient six-speed transmissions, the SKYACTIV-Drive automatic and SKYACTIV-MT manual, while an electronic drive control system is on hand to coordinate interaction between the two. The result is a package that delivers better responsiveness and better economy across the board.
Sitting atop the 2012 MAZDA3 fuel-sipper index is the autoshifted SKYACTIV Sedan that earns projected EPA city/highway numbers of 28/40 mpg, gains of 17 and 28 percent respectively over the 2011 MAZDA3 sedan with the MRZ 5M/5A engine/trans. Opt for the SKYACTIV-MT and the sedan's stats come in at a most laudable 27/39 mpg. Going the SKYACTIVE route in the MAZDA3 five-door nets similarly impressive 28/38 mpg EPA figures with the automatic and 27/38 mpg with the manual.
All 2012 Mazda3 models equipped with the new SKYACTIV powertrain components also will be distinguished by several unique cosmetic accents including a transparent blue ring around their headlamp lenses, special "SKYACTIV" badges, unique instrument cluster illumination and a special blue engine cover plate. A new Blind Spot Monitoring (BSM) system joins the options list and will be available across the lineup. The 2012 Mazda MAZDA3 arrives in showrooms this fall, and prices will be released closer to the official on-sale date.