2012 Mazda CX-5 - Frankfurt Auto Show
by
KBB.com Editors
|
August 5, 2011 1:43 PM
Offering an early look at the next model slated to join its international lineup, the 2012 Mazda CX-5 formally bows in at Frankfurt. A replacement for the aging Mazda Tribute - itself based on the Ford Escape - this all-new compact crossover is a production version of the Mazda Shinari Concept that debuted this spring at Geneva. The Mazda CX-5 marks the first full implementation of the automaker's new suite of SKYACTIV technologies that integrate comprehensive optimization of the engine, transmission, body structure and suspension to dramatically reduce weight and materially improve operating efficiency, driving pleasure and occupant safety. Equally important, the CX-5's exterior styling represents the first volume-build example of Mazda's new "Kodo - Soul of Motion" design theme that introduces an even bolder new front fascia treatment along with more evocative sheetmetal contours.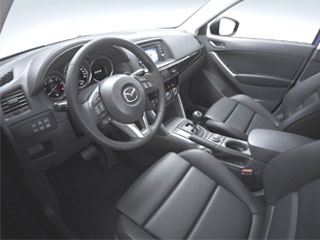 While several details about the new CX-5 remain under wraps, Mazda confirmed that this five-passenger utility hauler will offer both the all-new 2.0-liter SKYACTIV-G gasoline inline four and SKYACTIVE-D 2.2-liter turbo diesel, which will be available in standard and high-power versions. In European spec, both direct-injected engines will have a remarkable 14:1 compression ratio -- the highest of any standard gasoline production engine and the lowest found in any production diesel. Both are designed to deliver exceptional fuel efficiency -- up to 20 percent better than their conventional counterparts -- as well as correspondingly low emissions. Two new and equally efficient six-speed transmissions will back these engines, one manual and one automatic.
Coupled with its revolutionary lighter, stronger and more rigid SKYACTIV unitized body and all-new suspension setup, the 2012 Mazda CX-5 promises to raise the dynamic benchmark for the compact crossover segment to a new and decidedly zoom-zoomier level when it goes on sale early next year. It will be joined in Frankfurt by a facelifted version of the Mazda3 that will introduce a modified version of the new SKYACTIV engine. The U.S. version of this revised 2012 Mazda3 was presented earlier this year in New York and goes on sale here this fall.