2012 Lamborghini Gallardo LP 550-2 Spyder - 2011 LA Auto Show
by
KBB.com Editors
|
November 18, 2011 12:50 PM
A new addition to the fabled Raging Bull family, the 2012 Lamborghini Gallardo LP 550-2 Spyder made an early debut on the eve of the Los Angeles show. While sharing much of its basic design with the other open-air members of the Gallardo line, this newest variant has been comprehensively revised to accommodate the transition from four-wheel to rear-wheel drive.
The mid-ship mounted 5.2-liter naturally-aspirated V10 engine in the Gallardo LP 550-2 Spyder is identical to the one used in the limited-edition Gallardo LP 550-2 Bicolore and LP 550-2 Coupe. It turns out 542 horsepower and 398 lb-ft of torque, enough to carry this stunning soft-topped two-seater from 0-60 mph in 4.2 seconds when backed by a six-speed manual transaxle and be nearly as quick when fitted with the optional six-speed sequential e-gear automated manual. In addition to minor aero-tuning of its nose and tail elements to help the Gallardo LP 550-2 Spyder safely reach its 199-mph top speed, Lambo also fitted the car with a unique 45-percent locking rear differential.
>See more new cars unveiled at the 2011 Los Angeles Auto Show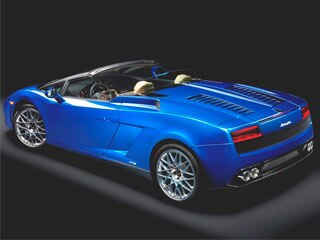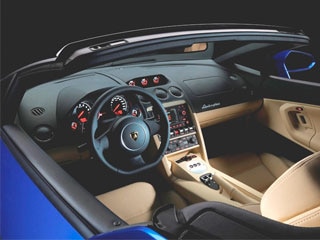 The chassis also has been suitably reinforced and retuned to handle the different dynamic loading forces developed by the rear-drive Gallardo LP 550-2 Spyder. Changes include new shock calibrations and revisions to the stability control and traction systems that encourage full use of its capabilities while maintaining excellent control characteristics. Lamborghini says the car is intended for the drivers who enjoy a particularly aggressive hands-on approach, and has been set up to ensure that both the front and rear end remain securely planted and that the steering is quick and precise.
"With the Gallardo LP 550-2 Spyder, we are expanding the Lamborghini lineup with a purist model that adds yet another dimension of driving fun, noted Stephan Winkelmann, President and CEO of Automobili Lamborghini. "This special model with rear-wheel drive is a logical expansion of our lineup of Spyder models with all-wheel drive."
The 2012 Lamborghini Gallardo LP 550-2 Spyder is expected to arrive in the U.S. sometime early next year. Production will be limited to just 250 units worldwide, and pricing almost certain to start on the far side of $250,000.