by
KBB.com Editors
|
January 14, 2011 12:09 PM
Due for a formal reveal at the Geneva Auto Show in March, the first official sketches of the 2012 Kia Rio indicate that the Korean automaker plans to take its entry level B-segment offering down a parallel developmental path as the latest versions of its larger and pricier offerings.
Targeted at active but value-driven buyers in the 25-49 age bracket and offered in both hatch and sedan body configurations, this next-gen Rio has been called "sporty and elegant," and "the next big step" in the company's ongoing design revolution" by Kia's design chief, Peter Schreyer. Much of that description is driven by its far more assertive styling that centers on a swept-back profile anchored by a strong rising character line that rises from the trailing edge of its front wheel arch. Depending on how accurately these renderings depict the actual production model, a good bit of the Rio's newfound flair will be artfully supported by similarly bolder front and rear fascia treatments highlighted by a particularly interesting execution of the grille/headlamp elements.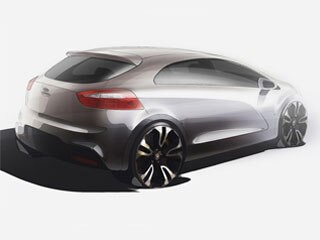 Longer, lower and wider than the current Rio model, this upcoming iteration will step up its inside game, as well. In addition to being more spacious, Kia promises the new Rio's passenger compartment will have a more contemporary feel with upgraded materials and finishes that more reflect the look and feel of more expensive vehicles. The brief release that accompanied these first teaser images offered no insight as to the 2012 Rio's powertrain options. While some form of 1.6-liter inline-four is almost certain to carry over underhood, we hope this wholesale revamp will see the current five-speed manual/four-speed automatic transmission choices give way to more modern and efficient six-speed alternatives that are now found in all other members of Kia's vehicle lineup.