2012 Jeep Wrangler First Drive - Wrangler Genes
by
KBB.com Editors
|
August 22, 2011 6:59 AM
In a vacated warehouse in Portland's Pearl District, we're pondering a display of new, pre-production Jeep Wranglers. The centerpiece of the discussion is a pairing of the uber-Jeep Rubicon and its upscale, more urbane sibling, the Sahara. And to add heft to Jeep's status as an automotive icon, the organizers have included an early military Jeep from WWII. The design lineage is obvious, but the MacArthur-era model looks oh-so-tiny.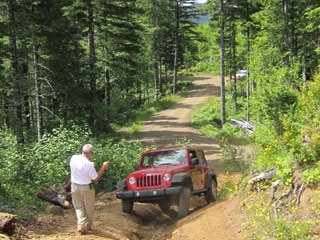 Today's iteration, in comparison, looks to be a Jeep for Big-and-Tall types. The contrast between the two generations is not much greater than when parking Porsche's early 911 with today's variant, but that doesn't diminish the difference. New fuel economy mandates might suggest some future Jeep 'right-sizing'; for one example of same see Jeep's Moab-specific Pork Chop, lightened by some 800 pounds. Of course, the modern evolution of that 70-year-old Jeep is not running an air crew to a B-17 or navigating some god-forsaken path on a South Pacific isle; the current Jeep is handling the daily commute, grabbing groceries on the weekend and -- if life is blessed and the moons are in alignment -- maybe (MAYBE) venturing off-road three or four times a year.
For today's consumer the current Wrangler, benefiting from a complete overhaul for the 2007 model year, has been almost perfect. In both two and four-door (Unlimited) form, the Wrangler offers enhanced levels of comfort, prodigious off-road capability and a window sticker that remains affordable to a wide swath of the urban/suburban populace. And with an aggressive interior refresh for 2011, the only thing in dire need of correction was under the hood, where the Jeep's 3.8 liter lump was as underperforming as today's U.S. Congress. Help is at hand, and it comes just in time for a stumbling economic recovery to get 'unstumbled'.
In one of its most aggressive upgrades to date, the 3.8 liter is dumped, and horsepower - via an all-new (for Jeep's Wrangler), all-alloy 3.6 liter V6 - is bumped. The new number is 285 (at 6,400 rpm), versus 202 in the '11. And torque grows by some ten percent, taking the 237 lb-ft of its predecessor to an even 260 lb-ft (at 4,800 rpm) on the '12. And with all that's good about higher numbers, the best may be from the EPA. Whereas the '11 was hard pressed to obtain a 15/19 for city/highway, the newest Wrangler can squeeze up to 17 in the city and 21 on the highway. And 0-60 times are improved by some 2-3 seconds (putting most runs in the mid-8 second area), which means you can now retire the hourglass and time your acceleration with a stopwatch.
Our drive out of Portland, in a 2-door with six-speed manual, was as refined as you could reasonably expect from 4,000 pounds of sparsely insulated tin and two live axles. The manual transmission is reasonably well connected, clutch actuation is progressive, and the steering gives you a distinct sense of what's going on at the front - a concept not shared with most Jeeps imported from Toledo. A vehicle swap - some thirty miles out and still on asphalt - for an automatic-equipped Unlimited provided even more refinement. The autobox, now with 5-speeds, in combination with the 4-door's longer wheelbase was almost Grand Cherokee-like, especially if one's Grand Cherokee memories are centered on the pre-2011 architecture.
Off the road, our time in a 2012 Rubicon on a Jeep-specific trail in Oregon's Tillamook Forest was almost laughably easy. The 2-door adapts most readily, with its 95.4 inch wheelbase more rock-and-hill friendly than the Unlimited's 116-inch stretch. That said, both Wrangler Rubicons benefit from short front and rear overhangs, great dual-purpose rubber and adequate clearance for virtually anything you'd tackle while still making monthlies. Spotters from Jeep helped keep things intact for future reviews, leaving pilots responsible for little more than staying awake.
Despite a sales picture most manufacturers would absolutely die for - the new Grand Cherokee is largely responsible for Chrysler's return to profitability and the Wrangler is moving out of showrooms at the rate of some 14,000 a month - the numbers guys are holding pricing at-or-near 2011 levels. Base (Sport) pricing remains the same (think $22K for the 2-door and $25K for the Unlimited), while Sahara and Rubicon suffer but a $200 bump.
With its powertrain overhaul, Jeep marketers claim the 2012 Wrangler enjoys a 'new heart (propelling) the same soul'. And while there's absolutely nothing wrong with more horsepower and enhanced composure, some part of this tester was wishing for a Jeep conceptually closer to the model launched during World War II. If God is in Toledo, perhaps the new U.S. fuel economy requirements will supply it.