2012 Jeep Wrangler and Wrangler Unlimited Review
by
KBB.com Editors
|
September 15, 2011 9:35 AM
"Iconic" may be an overused descriptive, but the 2012 Jeep Wrangler SUV wears it well. Some 65 years after the end of World War II, civilians continue to embrace the same basic recipe of affordable 4WD, despite the Jeep's increased size, capability and - at a base price of $23K and an equipped price that can touch (or exceed) $40K - wide-ranging window sticker. And while the original Willys MA and MB established their off-road credibility in some of the worst theaters of World War II, the Jeep Wrangler has never been more off-road capable or - over the road - more comfortable. That composure is heightened by an all-new SUV drivetrain, featuring a more responsive V6 and (available) 5-speed automatic transmission.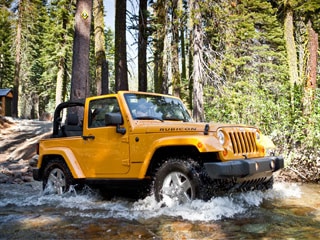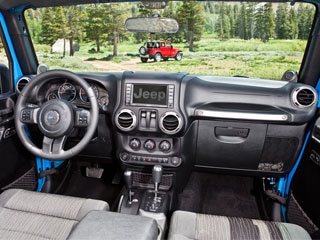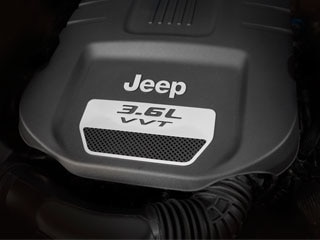 Any differences?
The improvements found in the 2012 Jeep Wrangler can be summed up with one number: 285. That horsepower figure, from a new (for the Wrangler SUV) 3.6-liter V6, constitutes a 40-percent improvement as compared to its 202-horsepower predecessor. And when connected to the Wrangler's new 5-speed automatic (a 6-speed manual transmission is the standard gearbox), the powertrain produces both better performance (0-60 times are improved by 2-3 seconds) and fuel efficiency.
You might like it if...
If you enjoy outdoor activities, the 2012 Jeep Wrangler is your round-trip ticket to the trailhead, ski slope or beach. And if you enjoy the Jeep-specific pursuit of boulder hopping, this newest iteration of the Wrangler - and newish iteration of the 4-door Unlimited SUV - won't disappoint.
You might not like it if...
The 2012 Jeep Wrangler is engineered to deliver credible off-road SUV capability. To that end, its on-road demeanor is necessarily compromised. Both its separate frame and live axles (front and rear) enhance off-road performance, while compromising on-road stability (heavier unsprung weight from live axles) and performance (heavier curb weight - typically - with a separate frame) when compared to today's pavement-specific crossover SUVs.
A familiar design
With each generation, the Jeep Wrangler engineering team increases its footprint. And that was never more evident than in the 2007 redesign, when the 2-door Wrangler grew and the 4-door Wrangler Unlimited was first introduced. In its Unlimited form, the Wrangler SUV stretches almost 15 feet, weighing almost 4,500 pounds. That said, the 2012 Wrangler's off-road intentions remain clear, with minimal overhangs front and rear. The exterior design retains a greenhouse that provides excellent visibility of both the trail and adjacent scenery. New for 2012 is a body-colored hardtop for both the 2-door and 4-door Wranglers (Sahara and Rubicon), creating a more unified - and upscale - appearance.

The Jeep Wrangler interior was extensively upgraded for the 2011 model year. To that end, few changes have been necessary - or incorporated - for 2012. Our test Wrangler, a Sahara Unlimited SUV trimmed in Black/Dark Saddle leather, was just this side of sumptuous. Lower in the food chain is the base Sport, whose cloth-covered perches can best be described as functional. And although the Wrangler Unlimited's folding rear seat creates a spacious - and flat - load surface, the headrests don't detach for folding, which necessitates moving the front seats as far forward as possible. Jeep's interior design team should refer to Honda's subcompact Fit for an idea of how to add "convenience" to "functional."

What the base model comes with
We'd (again) mention the 2012 Jeep Wrangler SUV's 285 horsepower as most notable, but with additional power comes the need for enhanced control. Here, Jeep engineers have added a full menu of safety and security, including electronic stability control, electronic roll mitigation, Hill-start Assist, and Trailer-sway Control. Add the aggressive 4WD technology on the off-road-oriented Rubicon, and the most difficult trails become almost laughably easy.
A few options
The 2012 Wrangler's optional 5-speed automatic transmission provides the driver with more efficiency, better access to the new V6's torque curve and, with a lower 1st-gear ratio, better ability to crawl those rocks. And Jeep is one of the few manufacturers providing you a choice of rear-end ratios (3.21, 3.73 or 4.10). That choice allows the owner to truly tailor the Wrangler to his or her specific driving needs.

Still as capable as ever
The best part about the 2012 Jeep Wrangler is that it remains - in the end - a Jeep, with the aforementioned separate body-and-frame construction, live axles front and rear, and enough ground clearance to drive over a (large) sleeping dog without doing damage to dog or drivetrain. With that menu of perceived negatives for on-road performance, Jeep engineers have done a remarkable job of taming the beast within, endowing this newest Wrangler SUV with steering that actually steers, and a suspension that remains in regular contact with the paved surfaces beneath it. Off-road, the 2012 Wrangler is everything you want in a 4WD trail rig, given its ability to poke along at walking speed. And if the logging trail allows - or the evening's destination calls for it - you have the ability to get up-and-running in no time. Add real horsepower to the crawling, and favorable gearing for the hauling, and you arguably have the most competent Jeep Wrangler in the CJ's 70-year history.
Our Favorite Features
New 3.6-liter V6 Powertrain
The new 3.6-liter Pentastar V6 is the final piece in the Jeep Wrangler puzzle. And the improvement is more than just the raw power listed in the specs. In every on-and-off-road discipline, the newest Jeep is an improvement over its predecessor. And when equipped with the available 5-speed automatic, refinement goes up while losing very little - if any - capability or efficiency.
Stone-Axe Simplicity
In a world of disposable consumer goods, or those with life expectancy that goes just beyond their warranty period, the essential goodness of a Jeep Wrangler, including the 2012 Jeep Wrangler, exists within its basic simplicity. Body-on-frame construction may add weight, but it also ensures longevity and aids in ease of repair. Add in elements such as easily replaceable fenders and removable doors, and you have both an off-road tool and urban warrior.
A potent V6
The 3.6-liter V6 in the 2012 Jeep Wrangler is truly a revelation. The new engine improves on the previous powerplant in both power (up by some 40 percent) and fuel efficiency (from 15/19 mpg (city/highway) in 2011 to as much as 17/21 in 2012). Featuring alloy construction, the 60-degree V6 is lighter and more compact than the 3.8-liter it replaces. And with 285 hp, the perceived need for a V8 is all but eliminated. With that, we continue to wish that Jeep would make available the diesel sold in many markets outside of the U.S. The diesel's uptick in torque, along with an upsurge in fuel economy, would be all the new EPA regulations - and Jeep consumers - might ask for.
3.6 liter DOHC V6
285 horsepower @ 6,400 rpm
260 lb.-ft. of torque @ 4,800 rpm
EPA city/highway fuel economy: 20/30
EPA city/highway fuel economy: 17 City/21 Highway (Wrangler Manual/Automatic)
16 City/20 Highway (Wrangler Unlimited Automatic)
16 City/21 Highway (Wrangler Unlimited Manual)

KBB value analysis
Jeep's Wrangler continues to be the most democratic of off-road SUV choices, with a base price of under $23K (2-door, with destination) unchanged from 2011. That said, the Wrangler Unlimited is some $3,500 more expensive, and an upscale Sahara or Rubicon can easily approach - or exceed - $40,000. To the Wrangler's credit, it enjoys historically high resale value, with three-year-old examples projected to return almost 60 percent of their original window sticker. Should you consider a 2012 Jeep Wrangler for aggressive off-roading, the top-of-the-line Rubicon, even with a Monroney of $40,000, is an absolute steal when comparing its investment to that of upgrading a lesser Wrangler through the 4WD aftermarket. And all of the Rubicon's off-road capabilities make tackling the toughest trails remarkably easy, leaving the driver with little to do but stay awake.