2012 Jaguar XK/XKR/XKR-S (w/video) - 2011 NY Auto Show
by
KBB.com Editors
|
April 26, 2011 1:29 PM
The sportiest Jaguar model line comes in for its share of image-enhancing cosmetic upgrading to mark the next model year -- and complements the existing Jaguar XK and supercharged XKR Coupe/Convertible models with the baddest cat to ever wear the legendary Leaper badge -- the new 2012 Jaguar XKR-S Coupe that made its world debut last month in Geneva.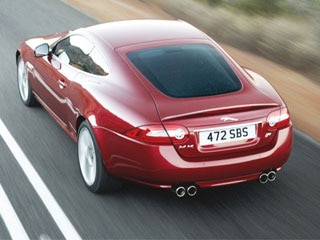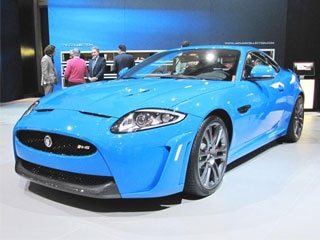 Although its primary sheetmetal carries over, the 2012 Jaguar XK family does boast distinctive new fascia treatments, each with model-specific detailing. All share new slimmer headlamps framed by an arc of LED running lights in a signature "J-Blade" configuration. While the grille opening grows in scale on the XK and XKR, and is filled bright and black mesh inserts, respectively, the XKR-S gets its own unique nose job that brings an even-more-aggressive visage complete with various carbon-fiber elements. Elsewhere, the prominent vent on the front fenders has been rotated 90 degrees to a far more attractive and streamlined horizontal configuration. Out back, the decklid is adorned with a more elegant chrome trim garnish on the XK/XKR while the XKR-S dispenses with that bit of arbitrary bling and opts instead for a unique spoiler and bespoke rear diffuser.
>See more new cars unveiled at the 2011 New York Auto Show
Cabin updates for the 2012 Jaguar XK line are confined to some new trim materials, wood accents and color treatments along with phosphor-blue halo illumination/ambient lighting and a leather-wrapped, multi-function heated steering wheel. The XKR-S boasts unique carbon-patterned, soft-grain leather upholstery, Jet Poltrona Frau Italian leather headlining and embossed stainless steel pedals, all of which are optional on its lesser kin.
Powertrains for the 2012 Jaguar XK and XKR carry over unchanged, with the naturally aspirated 5.0-liter AJ-V8 making 385 horses in the former and a supercharged version cranking out 510 ponies in the latter. The enhanced force-fed 5.0-liter in the new 2012 Jaguar XKR-S is tuned to turn out 542 horsepower and 502 lb-ft of torque, sufficient muscle to send this quickest-ever street Jag ever from 0-60 mph in 4.2 seconds and on to a top speed of 186 mph.
All of the 2012 Jaguar XK clan will go on sale later this summer. While XK and XKR pricing have yet to be finalized, the new Jaguar XKR-S Coupe will open at $132,000.