2012 Infiniti M35h Hybrid - First drive
by
KBB.com Editors
|
February 7, 2011 1:23 PM
Expanding the horizon
Admittedly a bit late to arrive at the burgeoning hybrid party, Infiniti was determined to make a formidable statement when it finally did put in an appearance. Matching greener character with enhanced performance, this newest member of the M Squad adroitly fills the slot between the existing M37 and M56 sedans, retaining all of the sport/luxury personality traits of that mid-size four-door while delivering significant gains in exhilaration and fuel economy that ensure it lives up to the "V8 performance with four-cylinder economy" design mantra. When it goes on sale this spring, the 2012 Infiniti M Hybrid will be the only vehicle of its kind to boast more than 350 horsepower and still be capable of delivering over 30 mpg on the highway.
Previewed at the 2010 Los Angeles Auto Show, the 2012 Infiniti M Hybrid represents a unique interpretation of the conventional gasoline/electric pairing. Officially dubbed the Infiniti Direct Response Hybrid System, this parallel-hybrid configuration was developed in house and incorporates the same basic one-motor/two-clutch approach first seen on the Infiniti Essence Concept Coupe that debuted at the 2009 Geneva Auto Show. An integral part of the division's overall Eco-Performance strategy that also will encompass a pure EV offering, the system was designed to be applicable to a number of other current and future Infiniti model lines.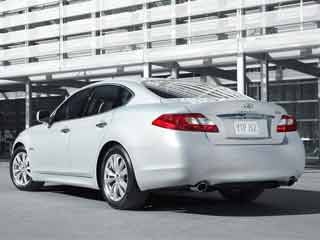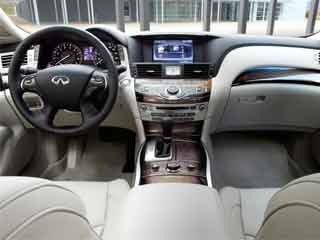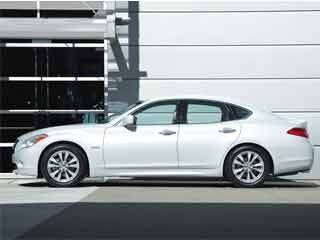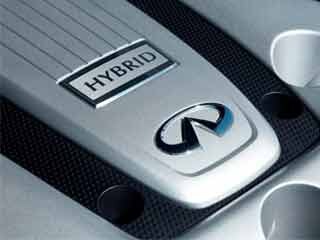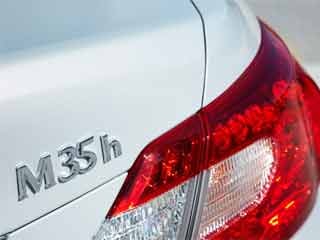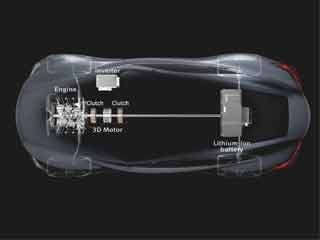 A high-concept hybrid
The 2012 Infiniti M Hybrid's dual-mode motivation is provided by a specially tuned 3.5-liter version of Nissan/Infiniti's renowned VQ V6 gasoline engine and a high-efficiency electric motor fed by a bespoke lithium-ion battery pack. The engine, which employs efficiency-enhancing Atkinson Cycle valve timing, makes 302 horsepower and 258 lb-ft of torque. Based on Infiniti's output-enhancing "3D" internal architecture, this compact, disc-shaped electric motor/generator develops its own 67 ponies and 199 lb-ft of twist. Collectively, they team to give the system a combined output of 360 horses, 30 more than an M37.

Mounted low and just ahead of the trunk floor, the M Hybrid's high-output 1.4kWh battery pack uses the same laminated flat-cell design as the Nissan LEAF EV, although with less than 10 percent of the capacity, it's far lighter and more compact. To ensure more of a direct, linear feel, all power gets sent to the M Hybrid's rear wheels via a specially modified version of Infiniti's seven-speed automatic transmission.
Perfecting the on-off switch

Key to the exceptional operating efficiency of the Infiniti Direct Response Hybrid System is its unique dual-clutch setup. The first and most critical is positioned between the engine and the motor. It can completely decouple the two when the M Hybrid is coasting or operating in pure EV or regen modes and pair them for maximum system output in high-demand situations. This computer-controlled "dry" clutch also functions as a lighter, more efficient replacement for the conventional torque converter. The second clutch, a traditional hydraulic unit located in the rear of the seven-speed autoshifter, is identical to the one used on the M37 and M56. While Infiniti admits the idea of a one-motor/two-clutch configuration is not new, this is the first time it's been used on a high-end luxury application. That feat was made possible by the automaker's application of sophisticated operating algorithms that facilitate the rapid and virtually seamless series of gasoline/EV transitions.
The M Hybrid uses its electric motor to get underway from a stop and is capable of traveling up to 1.2 miles in pure EV mode, reaching a driven speed of 62 mph and coasting at up to 85 mph. But the real advantage of Infiniti's Direct Response Hybrid System lies in its ability to consistently tip the balance of power use towards the electric side of the equation. Thanks to its optimized battery capacity and on-the-fly recharging via the engine and regenerative braking circuitry, Infiniti's extensive field testing indicates that the new M Hybrid can operate with the engine off in zero-emissions mode more than 50 percent of the time under "normal" driving conditions. That capability directly contributes to its stellar 27 mpg city/32 mpg highway/29 mpg combined EPA numbers. The first and last are best-in-class stats -- and all three are pretty remarkable figures for a vehicle that can still sprint 0-60 mph in less than 6.0 seconds. By comparison, the Infiniti M37 nets 18/26/21 mpg numbers while the M56 is pegged at 16/25/19 mpg. Even more telling, the Infiniti M Hybrid's closest class rival, the Lexus GS450h, carries 22/25/23 mpg ratings.
Running in the real world
Our initial wheel time in the new Infiniti 2012 Infiniti M Hybrid was spent on a city-centric control loop. However, we also put it through an impromptu freestyle run that allowed for some considerably more spirited canyon charging and freeway cruising. We came away fully convinced that Infiniti deserved major kudos for making this enthusiast-grade efficiency expert car live up to its self-proclaimed "Driver's Hybrid" appellation.
The most obvious tangible support for that contention is felt the first time you step hard into the M Hybrid's throttle. Although the extra rush of supplemental electric power doesn't bring it into absolute parity with the V8-powered M56, the car's straight-line quickness and response is definitely a solid cut above the admittedly formidable M37. Like the M37 and M56, the M Hybrid also features the Infiniti Drive Mode Selector that nets Snow/ECO/Normal/Sport mapping for the throttle and shift programs.
In town, the M Hybrid's myriad modal transitions proved virtually transparent, with the tach needle's frequent dips to zero revs providing the most obvious indication that you were running on battery power alone. Although several testers did manage to stay EV-only beyond the 50-percent bogey on an urban evaluation route through West Los Angeles, our decidedly more real-world approach to driving yielded a still quite respectable 40-percent figure in that discipline, a stat that dipped to 30 percent when we transitioned into back-road-attack-mode phase.
While retaining much of the basic M Series suspension hardware and ride compliance characteristics, this eco-oriented variant does benefit from a few well-focused functional enhancements to help maintain its overall handling acuity. Complementing an energy-saving, on-demand Hybrid Electric Power Steering system and Electric Driven Intelligent Brake regenerative ABS package, the M Hybrid is fitted with upgraded double-piston shock absorbers from the M37 Sport Package retuned for M35h Hybrid use and also bumps inflation pressure on its standard M-spec 245/50VR18 tires by three psi to help compensate for an additional 280 pounds of system-related curb weight. Thankfully, that extra heft is optimally positioned and results in a near ideal 51/49-percent front/rear split.
Pushed to its limits, the Infiniti M Hybrid responds much like the slightly heavier M37 that it is. Although the steering evidences a bit more effort than actual feel on center, the situation improves as you crank in more lock and the car tracks cleanly through corners with very little body roll. Like the M37, the M Hybrid's Vehicle Dynamics Control stability system also will accommodate a good deal of enthusiasm before any intervention takes place. The antilock brakes display a similar well-balanced character, providing plenty of confident stopping power but suffering none of the "grabbiness" that still plagues the regen circuitry on some hybrid systems.

Efficiency with an elegant edge

Powertrain changes aside, the M Hybrid boasts all of the standard luxury amenities found on an M37, from leather upholstery and Japanese Ash wood trim to a mega-roster of comfort/convenience touches and a specially tuned version of the Active Noise Control system, here purpose-tweaked to dial out any low-level electrical din as well as unwanted rumble from the V6. It also becomes the first hybrid to feature a VSP (Vehicle Sound for Pedestrians) system, which produces the same audible warning tones in low-speed EV mode as the Nissan LEAF, from which it was borrowed.
Like the M37/M56, the Infiniti M Hybrid offers extensive personalization potential, courtesy of a selection of options/packages available in Infiniti's familiar "stackable" hierarchy. It begins with the Navigation/Bose Audio- centered Premium Package that serves as the foundation for the Deluxe Touring Package, which in turn permits a step up to the Technology Package and/or 18-inch Wheel Package. Save for the absence of the Sport and Sport Touring Packages, the only loss of note on the M Hybrid is a decrease in trunk space which drops from 14.9 to a more modest but still quite usable 11.3 cu ft.
Pricing for the 2012 Infiniti M35h Hybrid will start at $54,575. It arrives at dealers across the country in mid March.