2012 Hyundai Veloster First-drive Review: An irregular halo
by
KBB.com Editors
|
September 18, 2011 6:13 PM
Behold the all-new 2012 Hyundai Veloster. Yes, it's a modestly priced compact coupe/hatchback with an unusual asymmetric 3-door design (more on that shortly) but in Hyundai's eyes it is much more. Hyundai views the Veloster as something of a halo car, albeit at the bottom end of the pricing spectrum. That might sound like a lofty view of what is essentially a restyled Elantra, but having driven the Veloster and seen the public react to it, Hyundai might be on to something with all this halo talk. Let me explain.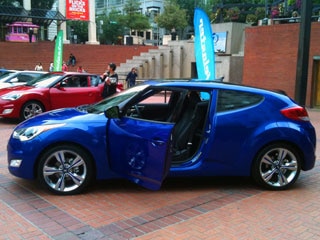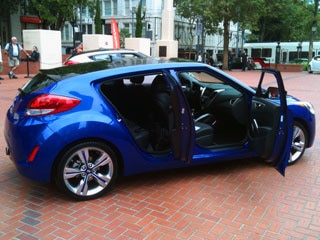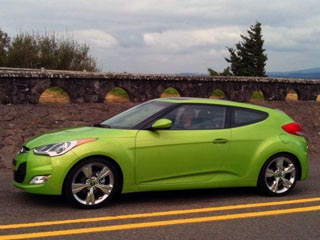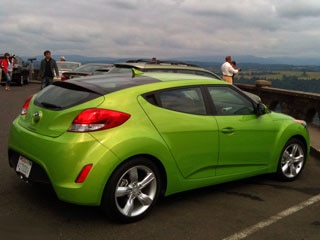 The 2012 Hyundai Veloster is a stylistic powerhouse. Which isn't to say it will be loved by all, but there is no denying the audacity of its design. An aggressive front end, sharp body lines and nifty dual exhaust outlets are attention-getters, but much of the compact hatchback's design success is due to its stance. Standard 17-inch wheels (18's optional), abbreviated front and rear overhangs and minimal gaps between the wheels and fenders all contribute to a planted and capable appearance. Also worth a look is the panoramic sunroof, which blends seamlessly into the glass of the rear hatch, creating a neat unbroken expanse of black when viewed from above. If the Hyundai Veloster ever winds up in one of LA's famous car chases there'll be little doubt about what vehicle we're seeing from the helicopter above.
And speaking of car chases, if you have the notion to run from the law I strongly recommend against doing so in Hyundai's Veloster. Beyond the legal and moral ramifications, the Veloster simply isn't fast enough for a proper getaway. The engine features direct injection technology and delivers lots of power for its modest 1.6-liter displacement, but in the end 138-horsepower isn't enough to fling big V (my nickname, not Hyundai's) forward with gusto. I'm serious. Bury the throttle pedal and one of two things will happen. A) Nothing or B) Casual acceleration provided you're in a gear that keeps the engine revs above 4,000 rpm or so.
Pure power may not be the 2012 Hyundai Veloster's thing but it compensates with solid fuel economy numbers of 28 city/40 hwy with the manual and 29 city/38 hwy with the dual-clutch automatic. When it comes to choosing a transmission, you really can't go wrong. The six-speed manual features short throws with positive engagement and a forgiving, easy-to-use clutch pedal. The two-pedal option is a six-speed dual-clutch transmission controllable via steering wheel mounted paddle shifters. Gear shifts with the dual-clutch were quick and smooth, and when left in automatic mode the transmission reacted appropriately to throttle changes. Another Hyundai Veloster high point is the steering, which is neither too heavy nor too light and provides a strong feeling of connectedness between the driver and the road.
Remember those doors I mentioned earlier? Here's the deal: One long door on the driver's side and two shorter doors on the passenger's side, both front-hinged allowing each to operate independently. The logic goes that the rear passenger side door greatly eases ingress to the rear seats while the single door on the opposite side saves the driver from confronting the sobering reality that their pure coupe has been sullied by a practical 3rd door. Honestly, the third door is so discretely integrated we doubt most folks will even notice it...at least until they have to squeeze through its compact opening. All told the 3-door layout isn't awful but it is odd. Let's just say it adds character.
There's a lot to like about the 2012 Hyundai Veloster but one of its strongest assets is a base price of $18,060, including destination. For that price you get stuff like air conditioning, an audio system with seven-inch touchscreen, auxiliary input and USB connection, and Bluetooth. The Tech and Style packages raise the price to $22,060 (add another $1,250 for the dual-clutch transmission) while adding cool features like a premium audio system, a backup camera and the aforementioned panoramic sunroof. Compared to the base prices of other style-obsessed coupes like the MINI Cooper, Scion tC, VW Beetle and Honda CR-Z, the 2012 Hyundai Veloster checks in somewhere between $1,200 and $2,500 cheaper.
Though less expensive, the Hyundai Veloster is also less-powerful than most of its competitors. If that's a sticking point I should mention that a turbocharged model was all but confirmed to us. If (when) Hyundai introduces a turbo model that moves as fast as the Veloster's looks and name imply, the brand might really have a budget-priced halo car on its hands. Until then the 2012 Hyundai Veloster's accessible price, utterly unique styling, unusual but practical design and excellent fuel economy should make it a welcome addition to the compact coupe and hatchback landscape.